8/25/2016 1:00:00 PM Write a Letter to the Editor Write a letter to the Editor Asia's Biggest Container Shipper Posts Loss After China Merger inShare Print This E-mail This Jasper Juinen/Bloomberg News China Cosco Holdings Co., Asia's largest container shipping company after a government-led merger last year, posted a loss in the first half as excess capacity dragged down cargo rates. The net loss was 7.21 billion yuan ($1.1 billion) in the six months to June, compared with a restated 1.97 billion yuan profit a year earlier, the Tianjin-based company said in a statement to the Shanghai stock exchange on Aug. 25. Sales dropped 8.5% to 30.9 billion yuan. It's the first earnings report since the merger. China last year merged China Ocean Shipping Group and China Shipping Group to form China Cosco Shipping Corp. as part of the government's efforts to shrink industries plagued by overcapacity while creating globally competitive businesses. China Cosco Holdings is a subsidiary of China Cosco Shipping. Profit at container lines have declined or companies have posted losses amid a slump in global freight rates. The industry has been trying to consolidate through mergers as cargo charges stayed depressed in the past five years. A.P. Moeller-Maersk A/S, owner of the world's biggest container shipping company, said earlier this month that it's conducting a review that may lead to the breakup of the 112-year conglomerate. Following the merger of the Chinese shipping groups, China Cosco Holdings is responsible for the container shipping and terminal operations. Bulk shipping operations have been transferred to its parent China Cosco Shipping. Spot prices to move a 20-foot container to Europe from Asia fell to $932 in the week ended July 1, from $1,149 in the week ended Jan. 1, according to the Shanghai Shipping Exchange. Levies to the U.S. West Coast dropped to $1,166 per 40-foot box, from $1,518. The two routes are the busiest trade lanes. CMA CGM SA, the world's third-biggest container shipping company, bought Singapore's Neptune Orient Lines Ltd. for S$3.38 billion ($2.5 billion) this year in the industry's biggest acquisition since 2005. Hapag-Lloyd AG and United Arab Shipping Co. said in June they agreed to merge to become the fifth-largest container shipping company. That comes after the German company bought the container business from Chilean rival Cia. Sud Americana de Vapores SA in 2014. By Kyunghee Park Bloomberg News
Copyright  Blomberg über Xing Read more at: http://www.ttnews.com/articles/basetemplate.aspx?storyid=42984&xing_share=news © Transport Topics, American Trucking Associations Inc. Reproduction, redistribution, display or rebroadcast by any means without written permission is prohibited.
 http://www.dvz.de/rubriken/seefracht/single-view/nachricht/cma-cgm-steigert-transportmenge-deutlich.html
Copyright DVZ
CMA CGM steigert Transportmenge deutlich
D
ie französische Reederei CMA CGM hat in der Containerlinienfahrt 2015 ihr Transportvolumen deutlich gesteigert und ist damit stärker als der Markt gewachsen. Wie das Unternehmen am Montag mitteilte wurden rund 13 Mio. Teu transportiert. Das ist ein Plus von 6,3 Prozent gegenüber 2014. Der Zuwachs resultiert aus der zu Beginn des Jahres 2015 eingegangenen Allianz mit China Shipping und UASC sowie einer stärkeren Nachfrage in den USA. Dank der höheren Mengen konnte auch kräftiger Rückgang der Frachtraten und ein Umsatzminus von 6,4 Prozent auf 15,7 Mrd. USD besser verkraftet werden. Den Nettogewinn konnte CMA CGM mit 567 Mio. USD nahzu stabil halten. Die Aussichten für die Containerschifffahrt 2016 sind nach Einschätzung der Reederei stark von makroökonomischen Trends beeinflusst. Der Jahresbeginn sei herausfordernd angesichts eines weiteren Drucks auf die Frachtraten. Die Reederei werde vor diesem Hintergrund ihre Betriebsorganisation anpassen und das Liniennetz optimieren. (jpn)
http://www.manager-magazin.de/unternehmen/artikel/container-schifffahrt-cma-cgm-plant-kooperation-gegen-maersk-und-msc-a-1077862.html
Copyright CMA CGM Manager Magazin
Copyright DVZ
Coscocs hat sich viel vorgenommen
 
A
m Donnerstag war in Shanghai ein "Feiertag". Denn mit der China Cosco Shipping Corporation – kurz Coscocs – wurde der Weltöffentlichkeit im Rahmen einer großen Gründungszeremonie der weltgrößte Schifffahrtskonzern präsentiert. Der neue Riese aus dem Reich der Mitte wird über die verschiedenen Schiffsklassen hinweg die global umfassendste Kapazität haben.
In der Containerschifffahrt klettert das Unternehmen durch die Fusion von Coscon und CSCL auf den vierten Rang hinter Maersk, MSC und CMA CGM
. Aus dieser neu gewonnenen Position der Stärke heraus will die Coscocs-Führung offenbar das Geschäft deutlich globaler aufstellen und die Containerschifffahrt kräftig aufmischen. So soll die neue Linienreederei künftig in den Nord-Süd-Verkehren stärker Flagge zeigen, sagte General Manager Wan Min am Donnerstag bei einer Pressekonferenz. CSCL und Coscon sind bisher vor allem in den Ost-West- und den Intraasien-Verkehren aktiv. Diese sind sehr stark China-zentriert. Künftig soll die Reederei demnach deutlich stärker in anderen Emerging Markets vertreten sein. Auf der anderen Seite ist die Geburt des neuen Schifffahrtsriesen auch der Absicht der chinesischen Regierung geschuldet, den chinesischen Außenhandel und dabei insbesondere den Zugang zu den Absatzmärkten für die vielen chinesischen Exportprodukte zu sichern. So war es den Machthabern in Peking offenbar seit langem ein Dorn im Auge, dass die Schifffahrtsnachfrage zu einem großen Teil in China erzeugt wird, der Großteil der Kapazität in der Containerfahrt aber in der Hand der großen europäischen Linienreedereien ist. So stehe China für 50 Prozent der Nachfrage, während 40 Prozent des Transportraumangebots in europäischer Hand seien, sagte Chairman Xu Lirong. Durch die Fusion ist der erste Schritt bereits getan. Hinzu kommt, dass Coscon und CSCL zusammen weitere 35 Containerschiffe, darunter zahlreiche ULCVs, geordert haben und ihre Kapazität in den kommenden Jahren um 0,55 Mio. auf dann über 2 Mio. Teu anwachsen wird. Ein weiterer Hebel, sich Einfluss zu sichern, sind die Allianzen. Dort sieht es so aus, als wolle China Cosco Shipping gemeinsam mit CMA CGM eine neue Großallianz auf die Beine stellen. Der Plan sieht demnach vor, dass neben diesen beiden Carriern auch Evergreen – heute die Nummer vier der Welt – und OOCL (zehn) einer neuen Kooperation namens CCEO oder 2CEO beitreten. CMA CGM würde ferner die übernommene APL einbringen. Den Experten von Alphaliner zufolge entstünde damit eine neue Großallianz, die der aktuell auf den großen Ost-West-Routen dominierenden 2M von Maersk und MSC absolut das Wasser reichen könnte (siehe Grafik). Verlierer wären die G6, der APL und OOCL abhandenkämen, und die CKYHE, die künftig neben Coscon auch ohne Evergreen auskommen müsste. Weitere Bewegung könnte dadurch in den Markt kommen, dass der G6-Partner Hyundai Merchant Marine (HMM) in finanziellen Schwierigkeiten steckt. Da zugleich auch der zweite koreanische Carrier Hanjin aus der CKYHE schon bessere Tage gesehen hat, wird zum einen kräftig spekuliert, dass sich auch bei G6 und CKYHE noch einiges tun könnte – bis hin zu einem Zusammenschluss dieser Allianzen. Zum anderen hält sich das Gerücht, dass die Koreaner dasselbe versuchen könnten wie die Chinesen – nämlich ihre nationalen Carrier zu fusionieren
http://www.nok21.de/2016/02/14/die-groessten-reedereien-der-welt/

Nummer drei der Welt mit Ambitionen: Die französische Reederei CMA CGM will die Marktführer Maersk und MSC unter Druck setzen
Introducing COSCOCS: China's New Shipping Giant to Ride Out Downturn
Copyright Gcaptain
World's largest shipping line unveiled in Shanghai
Shipping has a new acronym. COSCOCS is the abbreviated name for the brand new China Cosco Shipping Corporation – the world's largest shipping line. Xu Lirong, the chairman of the Cosco/China Shipping merged entity, told reporters at the firm's unveiling this morning , that mergers are vital to withstand the downturn in the industry. Xu was speaking in Shanghai where the new company is now headquartered. "The Baltic Dry Index has been hitting historical lows every day. This is the most difficult period that we are experiencing since the financial crisis," Xu said. "Our two firms had similar operations, we did not have many advantages in the various sectors we operate in and could not count on economies of scale…The merger is crucial to the development of both companies," he added. Online pricing portal VesselsValue.com shows the merged company has 830 owned vessels, twice as many as AP Moller Maersk and Mitsui OSK Lines combined. Another Chinese shipping merger –
between China Merchants and Sinotrans & CSC
– is also underway as Beijing pursues efficiencies among state-run firms. The merger, however, threatens the current make-up of vessel-sharing alliances on container routes, which firms entered to lower costs, these experts added. COSCOCS launch comes two months after CMA CGM proposed to buy Singapore's Neptune Orient Lines for $2.4 billion, in the biggest-ever acquisition by the French container shipping giant to help it to ride out the severe downturn............................ .......................................................................................................................................... "While the latest mergers should further consolidate market share, pricing competition typically intensifies post mergers, based on prior experiences," Deutsche Bank analysts Sky Hong and Joe Liew said in a research note published on Monday. ($1 = 6.5176 Chinese yuan renminbi) (Additional reporting by Keith Wallis in SINGAPORE; Editing by Miral Fahmy) The merger, however, threatens the current make-up of vessel-sharing alliances on container routes, which firms entered to lower costs, these experts added. COSCOCS launch comes two months after CMA CGM proposed to buy Singapore's Neptune Orient Lines for $2.4 billion, in the biggest-ever acquisition by the French container shipping giant to help it to ride out the severe downturn. "While the latest mergers should further consolidate market share, pricing competition typically intensifies post mergers, based on prior experiences," Deutsche Bank analysts Sky Hong and Joe Liew said in a research note published on Monday. ($1 = 6.5176 Chinese yuan renminbi) (Additional reporting by Keith Wallis in SINGAPORE; Editing by Miral Fahmy)
Alphaliner: CMA CGM, COSCO Forging a Mega Alliance
Copyright World maritime news
Alphaliner: CMA CGM, COSCO Forging a Mega Alliance
Image Courtesy. Port of Oakland
A new mega alliance appears to be in the making, as French container shipping major CMA CGM and its Chinese counterpart China COSCO lead efforts to set up a new carrier partnership, Alphaliner says.
As disclosed, the duo is also seeking to also rope-in Evergreen and OOCL in a plan that could potentially split up three of today's four main East-West alliances.
"If successful, the initiative would radically alter the current liner shipping landscape and leave the eight remaining carriers of the Ocean Three, CKYHE and G6 alliances in the lurch. Discussions are believed to be still ongoing and the carriers involved have not yet publicly announced their plans,"
Alphaliner said. CMA CGM however, already said that it would pull APL out of the G6 Alliance, once the French line completes the Singaporean
carrier's acquisition
in the second half of this year. CMA CGM also commented that it hoped that COSCO-CSCL will join the Marseilles-based carrier in a new alliance partnership. However, COSCO has not yet revealed any post-merger alliance plans to follow
the acquisition of CSCL's container shipping operations,
due to be finalised by the end of February. Meanwhile, Evergreen is in a mourning period following the death of its founder Chang Yung-Fa on 20 January. The Taiwanese shipping line is thus not expected to make any announcements until the month-long silent period is over. Lastly, OOCL is understood to be reviewing its options after a high-level meeting with CMA CGM and COSCO in late January.
"While the new alliance's final composition could still change, the driving factor behind the proposed four-carrier 'CCEO' setup is clear: The motivation is to from a strong and stable alliance that could challenge the 2M's dominance in the East – West trades and to distance the 'CCEO' from some of the weaker partners within the current alliances, which could be facing financial distress,"
Alphaliner concludes.
Kooperationen mit Konkurrenten haben für die großen Container-Linienreedereien der Welt eine immense Bedeutung. Denn damit können sie die Auslastung ihrer Schiffe insbesondere auf den wichtigen Ost-West-Routen beispielsweise zwischen Europa und Fernost oder zwischen Fernost und Nordamerika optimieren. So lassen sich per Kostensenkung die Gewinnmargen entlasten, was speziell in schwierigen Zeiten wie gegenwärtig wertvoll sein kann.
Nachdem vor wenigen Jahren eine geplante Allianz zwischen den drei weltgrößten Reedereien Maersk, MSC sowie CMA CGM am Veto chinesischer Behörden gescheitert war, kommt nun offenbar erneut Bewegung in das Geschehen: Eine neue Mega-Allianz befinde sich in der Entstehung, berichtet der Schifffahrts-Newsletter "Alphaliner". Treibende Kraft ist demnach die aktuelle Nummer drei in der Welt, die französische CMA CGM, die sich mit der chinesischen Cosco sowie wohl auch Evergreen und OOCL zusammentun wolle.
Der Plan ist nicht ohne: Sollte das Vorhaben gelingen, so würden dadurch drei der derzeit vier größten Reedereikooperationen auf den Weltmeeren aufgespalten. Die Karten für viele der Reedereien würden also völlig neu gemischt. Und das in einer Phase, in der sich der Markt seit der Lehman-Pleite im Jahr 2008 dauerhaft unter Druck befindet.
Hintergrund: Derzeit haben sich die führenden Container-Linienreedereien zu vier starken Verbünden zusammengeschlossen:
Die beiden Platzhirsche Maersk und MSC bilden das Bündnis "2M", das laut "Alphaliner" auf den wichtigen Ost-West-Routen über eine Frachtkapazität von insgesamt mehr als zwei Millionen Standardcontainern (TEU) verfügt - so viel wie keine andere Kooperation.
Zweitgrößte Allianz ist "CKYHE", gebildet aus den Gesellschaften Cosco, K Line, Yang Ming, Hanjin Shipping sowie Evergreen.
Auf Platz drei folgt "G6" mit der größten deutschen Reederei Hapag-Lloyd sowie OOCL, MOL, NYK, Hyundai Merchant Marine sowie APL.
CMA CGM schließlich, die alleine immerhin über die drittgrößte Flotte verfügt, bildet mit UASC und CSCL derzeit lediglich die viertgrößte Kooperation auf den Weltmeeren.
Das will der Konzern nun offenbar ändern. Noch wurden die Pläne zur Bildung eines neuen Mega-Bündnisses zwar nicht offiziell bestätigt. "Alphaliner" verweist jedoch auf Aussagen von CMA CGM, die bereits bekannt gegeben habe, nach erfolgreicher Akquisition von APL dieses Unternehmen aus der Allianz "G6" herauslösen zu wollen. Zudem habe CMA CGM mitgeteilt, man hoffe, dass Cosco nach einer anstehenden Übernahme von CSCL für eine neue Partnerschaft mit den Franzosen zur Verfügung stehen werde.
Der Sinn der möglichen Kooperation von CMA CGM und Co. ist nach Ansicht von "Alphaliner" klar: Maersk und MSC an der Marktspitze sollen stärker unter Druck gesetzt werden. Zudem gehe es der französischen Großreederei darum, sich stärker von schwächeren, kleineren Gesellschaften in der aktuellen Konstellation zu distanzieren. Denn die könnten demnächst zum Teil ernsthafte finanzielle Schwierigkeiten bekommen, so "Alphaliner".
Übersicht: Das sind die größten Reedereien der Welt
http://worldmaritimenews.com/archives/175907/nol-confirms-takeover-talks-with-maersk-and-cma-cgm/
Copyright world maritime news
NOL Confirms Takeover Talks with Maersk and CMA CGM
Singapore-based container shipping company Neptune Orient Lines Limited (NOL) is in preliminary discussions with French CMA CGM SA and Danish A.P. Moeller-Maersk A/S with respect to a potential acquisition of NOL, the company said, thus confirming recent media reports. "NOL has a duty to assess all options to maximise shareholder value and improve its competitiveness. From time to time, NOL enters into discussions on possible combinations involving NOL, while remaining focused on returning its core liner business to sustainable growth and profitability," NOL added. However, the company stressed that there is no assurance that any such discussions will result in any definitive agreement or transaction, or that any offer for NOL will be made. "NOL will make an appropriate announcement in the event that there are any material developments. Shareholders of NOL and investors are therefore advised to exercise caution when dealing in shares in and other securities of NOL," the company concluded. The confirmation comes on the back of an announcement dating back to July, in which NOL said that the investment company Temasek Holdings Pte. Ltd, NOL's majority stake owner, was in talks with an undisclosed buyer to sell its stake in NOL, but that there was still no definitive deal yet. Previously, NOL had been linked to a potential merger with German carrier Hapag-Loyd and subsequently Hong Kong's Orient Overseas (International)

Ltd, nevertheless none of them were realized.

Tamasek holds 65% stake in the company whereas the remaining 35% is traded on the Singapore Stock Exchange. NOL, which operates through the APL brand, has 92 vessels in its fleet.
http://www.mm-logistik.vogel.de/distributionslogistik/articles/510835/
Copyright mm-logistik
Hamburg Süd für Umweltcontrolling ausgezeichnet
09.11.15 | Redakteur: M. A. Benedikt Hofmann
Hamburg Süd hat den diesjährigen Hanse Globe gewonnen. Ausgezeichnet wurde die Reederei für das System GLEM zum Umweltcontrolling, das sie gemeinsam mit dem DNV Germanischen Lloyd (DNV-GL) entwickelt und in der Praxis eingesetzt hat. Die Verleihung erfolgte im Rahmen des jährlichen Logistik-Dinners.
Überreicht wurde der Preis von Prof. Peer Witten, Vorsitzender der Logistik-Initiative Hamburg, in Anwesenheit von Wirtschaftssenator Frank Horch vor mehr als 300 Gästen im großen Festsaal des Rathauses. Um natürliche Ressourcen schonend einzusetzen müssen Transportunternehmen wissen, welche Rohstoffe sie zu welchem Zeitpunkt nutzen. Die Daten des Umweltcontrollings sind die Basis um weniger Wasser zu verbrauchen und Emissionen zu erzeugen. Die Reederei Hamburg Süd hat seit 2011 ein aufwendiges Konzept zum Umweltcontrolling entwickelt und in diesem Jahr im gesamten Unternehmen eingeführt. Boris Winkelmann, CEO des Paket- und Expressdienstleisters DPD und Jurymitglied, erklärte in seiner Laudatio auf den Preisträger: "Das Projekt liefert durch eine systematische, standardisierte und umfassende Erfassung der Verbrauchs- und Umweltdaten aller Containerschiffe der Hamburg Süd die Grundlage für die Verbesserungen und ein effektives Bunkercontrolling. Dies bietet ein hohes Einsparpotenzial bei umweltbelastenden Emissionen wie CO
2
, Müll und Ballastwasser. Das System wird auf allen Schiffen eingesetzt und versorgt weltweit alle Hamburg Süd-Standorte mit den Umweltdaten".
Innovativ und übertragbar
"Die Hamburg Süd übernimmt mit dem Einsatz von GLEM eine Vorreiterrolle in der weltweiten Containerschifffahrt. Bislang gibt es im Markt kein vergleichbares System, das systematisch alle umweltrelevanten Informationen der eingesetzten Schiffe sammelt und analysiert", sagte Witten. "Es zeigt die Innovationskraft unseres Standorts, dass die unabhängige Jury wieder einem Hamburger Unternehmen den Preis zugesprochen hat." Zu den wichtigsten Kriterien der Jury zählen der Innovationsgrad, die Wirkung und Reichweite des Projektes, die Übertragbarkeit auf andere Unternehmen und das Verhältnis von Aufwand zu Nutzen. Diese Punkte sah sie dem ausgezeichneten Projekt von Hamburg Süd als am besten erfüllt an.
 http://www.hamburgsud.com/group/de/corporatehome/pressmedia/pressreleases/pressreleasedetails_687352.html
Containerschiff "Cap San Vincent" in Korea getauft
17.09.2015
Presse-Information Copyright Hamburg Sued

(v.l.) Sung-Geun Lee (Executive Vice President, Shipyard General Manager DSME), Fawad Neiro, Taufpatin Susanne Neiro (K+S Transport) und Dr. Arnt Vespermann (Geschäftsführung der Hamburg Süd).

Die Hamburg Süd hat gestern auf der Werft von Daewoo Shipbuilding & Marine Engineering Co., Ltd. (DSME) im südkoreanischen Okpo das Containerschiff "Cap San Vincent" getauft. Die "Cap San Vincent" ist das jüngste Schiff einer baugleichen Dreiergruppe. Die Schwesterschiffe "Cap San Juan" und "Cap San Lazaro" sind bereits seit einigen Wochen in Fahrt. Alle drei Schiffe gehören zur neuesten Generation der "Cap San"-Baureihe und damit zu den größten Schiffen in der Flotte der Hamburg Süd. Die "Cap San Vincent" hat mit einer Gesamtlänge von 331 Metern und einer Breite von 48,4 Metern eine Container-Stellkapazität von 10.600 TEU sowie eine Reefer-Kapazität von 1.000 Anschlüssen. Das neue Schiff wird Ende September in den Dienst Asien-Südamerika Ostküste eingefädelt und bringt zum Beispiel Produkte der koreanischen Automobilindustrie, Haushaltsgeräte oder andere elektronische Güter auf den Weg nach Brasilien, Uruguay und Argentinien. Auf dem Rückweg werden insbesondere landwirtschaftliche Erzeugnisse oder mineralische Rohstoffe von Südamerika nach Asien verschifft. Dr. Arnt Vespermann, Mitglied der Geschäftsführung der Hamburg Süd, unterstrich die Bedeutung Koreas für die Hamburg Süd: "Obwohl der Wettbewerb für die Carrier in diesem Markt immens ist – wir sind davon überzeugt, dass es weitere Wachstumschancen für die Hamburg Süd gibt. Wir werden daher unser Liniennetz in der Region ausweiten und den Hafen von Busan als Gateway für Ladung von und nach Korea sowie als zentralen Hub-Port nutzen." An den Tauffeierlichkeiten nahmen Kunden und Geschäftspartner der Hamburg Süd teil. Die Taufpatin der "Cap San Vincent" ist Susanne Neiro von K+S Transport (Kali + Salz).
 http://www.maritimheute.de/freigabe-der-opdr-akquisition-durch-die-europaische-kommission/
OPDR joins the CMA CGM Group Copyright OPDR
07.07.15 20:05

The CMA CGM Group is pleased to announce that the European Commission approved the acquisition of OPDR.
Marseille / Hamburg, July 7, 2015. OPDR acquisition finalization by the CMA CGM Group On July 1st, OPDR officially joined the CMA CGM Group. In order to finalize the acquisition, which was announced on November 25th 2014 by Mr. Jacques R. Saadé, founder, Chairman and Chief Executive Officer of the CMA CGM Group, the approval of Moroccan and European Union competition authorities was necessary. On June 29th, the European Commission finalized the process by giving its approval without any conditions. OPDR: an intra-European short sea transport expert OPDR is a sea carrier and was part of the Bernhard Schulte Group. It is specialized in short sea maritime services and door to door logistics solutions between North Europe, the Canary Islands, the Iberian Peninsula and Morocco. The company employs 200 persons in different agencies. The OPDR fleet sails 4 trades between: - North Europe and the Canaries - South of Spain and the Canaries - North Europe, Spain and Portugal - North Europe and Morocco. OPDR and MacAndrews capacities combination are in line with the densification of the regional network strategy of the CMA CGM Group OPDR and MacAndrews capacities combination will reinforce the intra-European offer of the CMA CGM Group, and its tailor-made intermodal solutions. MacAndrews is the oldest European sailing company. It was acquired by the CMA CGM Group in 2002. MacAndrews offer its clients railroad, road and maritime transport and is specialized in container transport on short sea lines and in European multimodal solutions between the Iberian Peninsula (Spain and Portugal), United Kingdom, Ireland, the Netherlands, Scandinavia, Poland, Baltic States and Russia. In 2014, OPDR transported around 200,000 TEUs, and MacAndrews more than 230,000 TEUs. OPDR will be a subsidiary of MacAndrews. To maximize their efficiency, OPDR will be included to MacAndrews. Farid T. Salem, Executive Officer of the CMA CGM Group: "This new acquisition reinforces the Group's presence on the growing European short sea transport. It is in line with the CMA CGM Group's densification of the regional network strategy that started with the acquisition of MacAndrews in 2002. As we did with this subsidiary, we want to maintain OPDR, develop it and create new interactions with MacAndrews and with the CMA CGM Group".

Copyright CGM CMA
 http://worldmaritimenews.com/archives/152324/esc-shipping-alliances-lead-to-market-convergence/
Copyright world maritime news
 http://www.deutsche-mittelstands-nachrichten.de/2015/03/71195/
Copyright deutsche Mittelstands-nachrichten
Reederei Hamburg Süd 2014 trotz Schifffahrt-Krise mit Gewinnen
Trotz der schwierigen Lage in der Container-Schifffahrt hat die Reederei Hamburg einen Gewinn verbuchen können. Der Umsatz der zum Oetker-Konzern gehörenden Reederei sei allerdings trotz eines gestiegenen Transportvolumens wegen sinkender Preise und Währungseffekten gefallen.
Die Reederei Hamburg Süd hat trotz der schwierigen Lage in der Container-Schifffahrt 2014 einen Gewinn geschrieben. "Im vergangenen Jahr waren wir profitabel. Und das ist auch unser Ziel für 2015", sagte Unternehmenschef Ottmar Gast der Wirtschaftswoche. Im vorigen Jahr sei der Umsatz der zum Oetker-Konzern gehörenden Reederei trotz eines gestiegenen Transportvolumens wegen sinkender Preise und Währungseffekten gefallen. Die Schifffahrt steckt seit Jahren in der Krise, weil Überkapazitäten die Frachtpreise drücken. Hamburg-Süd-Konkurrent Hapag Lloyd etwa schreibt deswegen seit vier Jahren rote Zahlen. "In diesem Jahr werden wir 20 Prozent mehr Menge machen und einen höheren Umsatz als 2014 erzielen", sagte Gast nun. Hamburg Süd bekomme in diesem Jahr drei neue Schiffe und bestelle möglicherweise weitere. Die Lage in der Container-Schifffahrt sei aber weiter schwierig. "Für die Branche als Ganzes wäre es das Beste, wir alle würden zwei Jahre lang keine Schiffe mehr bestellen, die Weltwirtschaft würde weiter wachsen und die Kapazitäten knapp werden", sagte der Reederei-Chef. Dann könnten höhere Preise verlangt werden.
ESC: Shipping Alliances Lead to Market Convergence
The increased collaboration between the French container ship operator CMA CGM and Germany's Hamburg Süd will bring the container liner market one step closer to total convergence, the European Shippers' Council warns. This will reinforce the risk of reducing service quality and sailing frequency as well as free choice for manufacturers and retailers, as well as enhancing prices, according to the ESC. The latest vessel pooling is not a surprise as it comes following another agreement between UASC and Hamburg Süd.  According to the ESC, this new global partnership underlines the fact that the maritime liner competition should be seen from a global perspective and not at regional level. Uniform process and analysis framework should be developed by competition authorities to deal with this new paradigm. Looking at alliances through the wrong end of the telescope will not allow authorities to understand properly the market dynamics, the ESC argues. The ESC urges national competition authorities to agree between themselves on a certain number of competitive sensitive data that could be monitored. Operational and juridical links between ship owners, correlation between price modification and capacity modification should be part of data monitored, among others. By having these data monitored, competition authorities will switch from a curing stance to a more preventing mood which is far better for economic activities. Image: Hamburg Süd
http://www.hamburgsud.com/group/de/corporatehome/aboutus/aboutus.html
 Copyright Hamburg Sued

http://www.maritimheute.de/cma-cgm-und-hamburg-sud-weiten-ihre-zusammenarbeit-aus/
Copyright Maritim heute
CMA CGM und Hamburg Süd weiten ihre Zusammenarbeit aus
05.02.2015
CMA CGM und Hamburg Süd geben bekannt, dass sie sich auf einen weiteren Ausbau ihrer bestehenden Kooperation geeinigt haben. Zusätzlich zu den bereits existierenden gemeinsamen Diensten zwischen Nordeuropa und der West- und Ostküste Südamerikas befinden sich diverse neue Projekte in den letzten Phasen der Vorbereitung:
Bereits seit Mitte Januar verfügt die Hamburg Süd über Slots von CMA CGM im PEX 2 Service zwischen Asien und der Karibik sowie im Brazex Service. Damit bietet die Hamburg Süd nun auch eine Verbindung von der Karibik nach Manaus an.
Ab Mitte Mai werden die beiden Reedereien – vorbehaltlich der Genehmigung durch die Federal Maritime Commission (FMC) – einen Pendulum Service starten, der Asien, die Karibik, die US-Ostküste und Nordeuropa miteinander verbindet, für den Transatlantikbereich zusammen mit United Arab Shipping Company (UASC). Ausführliche Informationen hierzu werden baldmöglichst veröffentlicht. Dieser neue Dienst ist eine Ergänzung zu dem Service, der Asien mit der US-Ostküste via Suezkanal verbindet.
Ab Juli werden die beiden Reedereien gemeinsam mit weiteren Partnern die Dienste zwischen Asien und der West- und Ostküste Südamerikas optimieren. Nähere Informationen über die endgültige Struktur der neuen Services werden in Kürze verfügbar sein.
Die Ausweitung der Zusammenarbeit ermöglicht es beiden Reedereien, den Markt mit kosteneffizienten, innovativen neuen Produkten zu versorgen, die hinsichtlich Umfang, Frequenz und schnellen Transitzeiten wegweisend sein werden. Im Rahmen ihrer Vereinbarung haben sich die beiden Reedereien darauf geeinigt, neben den oben genannten Diensten weitere Möglichkeiten der Zusammenarbeit auszuloten. Rodolphe Saadé, Vice Chairman von CMA CGM: "CMA CGM hat eine wichtige neue Vereinbarung mit einem wertvollen Partner getroffen. Diese Partnerschaft stärkt die Position der Gruppe in Süd- und Nordamerika, unterstreicht unsere Ambitionen in dieser schnell wachsenden Region und ermöglicht es uns, unsere Entwicklung zu beschleunigen." Dr. Ottmar Gast, Sprecher der Geschäftsführung der Hamburg Süd: "Wir schätzen die Partnerschaft mit CMA CGM sehr und freuen uns auf die neuen Produkte, die wir dem Markt gemeinsam anbieten werden."
http://worldmaritimenews.com/archives/134888/cma-cgm-joins-forces-with-box-trio/
Copyright world maritme news
CMA CGM Joins Forces with Box Trio
Posted on Aug 22nd, 2014 with tags asia, box, CMA CGM, CSCL, forces, joins, News by topic, OOCL, PIL, SHIPPING, Trio.
French liner company CMA CGM S.A. announced a co-operation with China Shipping Container Lines (CSCL), Orient Overseas Container Lines (OOCL) and Pacific International Lines (PIL), in the North East Asia, Australia and New Zealand Trade commencing from Shanghai in early of November.
---
The new service will be operated with 7 vessels of 4,250 TEU nominal capacity, of which three vessels will be provided by CMA CGM, twovessels by OOCL and one vessel each by CSCL and PIL. It will be replacing the current "ANZEX" / "NZN" service operated by CMA CGM & OOCL. The weekly service will turn around in 49 days offering an extensive port coverage in Asia and New Zealand and including a stop in Australian port on her way from Asia. As announced, the full port rotation and phase in plan will be confirmed by end of the month once final arrangements are made. Press Release, August 22, 2014; Image: Shipspotting
http://worldmaritimenews.com/archives/98312/cma-cgm-posts-third-quarter-financial-results/
MA CGM Posts Third Quarter Financial Results
Copyright World Maritime news
Posted on Nov 25th, 2013 with tags CMA CGM, europe, financial, France, News by topic, posts, Results, Third Quarter.
The Board of Directors of CMA CGM Group, the world's third largest container shipping group, met under the chairmanship of Jacques R. Saadé, Chairman and Chief Executive Officer, to review the financial statements for the third quarter 2013.
During the period, consolidated revenue amounted to $4.1 billion, up 1.4% over the second quarter and down 2.1% year-on-year. Volumes carried rose by 11.0% year-on-year to 3.0 million twenty-foot equivalent units (TEUs), a new historical record for the Group. The average revenue per TEU declined by 11.8% year on year, when Asia-Northern Europe market rates, as measured by the SCFI, contracted by more than 45% over the quarter. This performance in terms of volumes and price resistance illustrates CMA CGM's resilience in a market that remains extremely volatile. The Group is evidencing the benefits derived from its size and global presence, which are enabling it to diversify its activities by geography, customer category and service solution, particularly in its onshore operations.
During the third quarter, CMA CGM reported:
- $238 million in consolidated EBIT, versus $541 million in the third-quarter 2012. Excluding non-recurring items, core EBIT stood at $271 million for the period. - A 6.6% EBIT margin before non-recurring items, one of the highest in the industry. - $70 million in consolidated net profit for the period, bringing the total to $434 million for the first nine months of the year. Business in the third quarter contributed to maintaining consolidated cash and cash equivalents at nearly $1.1 billion. Net debt amounted to $3.7 billion as of 30 September, for a gearing ratio of 0.77.
Significant events during the quarter
As part of their future P3 operational alliance, CMA CGM, Maersk Line and MSC Mediterranean Shipping Company SA finalized their operating agreements on the Asia-Europe, Transatlantic and Transpacific trades. As announced, subject to the approval by the various regulatory authorities, these services will be deployed in second-quarter 2014. CMA CGM has signed a strategic contract with SAP to implement a new information system dedicated to container shipping that will be deployed starting late 2015. This investment will enable the Group to improve its operating performance.
Outlook for 2013
To further strengthen the Group's liquidity position, an additional $200 million securitization programme was set up in October 2013. Lastly, Moody's has upgraded the Group's rating to B2 with a stable outlook. Given the usual year-end seasonal variations and currently prevailing freight rates, performance in the final three months of the year will likely see a decline compared with the third quarter 2013. CMA CGM Group, November 25, 2013
http://worldmaritimenews.com/archives/85808/cma-cgm-jules-verne-inaugurated-in-marseille-france/
Copyright Marine inside http://www.marineinsight.com/
CMA CGM Alexander Von Humboldt – Second of the World's Largest Container Ship Series Begins First Voyage
Copyright Gcaptain
Today's ship photo comes to us via
Shipspotting
, where one of their faithful users caught Maersk's first Triple-E and
the world's largest ship
, the
M/V Mærsk Mc-Kinney Møller
, during her 7th day of sea trials. From what we can tell, the photo offers the first glimpse of the Triple-E underway. Despite the iconic blue color scheme and company logo Maersk does not own her just yet. Until the sea trials are completed and the vessel has been accepted by Maersk, she is the property of the yard and is under the command of the yard's Captain. As of today, only 24 days to delivery.
http://www.aktiv-verzeichnis.de/news/138143.html   Copyright Aktiv- Verzeichnis
 bitte den Rest des Artikel in o. g. link lesen
| Ausführliche Infos zur Firma Koehlers Verlagsgesellschaft mbH
http://gcaptain.com/maersk-triple-e-detailed/
Copyright gcaptain  Maersk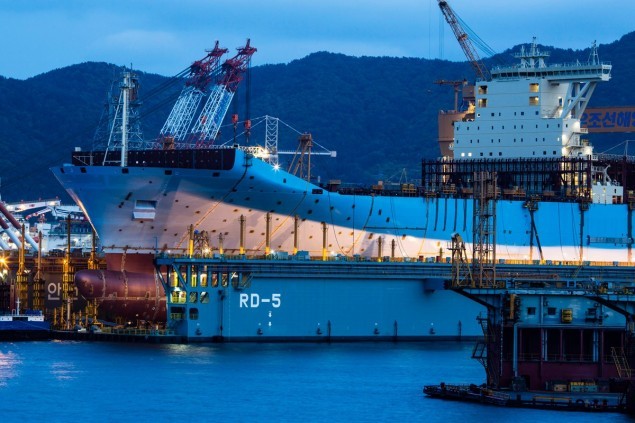 F
orty-thousand alarm clocks buzzed as one, waking an equal number of workers for work at
Daewoo Shipbuilding & Marine Engineering
(DSME), the world's second-largest shipyard, just before dawn on Geoje Island, along South Korea's southwest coast. As the sun rose, they marched out for another day's labor at the company's immnense dry docks, dominated by the soaring arc of a Brobdingnagian hull. Giant barge mounted cranes float past the docks, where they had laid each mega-block section, enormous, pre-fabricated ship segments onto a blacktop larger than a Walmart parking lot. The enormous ship, due for on June 28, is the world's biggest, a behemoth even in a world of behemoths, and the first sibling in a new fleet of 19 sister ships. A monochromatic montain against the island's lush green hills and surrounding blue sea, the vessel will carry over 18,000 twenty foot shipping containers and weigh in a 165,000 metric tons, the equivalent mass of
all the gold ever mined
. Sheer size is her most distinguishing feature. At 400 meters, the
M/V Maersk Mc-Kinney Møller
, as she'll be called, is significantly longer than any aircraft carrier or even the Titanic, and only slightly shorter than the Empire State Building is high. Standing on her bridge is like peering over the rim of the Grand Canyon. From her highest deck shipyard workers resemble overgrown ants and officers needing to walk the bridge's width, wing-to-wing, will wish they had packed roller skates.
Why so large?
The M/V Maersk Mc-Kinney Møller, first vessel of the A.P. Moller-Maersk Group's new
Triple-E class container ships
, leverages unprecedented economies of scale and energy efficiency as well as a new generation of environmental safeguards. Its sheer size helps maximize each of these factors while reducing the cost and environmental impact of shipping each container. Costing just under $200 million to build, the ship is powered by two engines, each one diminutive compared to the single 109,000-horsepower diesel of the
Emma Maersk
, the largest container ship in the world when it was launched in 2006. And the new ship's cost, high as it seems, is only one-fifth the price of the Floating Production Storage Offloading (FPSO) vessels the offshore oil and gas industry uses to store and process oil or
less than 7% the cost
of one
Prelude Class FLNG
.
Colossal Scale, Pinpoint Precision
Despite its size, the M/V Maersk Mc-Kinney Møller was built with pinpoint precision. "Construction of the ship was a massive international effort," said Peter Bertelsen, Lead Hull Superintendant for Maersk. "But it's not rocket science, just a big puzzle, a 3-D puzzle." Each of the ship's 31 pre-fabricated mega-sections were lifted by a giant scissor lift crane then dropped into the dry dock and neatly aligned to within a hard-to-imagine four millimeters of the adjacent block. About 250 people work on each ship during the final stages of construction, according to Bertelsen and Y.S. Lee, his DSME counterpart, with few tasks automated. "The steel is cut by giant, computer-operated lasers, but the rest is done by human hands." said Lee. "Each section is moved into place using hand signals and radios and the sections are welded together by dozens of individual welders." A The M/V Maersk, despite its record-busting bulk, is fitted with standard equipment. The lifeboats (made in China) are small, and the bridge systems, while modern, are less impressive than those found aboard the latest
Offshore Supply Vessels
. The captain will occupy a comfortable suite adjoining the bridge that consists of a cabin, a day room and an office. But each room — cozy, not spacious — is no larger than a single crew cabin. The ship has a pool, but one in which only a goldfish would find enough room to swim laps. Least impressive is the M/V Maersk's top speed of only 23 knots, half that of a U.S. aircraft carrier and significantly slower than most other container ships.
Invisible Achievements
The M/V Maersk's principal achievements lie in benefits invisible to all but accountants, naval architects and environmental experts but the cumulative results are outstanding. Triple-E vessels will travel 184 kilometres using 1 kWh of energy per ton of cargo, whereas a jumbo jet travels half a kilometre using the same amount of energy per ton. The savings are the result of a unique hull design, an energy-efficient engine, a
waste heat recovery system
, which uses exhaust gas to produce extra energy to help propel the ship, and a vast
economy of scale
. Combined these factors denote that the Triple-E will emit 20 percent less CO2 (per container moved) compared to the
Emma Maersk
, currently the world's largest container vessel, and 50% less than the industry average on the Asia-Europe trade lane.
World Record Size
With a sailing draft of 14.5 meters (48′) she is too deep for most American ports and, according to Maersk, the vessel will be calling on just 13 ports, all located in Asia and Northern Europe. The vessel is also too large for the, soon-to-be, 
expanded Panama Canal
 but is well within the maximum 20 meter draft and 77.5 meter beam requirements for vessels sailing through the 
Suez Canal
 which she will transit. The ship is certainly impressive but is not the largest ship ever built, that honor goes to the recently expired
Knock Nevis
, a 458 meter ULCC supertanker scrapped in 2010 and, while she is expected to be listed in the next year's guinness book of world records, she will not hold the
world's biggest ship
distinction for long. At 400 meters she is
88 meters shorter in length
than the Shell
Prelude FLNG
already under construction across the island at Samsung Heavy Industries, and she displaces close to half the water of the impressive dual-hulled heavy-lift ship
Pieter Schelte
which was recently launched at the same shipyard, DSME. Regardless of competition, new and old, the M/V Maersk Mc-Kinney Møller is a thoroughly impressive vessel that will dwarf most other ships and outclass every Navy vessel ever built, including America's largest aircraft carriers.
For behind the scenes Photos And Videos of the Triple-E visit: Mærsk Mc-Kinney Møller – Meet The World's Largest Ship!
For gCaptain's full coverage of the Triple-E visit: Maersk Triple-E Archives
By John Konrad, a captain and founder of the world's leading maritime blog, gCaptain.com. His latest book is Fire on the Horizon: The Untold Story of the Gulf Oil Disaster, a non-fiction bestseller written with Tom Shroder. Edited by Stan Pinkwas.
http://worldmaritimenews.com/archives/85021/gl-to-class-five-cscls-triple-e-vessels/
Copyright world maritime news. please read the Rest of the article in a.m. link
GL to Class Five CSCL's Triple-E Vessels
Posted on May 27th, 2013 with tags class, CSCL, europe, five, Germany, GL, News by topic, Triple-E, vessels.
Germanischer Lloyd (GL) has signed a classification agreement with Hyundai Heavy Industries (HHI) for the construction of five 18,400 TEU containerships. The so far largest container vessels are ordered by China Shipping Container Lines (CSCL).
"
The agreement marks a historic milestone for GL. We feel honored to be part of this exciting project and will make sure it becomes a success
," said Mr
Erik van der Noordaa, CEO of GL Group.
CSCL expects that the combined efforts with HHI and GL lead to the most state-of-the-art containerships that will strengthen their international competitiveness and global service network. Besides its size, the new type of containership is unique in its environmental performance with reduced fuel consumption and CO2 emissions. According to HHI, fuel consumption will be cut by 20-30% per unit and thereby lower its unit cost considerably. Each of these mega containerships measures 400m overall in length and 58.6m in width. They will be built according to GL's rules for classification and construction. Delivery is scheduled to begin in the second half of 2014. The vessels are equipped with the GL class notation RSCS (Route Specific Container Stowage). RSCS was recently introduced to provide an even more efficient usage of cargo capacity with more flexibility and more laden containers on board on specific routes without compromising on safety. With the class notation EP-D (Environmental Passport Design) the vessels are prepared for upcoming regulations at an early stage. EP-D is a compilation of relevant ship characteristics for meeting national and international environmental Standards.
Giganten der Meere
Containerschiffe XXL / Hans Jürgen Witthöft
Giganten der Meere
(lifepr) Hamburg, 16.05.2013 - Das jetzt in zweiter Auflage erscheinende, erweiterte und aktualisierte Buch zeigt die Entwicklung der Containerschifffahrt von den Anfängen bis in die Gegenwart auf. Die internationale Containerschifffahrt ist die Basis für ein alle Verkehrsgebiete umfassendes Netzwerk und zugleich wichtigste Grundlage für die rasch voranschreitende Globalisierung der Weltwirtschaft. Ohne die Containerschifffahrt wäre die Globalisierung der Volkswirtschaften in der Form, wie sie seit einigen Jahren zu erleben ist, nicht möglich gewesen. Der Autor berichtet von genau dieser "Transportrevolution". Dabei steht die Entwicklung der Schifffahrt im Mittelpunkt. Deutlich gemacht werden aber auch die Einbindung und Probleme der anderen Verkehrsbereiche, wie LKW, Bahn oder Binnenschifffahrt. Besonders herausgestellt werden dabei die Aufgaben der Häfen als wichtigster Schnittstelle zwischen dem weltweiten Gütertransport über See und ihre Funktion als Sammelplatz für die Verteilerverkehre. Es ist beeindruckend, in welch rasanten Sprüngen sich die Schiffsgrößen in den Jahren entwickelt haben, betrachtet man die heutigen XXL-Megacarrier mit Stellplätzen für 15.000 Boxen und mehr. In entsprechendem Maße mussten sich die Häfen anpassen. Sie bieten mit den gigantischen Containerbrücken und den teilweise bereits automatisch betriebenen Flurfördergeräten ein fantastisches Bild, ebenso wie die gewaltigen Containerblockzüge mit Längen bis zu 1.000 Metern. Das Buch erscheint unter dem Reihentitel "Giganten der Meere". Zum Autor Hans Jürgen Witthöft ist Fachjournalist mit langjähriger Erfahrung im Bereich Schifffahrt und Marine. Neben Beiträgen in Zeitungen und Zeitschriften hat er zahlreiche Bücher zu maritimen Themen veröffentlicht und betreut seit vielen Jahren als Herausgeber Köhlers FlottenKalender. Hans Jürgen Witthöft Giganten der Meere - Containerschiffe XXL 2., überarbeitete Auflage Erscheinungsdatum Mai 2013 208 Seiten - 25 x 26 cm zahlr. s/w- u. Farb-Abb., - Pappband mit Schutzumschlag EUR (D) 29,95 - EUR (A) 30,80 - SFr* 41,80 ISBN 978-3-7822-1082-9 Koehlers Verlagsgesellschaft, Hamburg Ein Unternehmen der Tamm Media GmbH * unverbindliche Preisempfehlung
Link zu weiterführenden Informationen
Ausführliche Infos zur Firma Koehlers Verlagsgesellschaft mbH
The CMA CGM Group is pleased to announce that the CMA CGM ALEXANDER VON HUMBOLDT, second of the world's largest and state of the art containership's series, begins its first voyage today, Friday, April 19th in Pusan, South Korea.
Comparison of the largest container ships in the world!
Triple E will soon replace Emma Maersk as the largest ship in the world.
Copyright Maersk line Built by DSME (Daewoo Shipbuilding and Marine Engineering) in South Korea, this giant of the seas, owned by CMA CGM, displays exceptional dimensions: 396 meters long, 54 meters wide, with a draft of 16 meters and sails under the UK flag. In line with the sustainable development policy of the Group, the CMA CGM ALEXANDER VON HUMBOLDT is equipped with all the latest environmental technologies.
The CMA CGM ALEXANDER VON HUMBOLDT is the second of a series of three 16 000 TEU vessels, all to be named after great explorers. The delivery of the third vessel of the series, the CMA CGM JULES VERNE, which will sail under the French flag, is expected at the beginning of May 2013. The CMA CGM ALEXANDER VON HUMBOLDT will be christened, Tuesday 30th May 2013 in Hamburg, in presence of her godmother, Dr. Dorothee Stapelfeldt, Second Mayor of Hamburg, Mr. Olaf Scholz, Mayor of Hamburg and Mr. Jacques R. Saadé, CMA CGM Group's Chairman and Chief Executive Officer . Operated on the emblematic line of the Group, the « French Asia Line » (FAL 1), the CMA CGM ALEXANDER VON HUMBOLDT will call at Pusan (19 April), Qingdao (21 April), Ningbo (24 April), Shanghai (26 April), Xiamen (29 April), Hong Kong (30 April), Chiwan (1 May), Yantian (2 May), Port Kelang (6 May), Suez (19 May), Tanger (23 May), Southampton (27 May), Hamburg (29 May), Bremerhaven (31 May), Rotterdam (2 June), Zeebrugge (3 June), Le Havre (5 June), Malta (11 June), Suez (14 June), Khor Al Fakkan (22 June), Jebel Ali (24 June), Port Kelang (3 July) and Ningbo (10 July). The FAL1 operates the largest vessels of the CMA CGM fleet and offers its customers a fixed-day, weekly connection between Central and South China, the main exporting zones of the country, and Northern Europe.
* Alexander von Humboldt is a German naturalist, geographer, and explorer, born September 14, 1769 in Berlin and died May 6, 1859 in the same city. Humboldt is considered as the father of modern geography. He cleared and applied two principles that make geography a distinct science of physical and biological sciences. He is the younger brother of Wilhelm von Humboldt, Minister of Prussia and German philosopher, who, as a visionary for research and education, founded the Humboldt University of Berlin in 1810.
Reference:
cma-cgm
Image Credits:
vesseltracker
You may also like :
CMA CGM Wins Support from Banks, Bonds Outpace Peers
By Bloomberg On
 http://gcaptain.com/wins-support-banks-bonds-outpace/
Copyright Gcaptain Blomberg
pls read the rest od the Article in above link CGM CMA is one of the famous lies for Hamburg Port, with an own office there Baumwall.
CMA CGM SA's bonds rallied seven times faster than peers in the past week after the third-biggest container line won support from banks to loosen debt terms, bolstering plans for a share sale as early as next year. The extra yield over benchmark debt on the Marseille-based shipper's senior notes due 2017 tumbled 7 percent since the Feb. 12 agreement, compared with a 1 percent drop in Bank of America Merrill Lynch's Large Cap Issuers Distressed High Yield Index. The owner of the world's largest container ship got banks to reorganize loans and extend a 280 million-euro ($374 million) facility to refinance debt coming due this year. Talks have been going on since it breached financing conditions in 2009. CMA CGM said the restructuring and a $150 million investment from the French government lifted the threat of default and allowed it to focus on a planned U.S. initial public offering. "Bonds can start to rally when companies announce plans for an IPO, especially if it's expected that a portion of the IPO proceeds will repay debt," said Quin Casey, a London-based analyst at Aviva Investors Ltd., which manages 274 billion pounds ($424 billion), including the French shipping company's bonds. "CMA CGM is an improving credit. The bonds may continue to outperform its peers." Losing Money CMA CGM's profit was hurt by declining container rates and the firm reported a 72 percent slump in earnings before interest, taxes, depreciation and amortization in 2011. The group of 70 lenders led by BNP Paribas SA and Societe Generale SA agreed to last week's debt restructuring. They replaced loan covenants based on Ebitda with a measure linked to the company's net worth, or how far its assets exceed liabilities, according to the company. Ebitda increased to $617 million in the third quarter, from $460 million in the second, and a loss of $31 million in the first three months of 2012, the company said. Its net worth stands at $4.2 billion, from $4 billion at the end of 2012. "Given what happened in the container-shipping industry in the past three years, our lenders have come to terms with the reality that it's difficult to manage covenants based on Ebitda with this level of volatility," Chief Financial Officer Michel Sirat said in a phone interview. "After the debt restructuring, our most important financial plan this year is to get ready for a potential IPO in 2014." Default Threat Bondholders are counting on the new covenant arrangement to free CMA CGM from the threat of default as the industry endures the oversupply of capacity. The global containership fleet will expand another 7.3 percent in 2013, according to London-based Clarkson Plc, the biggest shipbroker. The yield on CMA CGM's $395.7 million of senior, unsecured notes due April 2017 and redeemable by the company next year, narrowed to 1,184 basis points more than government debt, from 1,277 basis points on Feb. 11, according to Bloomberg prices. The bonds also have rallied faster than those of rival Hapag-Lloyd AG's $250 million of 9.75 percent notes due in 2017, whose yield relative to benchmarks tightened less than 1 percent since Feb. 11, Bloomberg prices show. 'Attractive Value' "The credit fundamentals have improved significantly," said Steven Mitra, a partner at LNG Capital LLP, a London-based hedge fund. "The bonds continue to offer attractive value." CMA CGM will consider taking advantage of favorable credit- market conditions to sell debt this year, Sirat said. Apart from the dollar bonds, its only outstanding notes are 286.1 million euros of 8.875 percent senior securities due in 2019 and with a call option in 2015, data compiled by Bloomberg show. The company issued both bonds in April 2011. Ratings companies were becoming more favorable about CMA CGM even before the restructuring and cash injection, amid signs of a global economic recovery that would bolster demand. Standard & Poor's put the company on "positive" watch Nov. 28, which meant it could upgrade its CCC+ rating, seven levels below investment grade, within three months. The New York-based ratings firm cited a "significant improvement in CMA CGM's operating cash flow and liquidity position." It also said the rating was constrained by a "highly leveraged financial risk profile and the high operating risk in the cyclical, capital-intensive and competitive container shipping industry." Rating Cut Moody's Investors Service downgraded the company by one level to B3 in March 2012 after "weaker-than-expected" results. That's still one level higher than S&P's assessment. CMA CGM said last week it has $4.6 billion of loans and bonds and about $600 million of cash, compared with $6.2 billion of debt and about $630 million of cash at the end of 2009. Net debt was 4.8 times Ebitda in the 12 months to September, from 12.9 times as of June, according to Spread Research. "The key challenge for CMA CGM is how they can weather the currently soft freight rates and at the same time be able to convince potential equity investors that the industry is on a systemic recovery," said Paul Marty, a Lyon, France-based credit analyst at Spread Research. "The agreement with banks and new investors will buy them time but it won't insulate the company from the downturn and the highly cyclical nature of the industry." CMA CGM was founded in 1978 by a refugee from Lebanon's civil war, according to its website. It employs more than 17,200 people and runs a fleet of 394 vessels, ranking behind Copenhagen-based A.P. Moeller-Maersk A/S and Mediterranean Shipping Co. SA of Geneva. CMA CGM linked up in 2010 with Yildirim Holding AS, a Turkish container-port operator, which bought a 20 percent stake for $500 million.
France: CMA CGM Finalizes Its Financial Restructuring
Posted on Feb 12th, 2013 with tags
CMA CGM
,
europe
,
Finalizes
,
financial
,
France
,
News by topic
,
Restructuring
.
Copyright CGM CMA
CMA CGM announced that it has now finalized its major financial restructuring launched less than a year ago:
http://worldmaritimenews.com/archives/76475          Copyright World maritime news pls read the rest of the article in above link - Closing of the agreement with its Banks regarding its debt restructuring. This agreement provides for a new covenant package taking into account the industry's volatility and a partial refinancing of a credit line maturing in 2013 into new secured term loans of a maturity of more than 3 years for a total amount of EUR 280 million . - Signing of a binding agreement with the French Fonds Stratégique d'Investissement who at closing, expected within 3 months, will subscribe to bonds redeemable in shares for an amount of US$150 million giving right to a 6% stake in CMA CGM upon conversion. - Closing of the subscription, under the terms of the existing agreement, by the Yildirim Group of bonds redeemable in shares for an amount of US$100 million giving right to a 4% stake in CMA CGM upon conversion
CMA CGM Marco Polo Completes Maiden Voyage
CMA CGM Marco Polo Completes Maiden Voyage
CMA CGM Marco Polo during her maiden call in Hong Kong. Photo: CMA CGM Group Copyrihgt GCaptain Pls read the rest of the article in above link. French shipping group, CMA CGM, on Monday confirmed that on January 24, the CMA CGM Marco Polo arrived in Ningbo, China, marking the last stop in her maiden voyage from China to Europe and back. The French shipping group took delivery of the Marco Polo on November 5, 2012. With the capacity to carry 16,020 TEUs, the vessel is officially the world's largest containership by TEU capacity.
CMA CGM notes that a number records were set during this first turnaround, including: Copyright Wolfgang Podding Thunfisch 1967
From Le Havre the Marco Polo left with a record load of 163,464 tons.
During the port call at Khor Fakkan, a new productivity record was achieved with an average of 223 movements per hour for a total of 6,922 moves.
At Port Kelang, the CMA CGM Marco Polo left with the biggest load ever made by CMA CGM with 14,398 TEUs.
http://www.hafen-hamburg.de/vessel/cosco-faith
neuester Stand grosse Containerschiffe nach Hamburg
Copyright HHM Wischhusen 140609 t  BRZ 141823  L 346 M B T 15,5 M 48,20M Bj 2012 Leistung 16 kw Geschw. = 24,7 kn  13.092 TEU httpv://
www.youtube.com/watch?v=mPAjhtd9-5Q&feature=youtu.be
| | | |
| --- | --- | --- |
| IMO number: 9454436 | 1st name: CMA CGM MARCO POLO | flag / nationality: France |
| owner: CMA-CGM | operator: CMA-CGM | completion year: 2012 / 09 |
| shipyard: Daewoo Shipbuilding & Marine Engineering Ltd, South Korea | yard / hull number: 4161 | engine design: SUL |
| engine type: 11RT96flex-C | power output (KW): 68.000 | maximum speed (Kn): 22,5 |
| overall length (m): 395 | overall beam (m): 54.00 | maximum draught (m): 16.00 |
| maximum TEU capacity: 16000 | container capacity at 14t (TEU): 10000 | reefer containers (TEU): 1.100 |
| deadweight (ton): 157.092 | gross tonnage (ton): 153.022 | handling gear: None |
12.04.2012, 06:36 Uhr
In order to finalize the acquisition, which was announced on November 25th 2014 by Mr. Jacques R. Saadé, founder, Chairman and Chief Executive Officer of the CMA CGM Group, the approval of Moroccan and European Union competition authorities was necessary. On June 29th, the European Commission finalized the process by giving its approval without any conditions.
Hamburg. Der Hamburger Hafen bekommt im Spätherbst einen Rekordbesuch: Der dann weltgrößte Containerfrachter, die "CMA/CGM Marco Polo", wird am 21. November am Burchardkai der Hamburger Hafen und Logistik AG (HHLA) erwartet. Das Schiff der französischen Reederei, das noch bei der Daewoo-Werft in Korea gebaut wird, hat eine Kapazität von 16 000 Standardcontainern. Der Frachter, der bis Anfang Oktober geliefert werden soll, wird 395 Meter lang und 58 Meter breit. Eingesetzt wird das Schiff im Liniendienst zwischen Asien und Europa. Dort läuft es vor der Hamburg-Visite Southampton und danach Zeebrügge, Rotterdam und Le Havre an.(rz)
12.04.2012, 06:36 Uhr
Hamburg. Der Hamburger Hafen bekommt im Spätherbst einen Rekordbesuch: Der dann weltgrößte Containerfrachter, die "CMA/CGM Marco Polo", wird am 21. November am Burchardkai der Hamburger Hafen und Logistik AG (HHLA) erwartet. Das Schiff der französischen Reederei, das noch bei der Daewoo-Werft in Korea gebaut wird, hat eine Kapazität von 16 000 Standardcontainern. Der Frachter, der bis Anfang Oktober geliefert werden soll, wird 395 Meter lang und 58 Meter breit. Eingesetzt wird das Schiff im Liniendienst zwischen Asien und Europa. Dort läuft es vor der Hamburg-Visite Southampton und danach Zeebrügge, Rotterdam und Le Havre an.(rz)