HANSA MARBURG Attacked by Pirates Off Equatorial Guinea
Copyright World maritime news  Copyright Rico Voss
Posted on Apr 26th, 2013 with tags africa, Attacked, Equatorial Guinea, HANSA MARBURG, News by topic, Pirates.
Leonhardt & Blumberg, operators of the 23,416 dwt container ship "HANSA MARBURG", confirmed that the vessel was attacked by pirates some 130 miles south west of the Port of Malabo, Equatorial Guinea on April 22. Following the attack, four seafarers, i.e., Ukrainian, Kiribati and Russian citizens, were taken hostage. No injuries were reported among the remaining crew members, who continued with the vessel to Senegal. The company is in contact with the families of those being held and those on board. All the relevant authorities have been contacted, including the German police and the Flag State. Leonhardt & Blumberg is totally committed to the safe return of its seafarers but will not be providing any operational details which could jeopardise the safety of those being held. The owners request that all the interested parties respect the need for utmost confidentiality in this process. To that end, the owners do not expect to make any further comment on this matter until it is concluded. http://www.spiegel.de/panorama/justiz/piraten-greifen-hamburger-schiff-an-und-nehmen-vier-geiseln-a-896631.html Copyright Spiegel bitte den Rest des Artikels in o.g. link lesen
Küste vor Westafrika:
Piraten greifen Hamburger Schiff an und nehmen Geiseln
Hamburg - Piraten haben vor der westafrikanischen Küste ein Containerschiff einer Hamburger Reederei angegriffen. Dabei nahmen sie vier Crewmitglieder als Geiseln. Die Reederei Leonhardt & Blumberg bestätigte einen entsprechenden Bericht des NDR-Magazins "Panorama 3"
auf ihrer Internetseite
. Die als Geiseln genommenen Besatzungsmitglieder stammen demnach aus der Ukraine, Russland und Kiribati. Der Vorfall soll sich bereits am Montag 130 Meilen südwestlich von Äquatorialguineas Hauptstadt Malabo ereignet haben. Von der weiteren Besatzung sei laut Reederei niemand verletzt worden. Das 175 Meter lange Schiff "Hansa Marburg", das unter liberianischer Flagge fährt, habe seine Fahrt in Richtung Senegal fortgesetzt. Die deutsche Polizei und weitere zuständige Behörden seien unterrichtet worden. Um die Entführten nicht zu gefährden, will die Reederei keine weiteren Details bekanntgeben.Die "Hansa Marburg" ist nicht das erste Schiff von Leonhardt & Blumberg, das von Seeräubern überfallen worden ist. Im April 2009 war die "Hansa Stavanger" von somalischen Piraten gekapert worden. Erst
vier Monate später
kamen das Schiff und seine 24-köpfige Besatzung gegen ein Lösegeld
von umgerechnet rund 2,1 Millionen Euro frei
. Zu Beginn der damaligen Geiselnahme war eine geplante Befreiungsaktion durch die Elitetruppe GSG 9 kurzfristig abgebrochen worden. Eine Zulassungspflicht für Sicherheitsunternehmen ab dem 1. Dezember 2013 habe der Gesetzgeber bereits beschlossen. Zuständig dafür ist das Bundesamt für Wirtschaft und Ausfuhrkontrolle.
Wirtschaft und Technologie/Verordnung - 26.04.2013
Berlin: (hib/HLE) Das Bundesministerium für Wirtschaft und Technologie hat die Verordnung über die Zulassung von Bewachungsunternehmen auf Seeschiffen (
17/13308
) vorgelegt. Damit wird das Verfahren für die Zulassung dieser Unternehmen konkretisiert. Wie das Ministerium erläutert, ist eine regelmäßige Überprüfung der Unternehmen durch eine Befristung der Zulassung auf zwei Jahre sichergestellt.
The master of a Yemeni dhow operating along the coast of Somalia and Yemen in the Gulf of Aden told an EUNAVFOR team that he had not seen any pirate activity in the region in the last two years. On Thursday morning, crews from the Spanish frigate ESPS Numancia, deployed with the EU Naval Force (EU NAVFOR) Somalia Operation Atalanta, performed a friendly approach on the dhow to help promote understanding about EUNAVFOR´s mission and to gather information from locals about the pattern of life in the area. The dhow's master invited the small team to go aboard and meet the crew. The master said that they had not seen any recent pirate activity while sailing along the Somali and Yemeni coastlines in the Gulf of Aden. The master seemed to be aware of EUNAVFOR´s counter piracy activity and mentioned that he had never been visited by a Spanish warship before. The members of the ship's team passed out informational leaflets about EUNAVFOR's mission and also provided the dhow's crew with some food and bottles of water, before returning to Numancia. EUNAVFOR noted that this type of interaction with regional fishermen is important, as it helps promote awareness of EU NAVFOR´s counter piracy operation and the protection that the warships provide. It also helps to increase understanding of the local maritime community and obtain first hand information about possible piracy activities in the area.
About The Author
gCaptain Staff Copyright gCaptain
gCaptain is the top-visited maritime and offshore industry news blog in the world. Since 2007, gCaptain has proven to be a highly effective platform for information sharing and source for up-to-date and relevant news for industry professionals worldwide.
Visit Authors
http://gcaptain.com/new-pilot-program-hopes-to-bring-some-clarity-to-private-maritime-security/
New Pilot Program Hopes to Provide Some Clarity to Private Maritime Security
pls read the rest of the article in above link
File photo of a privately contracted armed guard. MSS Global, as an accredited certification body recognized by the private security industry, has selected the first two Private Maritime Security Companies (PMSCs) to undergo a pilot audit for ISO PAS 28007, a standard that hopes to provide some clarity for private security companies operating in the shipping industry. The ISO Publically Available Specification 28007, as part of the broader supply chain security management system, ISO 28000, is a aimed at establishing internationally recognized guidelines for PMSCs providing private contracted armed security personnel on board ships. It covers everything from client engagement and risk perception, through company head office procedures and protocols, including selection and training of security teams, through to service delivery and post incident management. MSS Global, under the UK Accreditation Service (UKAS) Certification Pilot Programme, has selected Port2Port Maritime Security and Castor Vali Security Risk Management to undergo the audit assurance process in accordance with ISO 28000 and ISO PAS 28007 (maritime) beginning later this month. MSS Global says that the companies were selected because they would best capture the breadth of market demands so the certification model developed best fits the PMSC market that supports the commercial shipping industry. Tony Chattin, the Managing Director of MSS Global said, "We are delighted to be working with Port2Port and Castor Valli through this UKAS sponsored pilot to deliver this important ISO which has been designed specifically for this emergent maritime security market. This process to date has taken much work, involving many others across the maritime security sector, such as the UK Security in Complex Environments Group (SCEG), the Security Association for the Maritime Industry (SAMI) and BIMCO." Chattin continued, "This international standard will establish a clear capability benchmark, that will allow PMSCs to provide assurance to their clients through the impartial third party accredited certification regime for management systems, enshrined in the ISO framework." Andrew Varney, the Managing Director of Port 2 Port said, "We are very pleased to have been selected for the pilot ISO audit. Port2Port operates to extremely high standards and to be assessed against this globally recognized standard across all our processes is a benchmark we are keen to achieve."
http://www.tageblatt.lu/nachrichten/luxemburg/story/22436859
Bundestag
Seemannsgesetz aufgehoben
http://www.thb.info/news/single-view/id/seemannsgesetz-aufgehoben.html Samstag, 23. Februar 2013 Die Arbeitsbedingungen der weltweit rund 1,2 Millionen Seeleute sollen sich verbessern. Mit diesem Ziel hat der Bundestag am späten Donnerstagabend den Weg dafür freigemacht, dass Deutschland das internationale Seearbeitsabkommen ratifizieren kann. Die 2006 auf den Weg gebrachte Vereinbarung sieht unter anderem Mindeststandards bei Arbeitszeiten, Unterbringung und ärztlicher Versorgung vor. In Deutschland wird damit gleichzeitig das Seemannsgesetz aus dem Jahr 1957 aufgehoben. Zur Begründung heißt es, die Regelungen unter anderem beim Urlaubs- und Kündigungsrecht entsprächen nicht mehr den heutigen Erfordernissen.
dpa/FBi
Mehr: THB Täglicher Hafenbericht
Copyright Tageblatt.lu Bitte den Rest des Artikels in o.g. link lesen
billigt zertifizierte Sicherheitskräfte an Bord
Auf hoher See
07. Februar 2013 10:37; Akt: 07.02.2013 15:35
Print
Das Geschäft mit der Piraterie
Vor der Elfenbeinküste wird ein Schiff unter luxemburgischer Flagge gekapert. Inzwischen kein Einzelfall mehr. Was sich hinter den Kulissen abspielt bleibt meist geheim. Private Sicherheitsfirmen verdienen ein Vermögen.
Inzwischen setzen weltweit Reedereien immer mehr auf Söldner zum Schutz ihrer Schiffe. Eine juristische Grauzone für Staaten und Gesellschaften (Bild: dpa)
Am 31.Januar legt die "Gascogne" im Hafen von Abidjan in Elfenbeinküste mit 3000 Tonnen Diesel ab
. Drei Tage später, 150 Kilometer vor der Küste kapern Piraten den Tanker, nehmen 17 Besatzungsmitglieder als Geisel und schalten den Transponder ab. Das Schiff verschwindet von den Schirmen. Was die Piraten zur Aufgabe ihrer Tat bewog, bleibt im Nebel. Gab es eine Befreiungsaktion durch die französische Marine? Es gab einen Verletzten unter der Besatzung. Besonders brisant: Fast die gesamte Treibstoffladung wurde von den Piraten auf andere Schiffe abgepumpt, berichten französische Medien unter Berufung auf einen nicht genannten togolesischen Diplomaten. Der wertvolle Stoff wird später am Festland auf dem Schwarzmarkt verkauft, heißt es. Der wirtschaftliche Schaden ist groß.
Bewaffnete Söldner
Das französische Transportministerium wurde hellhörig. "Via Verteidigungsministerium wolle man die Spur der Treibstoffdiebe zurückverfolgen," sagt Transportminister Frédéric Cuvillier. Während Spanien Italien und Großbritannien auf private bewaffnete Sicherheitsfirmen setzt, tut sich Frankreich damit noch schwer. Bislang gibt es kein Gesetz für private Sicherheitsfirmen unter nationaler Flagge. Bislang müssen die Reeder im Enstfall auf Soldaten der französischen Armee zurückgreifen. In der französischen Politik mehren sich aber inzwischen die Forderungen nach bewaffneten Söldnern an Bord von Fracht- und Tankschiffen. Bis zu 10.000 US-Dollar pro Tag muss man für private Sicherheitskräfte an Bord eines Schiffes zahlen. Billiger als eine Versicherung. Hat man Söldner an Bord sinkt die Prämie. Bis heute gibt es keinen bekannten Piratenüberfall auf ein derart bewachtes Frachtschiff. Das Geschäft blüht also.
In der Grauzone
Die "Gascogne" gehört zur französischen Reederei "Sea-Tankers" und fährt unter Luxemburger Flagge. Hat Luxemburg bereits auf private Sicherheitsfirmen zurückgegriffen oder wurde zumindest darüber informiert? Die Frage bleibt derzeit unbeantwortet. Hier schwimmt man in einer Grauzone, heißt es hinter vorgehaltener Hand. Schließlich geht es um Haftungsfragen.
Die starke Nachfrage nach maritimem Schutz vor Piraterie trägt zum historischen Aufschwung von Sicherheitsunternehmen bei, heißt es bei "GlobalDefence.net" und nennt den britischen Dienstleister "Group 4 Securicor". Das Unternehmen beschäftigt mehr als 600.000 Menschen in mehr als 100 Ländern. Der Jahresumsatz liegt bei acht Milliarden Euro. Die Firma gilt allmählich als der größte private Arbeitgeber in Europa. Die Zahl der privaten Sicherheitsfirmen spezialisiert auf maritime Operationen liegt zwischen 160 bis 180.
Militante Gruppen
Die Elfenbeinküste grenzt an Mali. Dort sind seit fast einem Monat französische Soldaten im Kampf gegen Islamisten im Einsatz. Es war das zweite Mal binnen drei Wochen, dass ein Tanker vor der Elfenbeinküste in die Gewalt von Piraten gerie
http://gcaptain.com/ships-illegal-armed-guards-west
Copyright GCaptain Michell Wiese Bockmann pls read the rest of the aritcle in above link
Ships Seen Using Illegal Armed Guards Against West Africa Piracy, Says P&I Club
File photo of an armed guard. By Michelle Wiese Bockmann (Bloomberg) — Some merchant ships are using illegal armed guards to deter pirates off West Africa, prompting at least one country to suspend use of legitimate guards, said North of England P&I Association Ltd. Regional laws require ships to use guards provided by the security forces of local nations, the Newcastle-Upon-Tyne, England-based vessel insurer said in a Feb. 5 notice on its website. Some of the local agencies that provide guards hired off-duty security forces to save money, the statement showed.
Vor der Elfenbeinküste
Öltanker vermisst
http://www.maritimheute.de/bundeswehr-impressionen-atalanta-video/ Dienstag, 05. Februar 2013 Der französischer Öltanker "Gascogne" ist vor der Elfenbeinküste vermisst gemeldet und wahrscheinlich von Piraten gekapert worden. Das berichtete die Piraterie-Meldestelle der Internationalen Handelskammer (IMB) am Montag in Kuala Lumpur. An Bord sind 17 Seeleute. Das Schiff wird seit Sonntag vermisst. Die Piraterie auf See war 2012 deutlich zurückgegangen. Die Meldestelle registrierte 297 Angriffe auf Schiffe, so wenig wie seit fünf Jahren nicht mehr. Ein Jahr zuvor waren es 439 gewesen. Das ist auf die Marinepatrouillen vor allem vor der somalischen Küste zurückzuführen, hieß es.
dpa/FBi
  http://gcaptain.com/typhons-private-navy-a-game-changer-or-a-new-maritime-counter-piracy-maginot-line/ pls read the restof the aricle in above link Copyright Gcaptain
Typhon's Private Navy: A Game-Changer or a New Maritime Counter-Piracy Maginot Line?
By Martin Edwin Andersen The
announcement earlier this month
that a British company, Typhon, is creating a private navy to protect commercial clients from piracy off the Horn of Africa and beyond caused a small sensation in much of the world's media. One of the entrepreneurs involved, Anthony Sharp, bravely claimed to The Telegraph that the effort, using real or-hoped-for assets–motherships, helicopters and small boats–was "the first of its kind for probably 200 years and will protect private shipowners' assets at sea." Listening carefully, however, Typhon's offer left me with the question: Is going back to a 200-year-old model truly a "game-changer" in the already highly-competitive counter-piracy market? http://gcaptain.com/good-riddance-somali-pirate-kingpin-retires/ Weekly Piracy Report
Tanker Hijacked in Gulf of Guinea
IMB Report
: 16.01.2013: 2200 LT: Abidjan anchorage, Ivory Coast. A tanker was reported hijacked by pirates. Further details awaited. A tanker with 16 crewmembers and loaded with 5,000 tons of jet fuel has been hijacked in the Gulf of Guinea, Ivory Coast port officials said Monday. According to a statement by officials at the Port of Abidjan, the Panamanian-flagged
ITRI
was seized last Wednesday by gunmen as the vessel was preparing to offload its cargo at the Ivory Coast Port. The
ITRI
, which was last seen off the coast of Ghana, is now missing. The 6,330DWT
ITRI
is owned by Lagos-based Brila Energy. "The vessel is still missing and the hijackers whose sole objective is to steal the cargo of Jet A1 on board the vessel are yet to make any demands," Brila Chairman, Rowaye Jubril, told
The Associated Press
in an e-mail. He added that all 16 crew members were Nigerian. The incident is the latest in a surge of increasingly sophisticated attacks off the oil-rich coast of Nigeria in the Gulf of Guinea. According to figures by the International Maritime Bureau, 10 vessels with a total of 207 crew were seized in the Gulf of Guinea in 2012. Unlike their Somali pirate counterparts, Nigerian pirates typically attack vessels with the goal of stealing cargo rather than holding vessels for ransom.
Editorial: Pirate Horizons in the Gulf of Guinea
---
Related Articles:
pls read the rest of the article in above linke Copyright GCaptain Mohamed Abdi Hassan, aka 'Afweyne' or 'Big Mouth', the notorious Somali pirate kingpin reportedly behind some of the regions most high-profile hijackings, has announced his retirement.
According to a
report today by the AFP
, Hassan has effectively retired as a Somali pirate kingpin after 8 successful years in the business. "After being in piracy for eight years, I have decided to renounce and quit, and from today on I will not be involved in this gang activity," Hassan told reporters from the central Somali region of Adado. The New York Times 
ran a report
 in August 2011 that described Hassan as a sophisticated, resourceful character who raised venture capital for his pirate operations "as if he were launching a Wall Street I.P.O." Over his career, Hassan and his gang amassed millions of dollars in ransoms paid by ship owners for the release of their ships.
Ransom being dropped by parachute to the Sirius Star on January 9, 2009. In 2008, Hassan and his men allegedly hijacked the fully laden VLCC, Sirius Star. The Sirius Star is the largest vessel ever captured by Somali pirates and was estimated to be loaded with about $100 million of oil when hijacked. The Sirius Star was eventually released on January 9, 2009 for a $3 million ransom.
 http://www.thb.info/news/single-view/id/piratenkoenig-geht-in-den-ruhestand.html
Hoffnung für die Schifffahrt
"Piratenkönig" geht in den Ruhestand
Montag, 14. Januar 2013Somalias "Piratenkönig" Mohamed Abdi Hassan und seine gesamte Seeräuberbande wollen ihre kriminelle Arbeit an den Nagel hängen. "Mein Vater hat erklärt, dass er nicht weiter kommerzielle Schiffe entführen wird", sagte sein Sohn Abdulkadir der Nachrichtenagentur dpa. Acht Jahre lang habe die von seinem Vater gegründete Truppe im Zentrum des Krisenlandes den "tödlichen Piratenjob" ausgeführt, fügte er hinzu. Der unter dem Namen "Afwayne" bekannte "Piratenkönig" hatte in der vergangenen Woche gegenüber Medienvertretern erklärt, alle ausländischen Schiffe könnten nun ungehindert in den Gewässern seines Gebietes fahren. "Aber wir rufen die Regierung dazu auf, Arbeitsplätze für die Jugendlichen zu schaffen, die davon träumen, Piraten zu werden." Nach dpa-Informationen sollen mehrere Dorfälteste sowie Geschäftsleute und Verwaltungschefs der Region die Piraten von dem Schritt überzeugt haben. Die Gewässer vor der Küste Somalias sind seit Jahren für Piratenattacken berüchtigt. Insgesamt ist die Zahl der Angriffe im Golf von Aden und im Indischen Ozean aber rückläufig. Mehr als 120 Menschen werden aber noch immer als Geiseln gehalten. dpa/FBi

http://www.somaliareport.com/index.php/topic/35

International
Gewässer vor Somalia sind für Handelsschiffe brandgefährlich
Piratenbanden gehen auf die Jagd, um Frachter und Besatzungen zu entführen. Zum Schutz der wichtigen Schifffahrtsrouten in der Region ist seit längerem eine internationale Marineflotte im Einsatz.
http://www.dw.de/deutsche-fregatte-stoppt-piraten/a-16321743?maca=de-rss-de-all-1119-rdf
SOMALIA
Deutsche Fregatte stoppt Piraten
Die Bundeswehr-Fregatte "Sachsen" hat vor der Küste Somalias einen Piratenangriff auf ein iranisches Schiff gestoppt. Marinesoldaten wurden nicht verletzt. Die Fregatte war nach Angaben des EU-Anti-Piratenprogramm (EU NAVFOR) informiert worden, dass Piraten die iranische Dow, ein traditionelles Segelschiff, vor der Küste des ostafrikanischen Landes gekapert hätten.
Soldaten enterten iranischen Segler
Wie die Bundeswehr auf ihrer Internetseite mitteilte, konnte der Kommandant der "Sachsen" Kontakt mit dem iranischen Kapitän aufnehmen. Dieser berichtete, dass sieben Piraten auf dem Schiff seien und ihn geschlagen hätten, außerdem seien Waffen an Bord. Mit Einverständnis des Kapitäns enterten deutsche Soldaten das Schiff. Auf der Dow waren 20 Iraner und sieben Somalier. Die der Piraterie verdächtigen Somalier wurden nach Darstellung der Bundeswehr an Bord der Fregatte gebracht, die Waffen wurden sichergestellt. Bei der Aktion gab es auf deutscher Seite keine Verletzten.
Mission ATALANTA erfolgreich
Die "Sachsen" ist im Rahmen der EU-Mission "Atalanta" am Horn von Afrika gegen Piraten im Einsatz. Neben europäischen Schiffen patrouillieren in dem Gebiet Boote der NATO und Einheiten aus China, Indien und anderer Staaten. Die Gewässer vor der Küste des vom Bürgerkrieg zerrissenen Somalia zählen seit Jahren für Handelsschiffe zu den gefährlichsten der Welt. Nicht zuletzt durch den internationalen Marineeinsatz ist die Zahl der Seeräuberangriffe in den vergangenen Monaten stark gesunken. Nach Angaben des Piraten-Beobachtungszentrums des International Maritime Bureau IMB fiel sie im ersten Halbjahr 2012, verglichen mit dem Vorjahreszeitraum, um mehr als die Hälfte von 163 auf 69. Wie "Atalanta" vor wenigen Tagen mitteilte, halten Piraten in der Region gegenwärtig sechs Schiffe mit 156 Seeleuten in ihrer Gewalt, um Lösegeld zu erpressen. Mogadischu - Seit mehreren Jahren sind die Gewässer vor der Küste Somalias für Handelsschiffe die gefährlichsten der Welt. Gut organisierte Piratenbanden gehen am Horn von Afrika auf die Jagd, um Frachter und Besatzungen zu entführen. Das seit Jahrzehnten von Bürgerkriegen zerrissene Somalia gilt als Prototyp eines "zerfallenen Staats", in dem keine funktionierende Regierung existiert und anarchische Zustände herrschen.Die Zahl der Seeräuberangriffe sank zuletzt allerdings stark. Nach Angaben des Piraten-Beobachtungszentrums des International Maritime Bureau (IMB) fiel sie im ersten Halbjahr 2012 verglichen mit dem Vorjahreszeitraum um mehr als die Hälfte von 163 auf 69. Das liege an der Stationierung internationaler Kriegsschiffe sowie dem verstärkten Einsatz privater Sicherheitsleute an Bord. Nach Angaben der EU-Marinemission Atalanta werden in der Region gegenwärtig aber sechs Schiffe mit 156 Seeleuten von Piraten gefangen halten.Zum Schutz der wichtigen Schifffahrtsrouten in der Region ist seit längerem eine internationale Marineflotte im Einsatz. Außer der EU-Mission Atalanta, an der sich auch die deutsche Marine beteiligt, patrouillieren auch NATO-Schiffe sowie Einheiten Chinas, Indiens, Japans und anderer Staaten. (APA/AFP)Tiroler Tageszeitung, Onlineausgabe vom Mi, 17.10.2012  13:19
Pirateriebekämpfung zunehmend erfolgreich
Am Horn von Afrika nimmt die Anzahl der Piratenangriffe ab. Es zeigt sich, dass neben der Präsenz europäischer Patrouillenschiffe insbesondere die Anwesenheit von Sicherheitskräften an Bord der Handelsschiffe die Piraten abschreckt. Torsten Staffeldt sagt über die erste multinationale EU-Mission ATALANTA: "Sie ist ein voller Erfolg. Insbesondere der von der FDP-Bundes-tagsfraktion geforderte Strategiewechsel, die Piraten-Mutterschiffe gezielt anzugreifen, zeigt Wirkung. Hinzu kommt die Erweiterung des Mandats zur gezielten Bekämpfung von Piraten am Strand. Damit wird deutlich, wie notwendig das ATALANTA-Mandat war und ist." Ziel der seit 2008 laufenden EU-Marine-Mission ist der Schutz humanitärer Hilfslieferungen des Welternährungsprogramms der Vereinten Nationen nach Somalia sowie der Schutz von Seetransporten der AMISOM (African Union Mission in Somalia) und der Handelsschifffahrt im Golf von Aden sowie jegliche Pirateriebekämpfung vor Ort.
2012 "nur" fünf gekaperte Schiffe
Somalias Piraten spüren Gegenwind
Dienstag, 02. Oktober 2012
Die "Atalanta"-Mission zeigt ihre Wirkung. Foto: Bundeswehr
Die EU-Anti-Piraterie-Operation "Atalanta" am Horn von Afrika zeigt Wirkung. Zu dieser Einschätzung kommen der deutsche Bundestagsabgeordnete Torsten Staffeldt (FDP) sowie der niederländische Verlader- und Logistik-Verband. Der Verband belegt seine Bewertung mit entsprechenden Zahlen. Nach 47 "erfolgreichen" Schiffskaperungen im Jahr 2010 ging die Anzahl auf bislang fünf in diesem Jahr zurück, so die EVO. Das sei zunächst einmal ein Erfolg, auch wenn "jede erfolgreiche Aktion bereits eine zu viel ist", so die EVO weiter. Für 2011 stehen 176 Kaperungsversuchen 25 "Erfolge" gegenüber. Die erkennbare Verringerung der Piratenüberfälle führt der Verband auf die deutlich verbesserten Gegenmaßnahmen der Marine-Einheiten unter EU-Mandat zurück.
Mehr: Im "THB Täglicher Hafenbericht"
ATO: Rückgang von Attacken nicht überbewerten
Piraterie bleibt große Gefahr
Freitag, 14. September 2012
Boardingsoldaten stellen Piraten. Foto: PIZ Marine
Die Piraterie vor Ostafrika bleibt nach Ansicht der NATO ungeachtet erfolgreicher Gegenmaßnahmen eine große Gefahr für die internationale Schifffahrt. Trotz des rückläufigen Trends von Attacken müssten weitere Schritte veranlasst werden, um die Piraterie dauerhaft einzudämmen, sagte NATO-Offizier Bruce Belliveau jetzt auf einer Konferenz der International Chamber of Shipping in London. Die Anzahl der Übergriffe auf Schiffe sei zwar drastisch zurückgegangen, die Entschlossenheit der Piraten hingegen sei größer denn je, hieß es seitens der Kammer am Mittwoch.
Mehr: Im "THB Täglicher Hafenbericht"
VDR drängt auf bewaffnete Bordkräfte
Für effektiven Piratenschutz
Dienstag, 04. September 2012Aus Sorge vor weiteren Piratenüberfällen haben die deutschen Reeder den Bundestag aufgefordert, zügig die Bewaffnung von Handelsschiffen zu erlauben. "Diese Verordnung muss so rasch wie möglich kommen, damit die Unternehmen im Januar 2013 die Zulassung beantragen können", sagte der Hauptgeschäftsführer des Verbandes Deutscher Reeder (VDR), Ralf Nagel, der "Wirtschaftswoche". Aus VDR-Sicht ist die eigene Bewaffnung am effektivsten bei der Gefahrenabwehr. "Noch nie ist ein Schiff gekapert worden, das bewaffnete Kräfte an Bord hatte", so Nagel.
Mehr: Im "THB Täglicher Hafenbericht"
Auch Schweizer Reedereien setzen gegen Piraten auf Söldner
publiziert: Montag, 20. Aug 2012 / 18:45 Uhr
Die Schweizer Reeder profitieren auch vom Anti-Piraten-Einsatz der EU.
Bern - Auf gefährlichen Passagen wie etwa durch den Golf von Aden vor Somalia setzen mittlerweile auch Schweizer Handelsschiffseigner auf den Schutz durch private Sicherheitsfirmen. Das Schweizerische Schifffahrtsamt (SSA) bestätigte einen Bericht der «NZZ am Sonntag».
Im Verlauf der Diskussionen über eine allfällige Teilnahme der Schweiz an der EU-Anti-Piratenoperation «Atalanta» hatten sich die Schweizer Reeder noch gegen die Präsenz privater und bewaffneter Sicherheitsleute auf ihren Schiffen ausgesprochen.Inzwischen hat bei den Reedern der Wind gedreht. Die langjährige Usanz, dass Handelsschiffe unbewaffnet sind, musste laut SSA über Bord geworfen werden. Und der Schutz wirke offenbar; bisher sei kein Schiff mit bewaffneten Sicherheitsleuten an Bord gekapert worden. Und obwohl die Schweiz eine Atalanta-Teilnahme schliesslich ablehnte, profitiert sie von diesem Anti-Piraten-Programm: Die starke Präsenz von Kriegsschiffen erhöhe auch die Sicherheit von Schweizer Schiffen, sagte SSA-Chef Reto Dürler gegenüber der Nachrichtenagentur sda. Nicht billig Nach Recherchen der «NZZ am Sonntag» ist der Einsatz von bewaffneten Wachleuten - oft ausgemusterte Marinesoldaten oder Ex-Polizisten - nicht gerade billig. Ein einwöchiger Einsatz eines vierköpfigen Teams komme auf rund 40'000 Dollar zu stehen. Die Söldner kämen deshalb nur bei besonders gefährlichen Passagen zum Einsatz. Andere Schutzmassnahmen bestehen - neben verstärkten Wachen - etwa im Anbringen von Stacheldraht oder Glassplittern an der Reeling, um den Piraten das Entern zu erschweren. 41 Handelsschiffe Das Schifffahrtsamt ist dem Departement für auswärtige Angelegenheiten angegliedert. Nach SSA-Angaben umfasst die Schweizer Flotte zurzeit 41 Handelsschiffe - Massengutfrachtern, Containerschiffen, Mehrzweckfrachtern, Asphalt- und Produktetankern. Die Schiffe werden weltweit nach Bedarf eingesetzt. Die Flotte wird durch 6 Reedereien mit Sitz in der Schweiz betrieben. Die Reeder informieren wöchentlich über die aktuellen Standorte der Schweizer Hochseeschiffe. (fest/sda)
Lebenslange Haft für Pirat der "Marida Marguerite"
NATO und EU befreien Dhaus
Freitag, 17. August 2012
Ein Militär-Boardingteam befreite die Dhau "Bourhan Nour". Foto: NATO
Vor Ostafrika haben EU- und NATO-Einheiten zwei gekaperte Dhaus befreit. Die französische Fregatte "La Fayette" stoppte am Wochenende vor dem Oman eine entführte Dhau, teilte die NATO jetzt mit. Die Piraten waren mit einer zweiten Dhau, der "Bourhan Nour", geflüchtet. Diese wurde von der deutschen Fregatte "Sachsen" entdeckt. Soldaten des niederländischen Marineschiffs "Rotterdam" befreiten schließlich Dhau und Crew und nahmen die Seeräuber fest. Unterdessen ist Mohamed Shibin alias Ali Jama, einer der Entführer des deutschen Tankers "Marida Marguerite" (THB 14. Juni 2012), in den USA erneut verurteilt worden. Er war auch an der Kaperung der amerikanischen Yacht "Quest" und der Ermordung der Crew beteiligt. Ein US-Gericht sprach in diesem Fall nun eine zwölffache, lebenslange Haftstrafe und 5,4 Millionen Dollar Bußgeld aus.
Deutschland beteiligt sich an "Eucap Nestor"
Neue EU-Mission gegen Piraterie
Donnerstag, 16. August 2012Deutschland weitet sein Engagement im Kampf gegen Piraterie am Horn von Afrika aus. Das Bundeskabinett beschloss gestern die Beteiligung von bis zu zehn Soldaten und Polizisten an der neuen EU-Mission Eucap Nestor, mit der die Länder in der Region zur selbstständigen Kontrolle ihrer Gewässer befähigt werden sollen. Insgesamt will die EU etwa 175 Ausbilder und Berater und Ausbilder in die Region schicken, um die Regierungen von Dschibuti, Kenia, den Seychellen und Somalia zu unterstützen. Die Mission soll die EU-Marine-Operation "Atalanta" ergänzen, an der die Bundeswehr im Moment mit einer Fregatte, einem Aufklärungsflugzeug und rund 310 Soldaten beteiligt ist.
Keine Behinderung des Wettbewerbs
Reeder-Versicherung unbedenklich
Donnerstag, 02. August 2012
Piratenübergriffe gehören zu den größten Risiken auf See. Foto: US Navy
Die gemeinschaftliche Versicherung von Reedern gegen Risiken in der Seefahrt verstößt nicht gegen EU-Recht. Das teilte die Brüsseler EU-Kommission am Mittwoch mit. Sie kam zu diesem Ergebnis,  nachdem sie sogenannte P&I-Clubs unter die Lupe genommen hatte. Darin gehen Reeder gewissermaßen eine gemeinsame Haftpflichtversicherung ein. Die Kommission hatte befürchtet, die Regeln könnten den Wettbewerb zwischen verschiedenen Versicherern behindern.THB
Behrendt: Seeleute brauchen wirksamen, aktiven Schutz vor Piraten
Das Bundeskabinett hat am 18. Juli den Gesetzentwurf zur Zulassung von Bewachungsunternehmen auf Seeschiffen beschlossen.
Dazu erklärt
Michael Behrendt, Präsident des Verbands Deutscher Reeder (VDR)
: "
Wir begrüßen die Initiative der Bundesregierung, den Einsatz privater bewaffneter Sicherheitskräfte auf Schiffen unter deutscher Flagge gesetzlich zu regeln. Unsere Reeder brauchen klare Bedingungen, um die Seeleute effektiv vor der weiter andauernden Bedrohung durch Piraterie schützen zu können.
" Die Grundsatzentscheidung für ein solches Gesetz habe zwar lange gedauert, "
mit der zügigen Erarbeitung des Gesetzes beim Maritimen Koordinator der Bundesregierung bin ich jedoch zufrieden
", bewertet Behrendt die Entscheidung des Bundeskabinetts. Wichtig sei, so Behrendt, dass auch internationale Sicherheitsunternehmen für den Einsatz auf deutschgeflaggten Schiffen zugelassen werden können. "
Deshalb ist es erfreulich, dass sich das Zulassungsverfahren wie von uns gewünscht an den Leitlinien der Internationalen Seeschifffahrtsorganisation der Vereinten Nationen (International Maritime Organisation, IMO) orientiert
." Einen wichtigen Beitrag leiste Hamburg, das die waffenrechtliche Umsetzung als zentrale Waffenbehörde übernehmen werde und dadurch den Vollzug der Neuregelung maßgeblich ermögliche. Die Zulassung durch das Bundesamt für Wirtschaft und Ausfuhrkontrolle (BAFA) soll nach dem Gesetzentwurf für die Unternehmen nicht unbegrenzt erfolgen. Das Geschäftsführende Präsidiumsmitglied des VDR, Ralf Nagel, dazu: "
Eine Befristung der Zulassungen ist sinnvoll, um einen hohen Standard bei Ausrüstung und Personal der Sicherheitsdienstleister dauerhaft zu sichern. Jedoch sollten Beeinträchtigungen bestehender Geschäftsbeziehungen zwischen Schifffahrts- und Bewachungsun-ternehmen bei der Erneuerung der Zulassung vermieden und die Kosten dafür möglichst niedrig gehalten werden
." Nagel betont erneut, dass private Bewachungsunternehmen nur die zweitbeste Lösung zum Schutz der Besatzungen darstellten, weil ein ausreichender Schutz der internationalen Handelsflotte durch hoheitliche Sicherheitskräfte auf absehbare Zeit nach Auffassung der Bundesregierung nicht zur Verfügung stehen könne. Ob den Reedern nach Verabschiedung des Gesetzes und Inkrafttreten der Verordnungen ausreichend Zeit für die Suche nach einem passenden Anbieter bleibt, ist noch offen. Nagel unterstreicht: "Eine rechtliche Verpflichtung für Reedereien, auf Schiffen unter deutscher Flagge ausschließlich vom BAFA zugelassene Sicherheitsdienstleister einzusetzen, darf erst dann erfolgen, wenn eine ausreichende Anzahl von privaten Bewachungsunternehmen zugelassen werden konnte. Ansonsten drohen weitere Ausflaggungen, wenn sich zu wenige zugelassene Unternehmen den Markt aufteilen." Umso wichtiger sei es, jetzt sehr rasch die erforderliche Rechtsverordnung auf den Tisch zu bekommen, drängt Nagel. "
Wir setzen bei der Umsetzung der Rechtsvorschriften auf eine konstruktive, effektive und pragmatische Zusammenarbeit zwischen und mit den beteiligten Behörden, um Reibungsverluste und unnötige Bürokratie zu vermeiden.
"   httpv://www.zdf.de/ZDFmediathek#/beitrag/video/1679798/Die-Piraten-AG
Meer-Gespräch mit über 30 Teilnehmern
18.07.2012
Die Teilnehmer auf dem zweiten Meer-Gespräch (Foto: DEMAKO e.V.)

Die Piraterie hat sich verändert, und das nicht nur im äußeren Erscheinungsbild, sondern auch im Bereich der Organisation. Die aktuellen Entwicklungen auf diesem Gebiet waren Thema des zweiten Meer-Gespräches des Deutschen Maritimen Kommunikationsverbandes e.V. (Demako).

Bei Piraterie handele es sich heute vor allem um ein Geschäftsmodell, sagte Heinz Dieter Jopp, technischer Direktor des Instituts für strategische Zukunftsanalyse der Carl Friedrich von Weizsäcker Stiftung und Kapitän zur See a.D. Immer mehr Clans würden sich organisieren und es gehe um immer größere Summen Geld. Die Hintergrunddiskussion des Abends führten zusammen mit Heinz Dieter Jopp auch Friedrich Christian Haas, geschäftsführender Gesellschafter der Skabe Sicherheit & Konzepte, Unternehmensberatung für globales Risiko- und Krisenmanagement, Leo Kissel, Managing Director der Trident Special Risks Versicherungsmakler GmbH und Georg Ulbrich, Deputy Head beim Germanischen Lloyd, Departement Load Line und Tonnage. Thematisiert wurden dabei Faktoren, die für die Sicherheit an Bord von Schiffen im Angriffsfall eine Rolle spielen. Dazu gehört zum Beispiel eine zielgerichtete und integrierte Kommunikation ebenso wie die Dokumentation und Weitergabe von Information über an Bord verbaute Sicherheitstechnik. Diese Dokumentation könne besonders im Fall einer möglichen Rettung von entscheidender Bedeutung sein. Das nächste Meer-Gespräch findet am 25. September statt.

German Government Approves Draft Law for Armed Guards

Posted on Jul 19th, 2012 with tags 

approves

, 

Armed Guards

, 

Draft Law

, 

europe

, 

German Government

, 

News by topic

.

The German government has finally approved the draft law that will ultimately govern the employment of private maritime security companies on board Germany-flagged vessels.

However, the new rules are not expected to be in place for at least another 12 months. The federal export control authority BAFA will be responsible for the certification process, in co-operation with the federal border police. Authorisation will be carried out according to the guidelines of the International Maritime Organization. The new law will also involve a change to the law governing weapons. The federal weapons authority in Hamburg will be responsible for approving the weapons carried on board. This will also allow foreign PMSCs to receive the necessary permits comparatively easily. Military weapons will remain banned. The validity of the certificates will be limited to two years. 

"It makes sense to limit the validity in order to maintain a sustainable high standard in relation to the equipment and personnel of the security providers,"

 said 

Ralf Nagel, general secretary of the shipowners' association VDR

. However, the requirement to renew the permit should not interfere with existing contracts, he added. On the whole, VDR was pleased, although it noted the government had taken a long time to make the basic decision to allow the employment of private security companies. VDR still thinks sovereign forces would have been the best choice. Mr Nagel said once the law and the relevant regulations are in place, there will have to be a sufficient number of approved security companies before the obligation to employ such providers becomes effective.

Mehr Rechtssicherheit auf deutschen Schiffen

Kabinett billigt zertifizierte Sicherheitskräfte an Bord

Donnerstag, 19. Juli 2012

Viele deutsche Schiffe haben bereits Schutzkräfte an Bord. Archivfoto: US Navy

Die Bundesregierung will mehr Rechtssicherheit für den Einsatz privater Sicherheitsunternehmen auf deutschen Schiffen schaffen. Das Kabinett billigte am Mittwoch ein entsprechendes Konzept des Bundeswirtschaftsministeriums zur Zertifizierung von privaten bewaffneten Sicherheitskräften an Bord von Schiffen unter deutscher Flagge. Die Regelung soll umgekehrt deutsche Reeder verpflichten, nur zertifizierte Sicherheitskräfte einzusetzen.

Mehr: Im "THB Täglicher Hafenbericht"

Schifffahrt

Keine "Desperados" zur Piratenabwehr

Die Piratenangriffe vor Somalia sind deutlich zurückgegangen. Ein Grund ist, dass öfter private Sicherheitskräfte die Schiffe begleiten. Nun will die Bundesregierung deren Zulassung regeln.

Die Bundesregierung hat einen Gesetzesentwurf beschlossen, der festlegt, welche Auflagen Sicherheitsunternehmen auf deutschen Schiffen erfüllen sollen. "Wir wollen zuverlässige, gut ausgebildete Sicherheitsmannschaften haben, keine Desperados und Söldner", sagt Hans-Joachim Otto, Staatssekretär im Bundeswirtschaftsministerium. Ab Mitte 2013 sollen nur noch zugelassene Unternehmen auf deutschen Schiffen Sicherheitsdienste übernehmen dürfen.

Vor allem ausländische Unternehmen

Somalische Piraten greifen meist mit Schnellbooten an

Anders als Sicherheitsunternehmen auf dem Festland – etwa der Begleitschutz für Geldtransporte – wird es aber keine Überprüfung oder Schulung der einzelnen Mitarbeiter des Unternehmens geben. Das Unternehmen müsse anhand von "hieb- und stichfesten Dokumenten" beweisen, dass es die Standards erfülle, erläutert Otto. "Wir betreten hier Neuland. Wir haben meist ausländische Firmen, die in internationalen Gewässern operieren." Vor allem britische und amerikanische Firmen könnten nach Einschätzung der Bundesregierung Anträge auf Zulassung stellen. Zuständig für das gesamte Verfahren wird das Bundesamt für Wirtschaft und Ausfuhrkontrolle (BAFA) sein, das dann die Bundespolizei hinzuzieht. Die Zulassung soll die Sicherheitsfirmen zwischen 8000 und 16.000 Euro kosten und soll für zwei Jahre gelten. Die Waffen für die privaten Schiffssschützer müssen gesondert zugelassen werden. Das Gesetz sieht vor, dass keine schweren Kriegswaffen eingesetzt werden dürfen, halbautomatische Waffen könnten dagegen genehmigt werden. Überprüft werden soll die Einhaltung der Sicherheitsstandards währen des Einsatzes anhand einer schriftlichen Dokumentation durch die Unternehmen. Kontrollen auf den Schiffen sind nicht geplant. "Wir sind nicht in der Lage, jedem Schiff einen Aufseher vom Ordnungsamt mitzuschicken", sagt Staatssekretär Otto, der auch Koordinator der Bundesregierung für die maritime Wirtschaft ist.

Rückgang vor Somalia

Laut Wirtschaftsministerium musste im vergangenen Jahr Rund die Hälfte aller deutschen Handelsschiffe die Route durch besonders gefährliche Seegebiet vor Somalia nehmen. Dort ist in diesem Jahr die Bedrohung durch Piraten deutlich zurückgegangen. Hatte es im ersten Halbjahr 2011 noch 163 Angriffe gegeben, waren es 2012 nur noch 69. Allerdings nehmen gleichzeitig vor Westafrika die Piratenngriffe zu.

Auch die Bundeswehr beteiligt sich an der Atalanta-Mission

Ein Grund für den Rückgang vor Somalia ist laut Hans-Joachim Otto, dass sich die Besatzungen stärker als früher an Sicherheitsregeln halten. Dazu gehört beispielsweise, dass die Schiffe bestimmten Routen folgen, ihre Wachposten auf der Brücke verstärken und mit maximaler Geschwindigkeit durch Risikogebiete fahren. Auch der Militäreinsatz Atalanta zeige Erfolge, mit dem die EU gegen Piraten vorgeht. Schließlich sei der dritte entscheidende Faktor, dass immer mehr Schiffe bewaffnete Sicherheitsdienste anheuern. "Es hat in der Geschichte noch nie eine erfolgreiche Kaperung von Schiffen gegeben, bei denen ein privates Sicherheitsunternehmen an Bord war", so der Wirtschaftsstaatssekretär.

Reeder begrüßen Gesetz

Auch deutsche Schiffe werden bereits von bewaffneten Sicherheitskräften begleitet. Deren Einsatz ist bisher aber nicht geregelt. Mit dem Gesetz setzt die Bundesregierung nun die Leitlinien der internationalen Schifffahrtsorganisation um, die von den Staaten entsprechende Gesetze fordert. Der Verband Deutscher Reeder (VDR) begrüßte die Entscheidung. "Unsere Reeder brauchen klare Bedingungen, um die Seeleute effektiv vor der weiter andauernden Bedrohung durch Piraterie schützen zu können", sagte Verbandspräsident Michael Behrendt. Deutsche Reedereien verfügen über die drittgrößte Handelsflotte der Welt. Allerdings fährt nur ein kleiner Teil davon auch unter deutscher Flagge. Auf 492 Schiffen flattert derzeit die schwarz-rot-goldene Fahne. Sie gelten als deutsches Hoheitsgebiet, Straftaten beispielsweise werden von deutschen Gerichten verfolgt. 3161 Schiffe deutscher Reedereien fahren dagegen unter fremden Hoheitszeichen. Reeder, Gewerkschaften und Bundesregierung haben sich das Ziel gesetzt, insgesamt 600 Schiffe unter die deutsche Flagge zu bringen, bisher aber mit wenig Erfolg.

Hijacked Crew of Fishing Vessel Rescued After 18 Months of Pirate Control

Ma'anshan, is one of the Chinese warships deployed in recent years to escort Chinese cargo ships in the Indian Ocean. (Bloomberg) — China secured the release of a 26- man crew aboard a Taiwanese fishing boat that was captured by Somali pirates more than 18 months ago, the Foreign Ministry said. The crew of 13 Chinese, 12 Vietnamese and one from Taiwan was rescued yesterday and taken to Tanzania by Chinese naval vessels on patrol in the Gulf of Aden, the ministry said yesterday in a statement on its website. The statement didn't give details of the rescue operation or say if a ransom was paid for the ship, which was captured in December 2010. China has deployed warships to help international efforts to protect sea lanes from pirates off the Somali coast.

- Regina Tan, Copyright 2012, Bloomberg

---

Related Articles:

About The Author

gCaptain Staff

gCaptain is the top-visited maritime and offshore industry news blog in the world. Since 2006, gCaptain has proven to be a highly effective platform for information sharing and source for up-to-date and relevant news for industry professionals worldwide.
Nearly 100 Fewer Pirate Attacks So Far This Year [REPORT]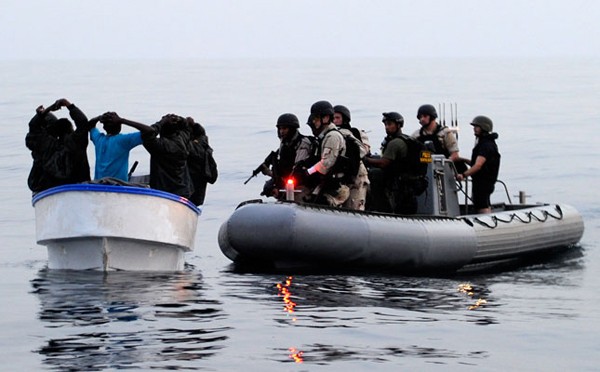 A visit, board, search and seizure (VBSS) team from guided-missile cruiser USS Anzio (CG 68), investigates a suspected pirate skiff. (U.S. Navy photo by Mass Communication Specialist 2nd Class Bryan Weyers/Released) (Bloomberg) — Pirate attacks fell to the lowest since 2008 this year as the presence of naval forces helped deter Somalis from attacking merchant shipping off the East African country's coast. There were 177 incidents worldwide in the first six months compared with 266 in the same period of 2011, the London-based International Maritime Bureau said in a report today. Somali pirate attacks fell to 69 from 163, the largest contribution to the wider decline. Pre-emptive and disruptive counter-piracy attacks by international navies helped reduce the number of incidents off Somalia, according to the report. The European Union force operating near East Africa conducted its first air strike to destroy Somali pirates' equipment on land on May 15, a new tactic to protect the region's merchant shipping. "The naval actions play an essential role in frustrating the pirates," IMB Director Pottengal Mukundan said in the report. "There is no alternative to their continued presence." While incidents off East Africa are declining, the opposite is happening in the Gulf of Guinea, on the continent's western coastline, the IMB said. There were 32 incidents in the Gulf of Guinea compared with 25 a year earlier. Reported Nigerian attacks climbed to 17 from six, the maritime bureau said.
Crew Held Hostage
Twenty vessels were hijacked worldwide, 334 mariners were taken hostage and at least four people were killed, according to the report. Twenty-five vessels were fired on, it showed. The total number of attacks in the first six months was the lowest since 2008, when 114 took place globally, according to the bureau. Eleven vessels and 218 seamen were being held hostage as of June 30, the IMB said. Owners' ability to free them may be curbed as U.K. banks, until this year a major source of the physical dollars used to release crew, refuse to issue dollars for ransom drops. The supply of dollars from the nation's lenders dwindled since Prime Minister David Cameron created a 14-nation task force in February to halt the payments, the International Association of Independent Tanker Owners, the industry's biggest trade group, said in June. As well as increased naval protection, ships are securing themselves against attack by implementing on-board measures that make the vessels harder to board, the IMB said. Owners including Stena AB, which controls a fleet of 300 ships, are ordering new vessels with customized emergency strongrooms to protect crews against hijackings. Governments spent almost $1.3 billion last year on military interventions including naval patrols, according to the One Earth Future Foundation, a Broomfield, Colorado-based nonprofit. Attacks cost the industry and governments $6.9 billion last year, it estimated in February.
Alaric Nightingale, Copyright 2012 Bloomberg
---
Related Articles:
<:section id=postauthor sizset="0" sizcache0671864961553317="2770">
About The Author
gCaptain Staff
gCaptain is the top-visited maritime and offshore industry news blog in the world. Since 2006, gCaptain has proven to be a highly effective platform for information sharing and source for up-to-date and relevant news for industry professionals worldwide.
Internationale Schifffahrt Weniger Piratenangriffe weltweit
Die Zahl der Angriffe von Piraten ist weltweit stark zurückgegangen. Im ersten Halbjahr 2012 wurden mit 177 Attacken rund ein Drittel weniger Fälle als im Vorjahreszeitraum gezählt. Doch in einer Region wird die Situation zunehmend besorgniserregend.
Aus Datenschutzgründen wird Ihre IP-Adresse nur dann gespeichert, wenn Sie angemeldeter und eingeloggter Facebook-Nutzer sind. Wenn Sie mehr zum Thema Datenschutz wissen wollen, klicken Sie auf das i.
Kuala Lumpur - Seit einigen Jahren ist
Piraterie
vor allem vor der Küste
Somalias
ein immenses Problem. Nun gibt es gute Nachrichten: Die Zahl der Angriffe von Seeräubern ist im ersten Halbjahr 2012 weltweit stark zurückgegangen. In den ersten sechs Monaten dieses Jahres seien 177 Attacken gemeldet worden, teilte das Internationale Maritime Büro (IMB) am Montag in Kuala Lumpur mit. Das sind etwa ein Drittel weniger als im Vorjahreszeitraum, als es noch 266 waren.Dennoch wurden laut IMB zwischen Januar und Juni 20 Schiffe gekapert und 334 Besatzungsmitglieder entführt. Mindestens vier Seeleute kamen ums Leben.Positiv habe sich der Anti-Piraterie-Einsatz im Indischen Ozean ausgewirkt, heißt es. So sei die Zahl der Angriffe somalischer Piraten von 163 auf 69 gesunken. Die Einsätze im Kampf gegen Seeräuber müssten fortgesetzt werden, es gebe dazu keine Alternative, betonte IMB-Direktor Pottengal Mukundan. Dem Bericht zufolge befanden sich Ende Juni noch 11 Schiffe und 218 Besatzungsmitglieder in der Hand somalischer Piraten.Seit Ende 2008 gibt es am Horn von Afrika die Anti-Piraten-Mission "Atalanta", deren Kommando die Europäische Union führt. Deutschland beteiligt sich derzeit mit 340 Soldaten. Im März weitete die EU das Mandat aus, so dass nun auch Einsätze an der somalischen Küste erlaubt sind. Mit zwei wichtigen Einschränkungen: Angegriffen werden nur Ziele in maximal 2000 Metern Entfernung von der Küste. Außerdem dürfen diese nur aus der Luft attackiert werden - Bodeneinsätze bleiben grundsätzlich verboten.Als Reaktion auf die starke Militärpräsenz vor Somalia weichen die Piraten jedoch in andere Regionen aus. Besorgniserregend seien die zunehmenden Überfälle von Seeräubern im Golf von Guinea vor der Küste Westafrikas, so das IMB. Bei den äußerst brutalen und meist bewaffneten Attacken seien bereits zwei Crew-Mitglieder ums Leben gekommen. Insgesamt seien in dem Gebiet dieses Jahr 32 Angriffe gemeldet worden, sieben mehr als im Vorjahreszeitraum. Oftmals seien nigerianische Piraten am Werk.Das IMB mit Sitz in Kuala Lumpur gehört zur Internationalen Handelskammer in London und dient als zentrale Meldestelle für Piratenattacken.
A) ONI Issues Maritime Warning for the Indian Ocean
B)Mozambique Signs IMO Anti-Piracy Code 9.7.2012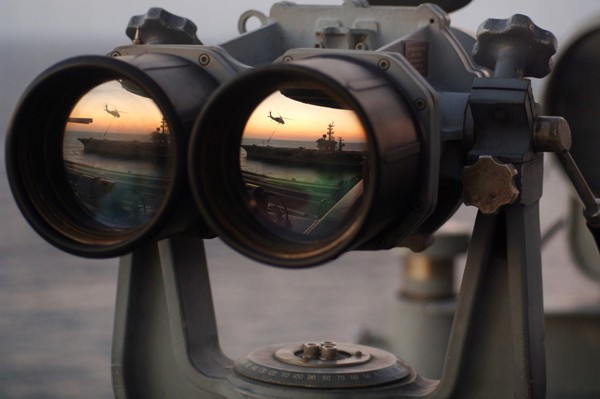 U.S. Navy photo by Photographer's Mate Airman Ricardo J. Reyes (RELEASED) Via the US Office of Naval Intelligence:
The following is a maritime warning for mariners operating in the Gulf of Oman, North Arabian Sea, Gulf of Aden, and the Bab el Mandeb regions. Be advised, elevated regional tensions have increased the risk of potential maritime attacks being conducted by extremists. Vessels at anchor, operating in restricted maneuvering environments, or at slow speeds should especially be at heightened states of awareness for any suspicious activity. Report the presence of any craft behaving in a suspicious manner towards vessels–to include loitering, photographing, and conducting unauthorized approaches–to the proper authorities.
---
Related Articles:
About The Author
gCaptain Staff
gCaptain is the top-visited maritime and offshore industry news blog in the world. Since 2006, gCaptain has proven to be a highly effective platform for information sharing and source for up-to-date and relevant news for industry professionals worldwide.
It was a mixed bag of pirate activity around the world this past week and fortunately, nobody was captured or injured due to pirate activity.  Here's the latest update from the US Office of Naval Intelligence for the week of 28 June 2012… 
ECUADOR:
Container Ship was boarded on 02 July at 02:33 S – 080:06 W 25 nm South West of Guayaquil, Ecuador. Two speed boats with six pirates approached and boarded a container ship underway using hooks attached with ropes and monkey ladders. The master raised alarm and the crew mustered and armed themselves with crowbars and approached the pirates at the boarding area. 3/O noticed that one of the pirates was armed with a gun and the master immediately ordered all crewmembers to retreat back to the accommodation and lock all the doors. The pirates commenced throwing some boxes into their boats. The master was unable to increase speed or take evasive maneuvers due to the depth and width of seas. Once the pirate boats were full of stolen items, they jumped back into their boats and departed. The darkness and distance made it difficult for the master to determine if the pirates stole cargo from the containers or ship stores. (IMB)
NIGERIA:
Product Tanker was fired upon on 30 June at 04:01 N – 006:06 E 70 nm South West of Port Harcourt, Nigeria. Pirates armed in a boat chased and fired upon a product tanker underway from Bonny River. The Nigerian armed naval personnel onboard the tanker exchanged fire with the pirates resulting in the pirates aborting the attempted attack after 15 minutes of firing. Both the crew and vessel were reported safe. (IMB)
NIGERIA:
Container Ship was approached on 30 June at 02:38 N – 006:09 E 120 nm South West of Bonny Island, Nigeria. A container ship adrift awaiting berthing instructions was approached by five armed pirates in a wooden speed boat with two outboard engines. As the pirates approached the vessel they fired upon the vessel damaging some bridge windows and equipment. The vessel raised the alarm, activated SSAS, started main engines and maneuvered away from the approaching boat. Non essential crew retreated into the citadel. All crew was reported safe. (IMB)
TANZANIA:
Container Ship was boarded at 03July at 6:50 S – 39:17 E, Dar Es Salaam Port, Tanzania. Robbers boarded a berthed container ship, stole ships stores and escaped unnoticed. The theft was noticed by the duty A/B on rounds. The incident was reported to the Port Security. (IMB)
INDIA:
LPG Carrier was boarded on 04 July at 17:39 N – 083:23 E, Visakhapatnam Anchorage, India. Six robbers in a long wooden boat with sail and oars came alongside an anchored LPG Carrier. Two of the robbers boarded the tanker and stole ship properties. The OOW noticed the boat and informed the duty A/B to check it. Upon seeing the robbers at the poop deck, the duty A/B chased them away. The robbers jumped into the water and escaped with the stolen items with their accomplices waiting in the boat. The alarm was raised and port control was informed. The crew searched the area for any other robbers. (IMB)
VIETNAM:
Chemical Tanker Boarded on 27 June at 10:41 N – 106:45 E Nha Be Terminal, Ho Chi Minh City Port, Vietnam. Robbers boarded a berthed chemical tanker during cargo operations, stole the fire wire and escaped. The duty A/B on rounds noticed traces of foot prints and the missing fire wire. The alarm was raised and the authorities were informed. The crew searched the vessel but could not find the robbers. (IMB)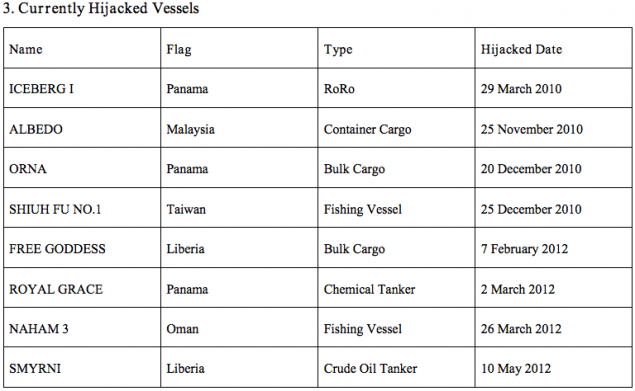 Monsoonal winds will kick up the sea state in Indian Ocean this week to between 8 – 12 feet, decreasing the likelihood of pirate activity…
---
Related Articles:
About The Author
gCaptain Staff
gCaptain is the top-visited maritime and offshore industry news blog in the world. Since 2006, gCaptain has proven to be a highly effective platform for information sharing and source for up-to-date and relevant news for industry professionals worldwide.
Mozambique Signs IMO Anti-Piracy Code
Posted on Jul 9th, 2012 with tags Anti-Piracy, Code, IMO, Mozambique, News by topic, Signs.
The Code of Conduct concerning the Repression of Piracy and Armed Robbery against Ships in the Western Indian Ocean and the Gulf of Aden (Djibouti Code of Conduct) on July 6 signed on behalf of Mozambique by His Excellency Carlos dos Santos, High Commissioner of the Republic of Mozambique in the United Kingdom.
Mozambique has become the 20th State to sign the Djibouti Code of Conduct, which was set up by IMO to develop regional capacity to counter piracy in the Gulf of Aden and western Indian Ocean. The other signatories are: the Comoros, Djibouti, Egypt, Eritrea, Ethiopia, Jordan, Kenya, Madagascar, Maldives, Mauritius, Oman, Saudi Arabia, Seychelles, Somalia, South Africa,  the Sudan, the United Arab Emirates, the United Republic of Tanzania and Yemen.
Signatories to the Djibouti Code of Conduct, which has been in effect since 29 January 2009, undertake to co-operate in a variety of activities, including:• the investigation, arrest and prosecution of persons reasonably suspected of having committed acts of piracy and armed robbery against ships, including those inciting or intentionally facilitating such acts;
• the interdiction and seizure of suspect ships and property on board such ships;
• the rescue of ships, persons and property subject to piracy and armed robbery and the facilitation of proper care, treatment and repatriation of seafarers, fishermen, other shipboard personnel and passengers subject to such acts, particularly those who have been subjected to violence; and
• the conduct of shared operations – both among signatory States and with navies from countries outside the region – such as nominating law enforcement or other authorized officials to embark on patrol ships or aircraft of another signatory.
In addition, the Code encourages the sharing of related information, and a regional network has been established by IMO's Djibouti Code of Conduct Implementation Unit, with three Information Sharing Centres based in Sana'a, Mombasa and Dar es Salaam. The network also shares information with international naval headquarters and the Regional Cooperation Agreement on Combating Piracy and Armed Robbery against Ships in Asia (ReCAAP) Information Sharing Centre, which is based in Singapore.
Signatories to the Code also undertake to review their national legislation with a view to ensuring that there are laws in place to criminalize piracy and armed robbery against ships and to make adequate provision for the exercise of jurisdiction, conduct of investigations and prosecution of alleged offenders.
All signatories also partake in a regular programme of regional training, coordinated through the Djibouti Regional Training Centre, established by IMO's Implementation Unit, including: operational interdiction training in partnership with the North Atlantic Treaty Organization (NATO) Maritime Interdiction Operational Training Center (NMIOTC), Crete, Greece; law enforcement workshops in partnership with the United Nations Office on Drugs and Crime (UNODC); and classroom training in Djibouti, in partnership with the European Union (EU) MARSIC (Maritime Security and Safety) project.
IMO – the International Maritime Organization – is the United Nations specialized agency with responsibility for the safety and security of shipping and the prevention of marine pollution by ships.