Matthias Boerschke maritime Welten
China International Marine Containers (CIMC) bestellt insgesamt zehn 9200-TEU-Neubauten, um sie langfristig an die französische Reederei CMA CGM zu verchartern. Nach der Order von vier der Frachter bei STX in Dalian wurde kurz darauf auch der zweite Auftrag bekannt. CIMC hat den Bau von sechs weiteren Schiffen mit 9200 TEU bei der Werft Dalian Shipbuilding Industry in Auftrag gegeben. Mit der Ablieferung der Schiffe wird ab 2014 gerechnet.
Mehr: Im "THB Täglicher Hafenbericht"
Due in 2013, Maersk's New 18k TEU Containerships will be the "Prius of the Seas"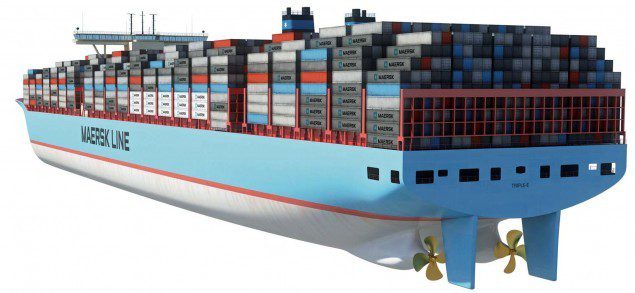 Image: Maersk (Bloomberg) — A.P. Maersk-Moeller A/S's planned fleet of the world's largest container vessels will be as groundbreaking for their shape as their size. The 20 ships will be the first cargo-box carriers with rounded hulls rather than streamlined V-shaped ones, according to Daewoo Shipbuilding & Marine Engineering Co., which is developing the 18,000-container vessels. The change reflects a shift by operators away from designing ships to go as fast as possible to instead emphasizing fuel economy. "These vessels will be the Prius of the seas," said Lee Jae Won, an analyst at Tongyang Securities Inc. in Seoul, referring to Toyota Motor Corp.'s distinctively-shaped hybrid car. "They're fuel efficient and environmentally friendly." The fatter hulls will let Copenhagen-based Maersk install a fuel-efficient two-engine setup that's too wide for current ships. It will also recover cargo capacity that is lost with tapered hulls, letting the ships carry 16 percent more boxes than vessels only a few meters smaller. Combined with other technologies, the ships will use about 35 percent less fuel per box than vessels now used on Asia-Europe routes and produce around 50 percent less carbon emissions, according to Maersk. "The focus now is on how to consume less fuel," said Odin Kwon, vice president of ship design at Seoul, South Korea-based Daewoo. "Ships currently in operation have been built only with speed in mind." Daewoo has begun the initial work for the first of the ships, which will cost about $183 million each. Deliveries are due to start next year and will run until the first half of 2015. Rounded hulls are common on commodity-carrying ships.
Slow-Steaming
Maersk, the world's largest container-ship operator, is introducing the vessels as the industry contends with tighter emissions standards and fuel prices that have jumped about 40 percent in two years. The higher costs have already prompted shipping lines to slow vessels 18 percent over the past three years to an average speed of about 10.4 knots. That has cut fuel bills and eased global overcapacity that caused industrywide losses last year. Reducing the speed of container ships by 10 percent can pare fuel consumption by as much as 30 percent, according to ship assessor Det Norske Veritas. A 25 percent reduction can cut carbon emissions by more than 350 tons a day per ship, the Transpacific Stabilization Agreement, a shipping group, said in 2010.
Ultra-Long Stroke
Still, these gains are limited by current ships' focus on speed as they are fitted with engines that operate best when going fast. By contrast, the Maersk vessels are designed to operate efficiently at both high and low speeds. Key to the change is the ships' two propellers and their ultra-long stroke engines, a type usually only found in slow- moving commodity ships and tankers. The setup will use 4 percent less fuel than a single engine and propeller, Maersk said in an e-mailed response to Bloomberg News questions. "Building vessels that are fuel efficient at different speeds will be the trend," said Daewoo's Kwon. "It will eventually dominate the market." The Maersk vessels, which will also feature a waste-heat recovery system, will still be able to go as fast as 23 knots. That compares with a top speed of 25 knots for the Emma Maersk, the largest container ship afloat. The new vessels will be 59 meters wide and 400 meters long. That's about 3 meters wider and 4 meters longer than the Emma, which holds 2,500 fewer boxes. The limited size increase means major European ports will be able to handle the ships without having to buy new cranes and other equipment. U.S. ports aren't big enough for such vessels. Toyota's Prius, the world's bestselling hybrid car, is renowned for its distinctive wedge shape. The 2012 plug-in version gets the equivalent of 58 miles per gallon in combined city and highway driving, according to a U.S. government website.
Evergreen Vessels
Other shipping companies are also adding more fuel- efficient vessels. Evergreen Group, owner of Asia's second- biggest container line, is introducing twenty 8,452-box vessels fitted with electronic-controlled fuel-injection engines that support slow steaming. The ships, built by Samsung Heavy Industries Co., will also gain fuel savings from a design that minimizes the need for ballast water. Neptune Orient Lines Ltd. has six similar ships, built by Hyundai Heavy Industries Co. and Daewoo. STX Offshore & Shipbuilding Co. is building six container ships that will be the biggest after Maersk's and which will "significantly" pare carbon emissions, it said in November.
Emissions Goal
Shipping lines are working to meet a goal of cutting emissions 30 percent by 2030 under a mandate from the United Nations' International Maritime Organization. Those that miss this target will face penalties that are still under discussion. The regulations will cut carbon emissions by an estimated 330 million tons a year by 2030, the IMO said in a 2011 statement. That will save an average of $50 billion a year in fuel costs by 2020 and $200 billion by 2030, it said. The rules will also stop the industry's share of global emissions climbing from about 3.3 percent in 2007 to as much as 18 percent in 2050 amid rising trade, it said. Ship owners may also be able to meet the tougher standards using technologies that can be fitted onto existing vessels. Hyundai Heavy, Daewoo and Samsung Heavy, the world's three biggest shipyards, have developed devices that clean ballast water to reduce pollution or improve navigation to save fuel. Hyundai Heavy has also developed a gas engine that can reduce carbon emissions by 20 percent compared with a diesel engine. Daewoo and MAN Diesel & Turbo SE have devised an engine system that uses liquefied natural gas. Daewoo is also working on a technology that will spray bubbles along the bottom of ships, easing friction and fuel usage, Kwon said. Japanese yard Imabari Shipbuilding Co. said last year that it found 8 percent energy savings testing a similar system. "It all shows that it's going to be a fight about who can be the most efficient and make money," said Park Moo Hyun, an analyst at E*Trade Securities Co. in Seoul. "It's no longer just about who can go the fastest."
- Kyunghee Park, Copyright 2012 Bloomberg
---
MAERSK Line: "We Cannot Sustain Continual Losses"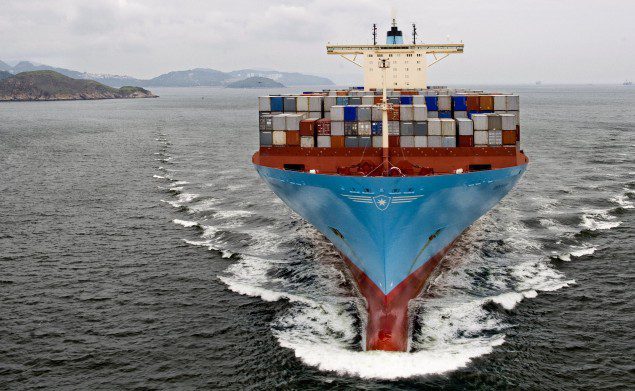 Image courtesy Maersk Line MELBOURNE–A worldwide glut of containers and a fall in demand for shipped goods during the global financial crisis have pushed shipping prices to unsustainable levels, the director of sales at 
Maersk Line
 Gerard Morrison said on Tuesday. Mr. Morrison told a conference here that Maersk is now making a loss of A$206 ($217) on every 40 foot container that runs between Melbourne and the Chinese port of Qingdao, he said.
"Current rates are not able to cover our costs and we cannot sustain continual losses," Mr. Morrison said.
The global shipping industry averaged a rate of return of 2% last year, a fifth of its target level of 10%, he said. Volumes from Australia and New Zealand and Asia up to halved last year from their peaks in 2010.
- Caroline Henshaw, (c) 2012 Dow Jones Newswires
---
Related Articles:
About The Author
gCaptain Staff
gCaptain is the top-visited maritime and offshore industry news blog in the world. Since 2006, gCaptain has proven to be a highly effective platform for information sharing and source for up-to-date and relevant news for industry professionals worldwide.
ATHENS – Greek containership owner, Danaos Corporation (NYSE: DAC), announced today that on June 29, 2012, it took delivery of its fifth and final 13,100 containership, the HYUNDAI AMBITION, expanding its operational fleet to a total of 64 containerships aggregating 363,049 TEU. The HYUNDAI AMBITION, built at Hyundai Samho Heavy Industries Co. Ltd, has a carrying capacity of 13,100 TEU, is 366 meters long, 48.2 meters wide and has a speed of 24.7 knots. The vessel has already commenced its 12-year time charter with an expected annualized EBITDA run-rate contribution of approximately $18.8 million.
| | | |
| --- | --- | --- |
| IMO number: 9475703 | 1st name: HYUNDAI AMBITION | flag / nationality: Liberia |
| owner: Danaos Shipping | operator: Hyundai | completion year: 2012 / 06 |
| shipyard: Hyundai Samho Heavy Industries Co. Ltd., South Korea | yard / hull number: S460 | engine design: B&W |
| engine type: 12K98MCC7 | power output (KW): 72.240 | maximum speed (Kn): 24,6 |
| overall length (m): 366,00 | overall beam (m): 48,20 | maximum draught (m): 15,50 |
| maximum TEU capacity: 12562 | container capacity at 14t (TEU): 9000 | reefer containers (TEU): 800 |
| deadweight (ton): 142.500 | gross tonnage (ton): 133.000 | handling gear: None |
| | | |
| | | |
| | | |
Dr. John Coustas, President and Chief Executive Officer of Danaos, commented: "We are proud to announce the landmark completion of our new-building program that has established Danaos as one of the largest and most reliable containership operating lessors in the world with a 64 vessel fleet and a 363,049 TEU carrying capacity. Since going public in 2006 we have more than tripled our TEU carrying capacity, which has been growing at a 21% Compounded Annual Growth Rate. Today, Danaos has one of the most modern fleets in the industry that includes some of the largest containerships in the world. At the same time, our $5.4 billion of contracted revenues for the coming years ensures earnings and cash flow visibility with significant downside protection, safeguarding returns for our shareholders across the economic cycle. Our ambitious growth strategy, executed to a large extent during one of the most challenging periods in economic history has been transformative for the Company and is proof of the resilience of our business model. This growth will now be translated in bottom line results while we will focus to transform these results into increased value for our shareholders."
About Danaos Corporation
Danaos Corporation is an international owner of containerships, chartering its vessels to many of the world's largest liner companies. Their current fleet of 64 containerships, aggregating 363,049 TEUs, ranks Danaos among the largest containership charter owners in the world based on total TEU capacity. Danaos is one of the largest US listed containership companies based on fleet size. The company's shares trade on the New York Stock Exchange under the symbol "DAC." . Tagged with:
container shipping
•
container ships
•
danaos
About The Author gCaptain Staff gCaptain is the top-visited maritime and offshore industry news blog in the world. Since 2006, gCaptain has proven to be a highly effective platform for information sharing and source for up-to-date and relevant news for industry professionals worldwide. Visit Authors Website →
Reeder Krise einmal umgekehrt
07.07.2012 ·  Während die deutschen Reeder auf eine Pleitenserie zusteuern, investieren finanzstarke griechische Reeder munter in neue Schiffe. Der griechische Staat hat davon wenig. Von Johannes Pennekamp
In der Schifffahrt ist alles anders: Ausgerechnet in einer Branche, in der die deutschen Unternehmen zunehmend in Not geraten, sind die Griechen obenauf. "Die großen griechischen Reedereien sind auf Einkaufstour", sagt Leo von Ruffin, gebürtiger Grieche und Schiffsmakler in Hamburg. Abgesehen hätten sie es auf günstig angebotene gebrauchte Containerschiffe, unter anderem aus Deutschland, ergänzt ein anderer norddeutscher Makler, der anonym bleiben möchte. Branchenkenner berichten von Zukäufen großer griechischer Reeder wie der Tsakos-Gruppe, der Angelicoussis-Gruppe oder der Martinus-Familie. Und beim griechischen Reedereiverband herrscht trotz der miserablen finanziellen Lage des Landes Zuversicht: Die aktuellen Wirtschaftsdaten seien "zum großen Teil befriedigend", schreibt der Verband in seinem Jahresbericht.
"Vor allem die kleineren Reedereien sind inzwischen in akuter Not"
Über eine "befriedigende" Situation wären die deutschen Schiffsbetreiber hocherfreut. Ralf Nagel, Verbandschef der heimischen Reeder, wusste sich zuletzt nur noch damit zu helfen, "deutlich mehr Engagement" und "konkrete Hilfe" vom Staat zu fordern. Wer verstehen will, wie es so weit kommen konnte, muss die Geschäftskonzepte deutscher und griechischer Reeder kennen. Die Krise der hiesigen Frachtschifffahrt ist hausgemacht. Über Jahre hinweg flossen Milliarden in die maritime Wirtschaft. Schiffsfonds sammelten mit dem Versprechen auf üppige Renditen immense Summen bei Anlegern ein, Banken befeuerten die Expansion der Handelsflotten mit Krediten, bis schließlich mehr als jedes dritte Containerschiff der Welt einem deutschen Reeder gehörte. Das Problem dabei: Die Frachtmengen wurden zwar größer, mit dem rapiden Wachstum der Flotten konnten sie jedoch nicht mithalten. Es entstanden Überkapazitäten - und Zweifel, ob die hohen Erwartungen der Investoren erfüllt werden können. "Vor allem die kleineren Reedereien sind inzwischen in akuter Not", warnt Claus Brandt, Experte des Beratungsunternehmens PWC. Wären ihnen ihre Banken bei der Finanzierung nicht entgegengekommen, sagt Brandt, hätten viele bereits Insolvenz anmelden müssen.
Hyundai Heavy Industries announced today a seemingly ridiculous USD $1.2 billion newbuild order for ten 13,800 TEU containerships for a Greek ship owner.  Once built, these ships will then be chartered out to Evergreen Marine.
Donnerstag, 05. Juli 2012
Die MSC-Reederei und Maersk Line sind für mehr als die Hälfte des weltweiten Flottenwachstums verantwortlich
Die Containerschiffsflotte wächst scheinbar unaufhörlich weiter – und es gibt schon wieder neue Order. In den vergangenen zwölf Monaten erweiterten allein die zwanzig größten Reeder trotz der aus Überkapazitäten und den hohen Bunkerpreisen resultierenden großen Verluste ihre aktive Flotte um 844.000 TEU, heißt es im aktuellen Marktbericht des Branchendienstes Alphaliner.  Zum 1. Juli stand die Containerschiffsflotte bei 16,05 Millionen TEU.
Mehr: Im "THB Täglicher Hafenbericht"
By Rob Almeida On
Edith Maersk, a 13,500 TEU containership, image: Maersk Line
In their Q1 report, Maersk Line reported a 9 percent decline in freight rates along with a 31 percent increase in bunker rates.
 This added up to a billion dollar negative change in profit year on year.
 Singapore-based NOL Group reported similar data with a quarter billion dollar loss in Q1 2012.  Y
ou might think ship owners and banks might be extraordinarily cautious about pushing ahead with new orders for container ships, but you would be incorrect in thinking that.
Hyundai Heavy Industries announced today a seemingly ridiculous USD $1.2 billion newbuild order for ten 13,800 TEU containerships for a Greek ship owner.  Once built, these ships will then be chartered out to Evergreen Marine.
Measuring 368 m in length, 51 m in width, and 29.9 m in depth,
these ships are scheduled to be delivered from the second half of 2013 to the second half of 2014 and will use 10% less fuel compared to existing similar class containerships. Perhaps the following graph might help explain the rationale behind this.  These big containerships would most definitely be used on long-haul voyages such as between Europe and China and there's been a rather meteoric resurgence in 40-foot container freight rates lately on the Asia-Europe trade route.
Container Market Freight Rate Index as of 1 July 2012, Source: China (Export) Containerized Freight Index Since LNG carriers, Drillships and semi-submersible drilling rigs have been the bright spot of the global shipbuilding market recently, Hyundai Heavy's winning of this order was likely an unexpected and welcome surprise.  An official at Hyundai Heavy said, "These orders are noteworthy considering the current sluggish shipbuilding market. With the extensive know-how and technology we have accumulated by building more than 500 containerships over the last 40 years, we will continue to build ships tailored to the needs of our clients and the market."