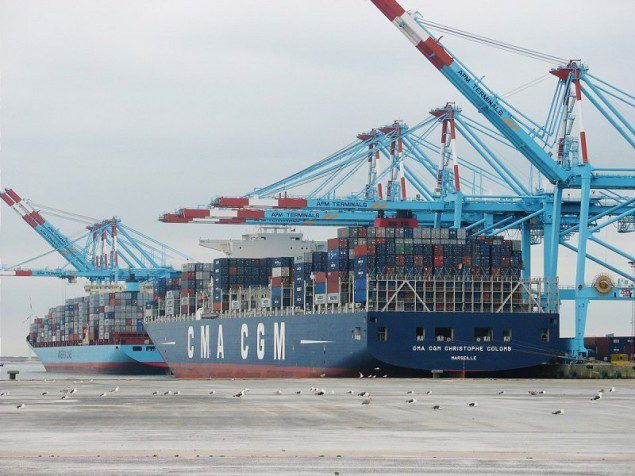 The 14,000 TEU CMA CGM Christophe Colomb underneath Super Post Panamax cranes at APM Terminals Zeebrugge, Belgium. Image: APM Terminals Controlling rougly 40 percent of the global container trade, the Germans are a superpower in the world of shipping, however that may be coming to an abrupt end. Over 100 German shipping-related funds have closed up shop, and nearly 800 more are on the edge of doing so according to Hamburg-based consultancy, TPW. Considering the
recent liquidation of the world's oldest shipping company
, Stephenson Clarke Shipping, the Germans are certainly not alone. In the British online newpaper The Telegraph, Ambrose Evans-Pritchard writes yesterday,
The Germans also misread the cycle and have been struggling to cope ever since with a legacy of debt and a glut of ships. Now everything is going wrong at once.
Container volumes arriving at European ports plunged in June, dashing expectations of a summer rebound. Imports fell 7.5pc from North America and 9pc from Asia. Flows into the Mediterranean region crashed by 16pc, reflecting the violence of the recession in Greece, Italy, Spain, and Portugal. Buckling trade is the coup de grace for countless shippers still clinging on by their finger tips. "The market is barely paying above operating cost. If you are loaded with debt, you are in trouble," said Martin Smith from ship operators Norddeutsche Vermögen in Hamburg.
So, who's going to come out on top when this is all said and done?  Read on for more of Mr. Evans-Pritchard's insight 
HERE
---
Related Articles:
About The Author
Rob Almeida
Rob Almeida
is partner and CMO of Unofficial Networks and an editor of gCaptain.com. He graduated from the United States Naval Academy in 1999 with a B.S in Naval Architecture and spent 6.5 years on active duty as a Surface Warfare Officer. He worked for a year as a Roughneck/Rig Manager trainee on board the drillship Discoverer Americas in 2009/10. He is an accomplished sailor and competes in the US Australian Rules Football League with the Baltimore/Washington Eagles. He can be reached via email at rob@gcaptain.com