Maritime Monday: One Year Ago Today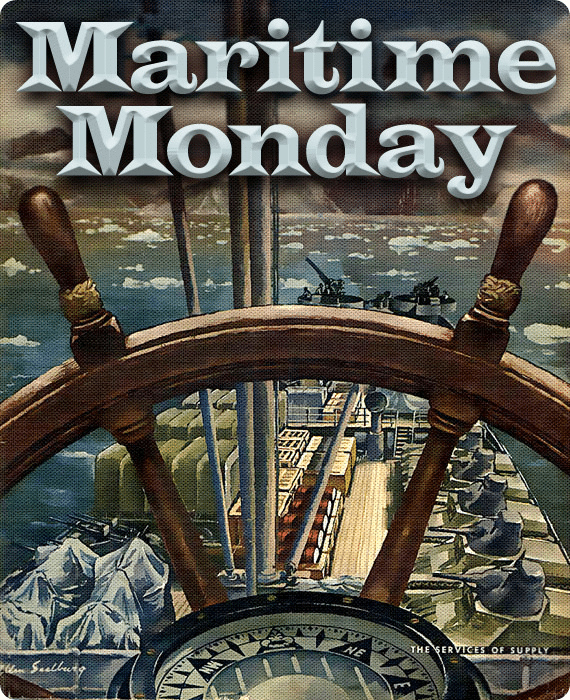 1942 Fortune magazine; The Services of Supply – posted by x-ray delta one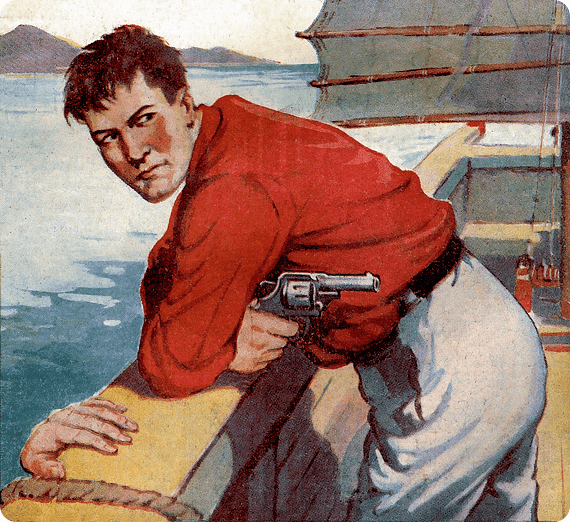 Skipper comics – December 6, 1930 (full image)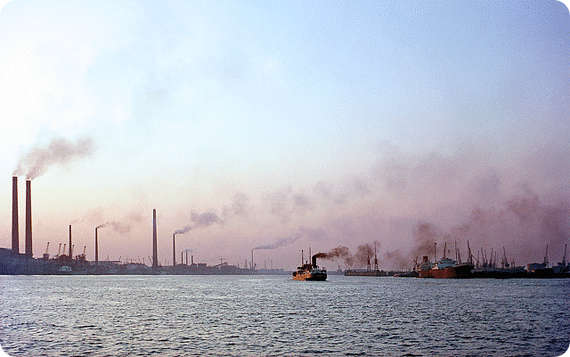 Seen from the Gravesend-Tilbury ferry, in late afternoon, SS Hudson River (Hudson Steamship Co.) built in 1949 steams into a landscape of chimneys. see also: Greek Line Arkadia from the Gravesend-Tilbury Ferry May 1964 – posted by David Christie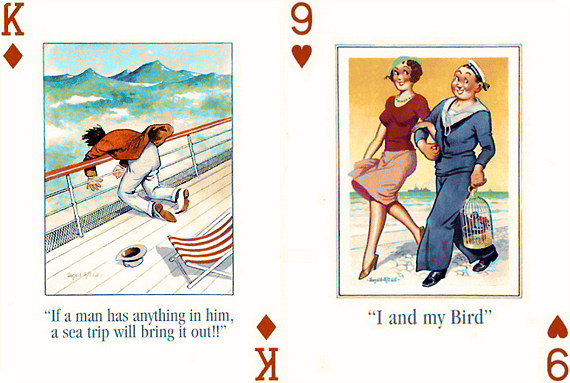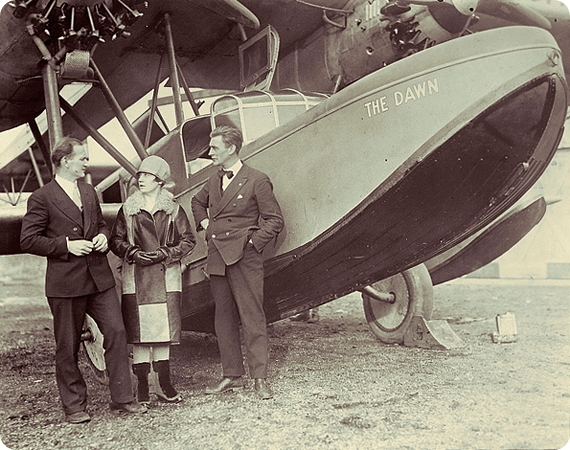 Boston Public Library – Seaplane the Dawn: photographer: Leslie Jones – SEE ALSO: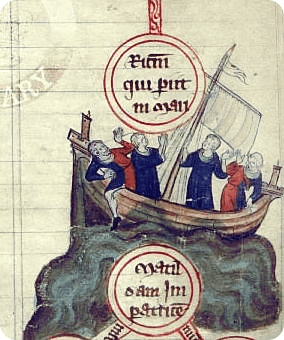 The White Ship  was a vessel that sank in the English Channel near the Normandy coast off Barfleur, on 25 November 1120. Only one of those aboard survived. Those who drowned included William Adelin, the only surviving legitimate son and heir of King Henry I of England. William Adelin's death led to a succession crisis and a period of civil war in England known as The Anarchy.
William of Malmesbury
wrote:
"Here also perished with William, Richard, another of the King's sons, whom a woman without rank had borne him, before his accession, a brave youth, and dear to his father from his obedience; Richard d'Avranches, second Earl of Chester, and his brother Otheur; Geoffrey Ridel; Walter of Everci; Geoffrey, archdeacon of Hereford; the Countess of Chester; the king's niece Lucia-Mahaut of Blois; and many others … No ship ever brought so much misery to England."  –MORE ON WIKI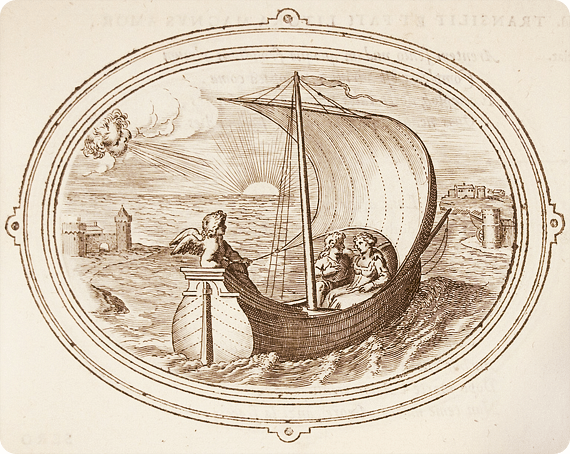 It is good sayling before the wynd – Love in art; 1500-1800 – Dirty Books & Longing Looks: A Selection of Erotic & Romantic Books from The George Peabody Library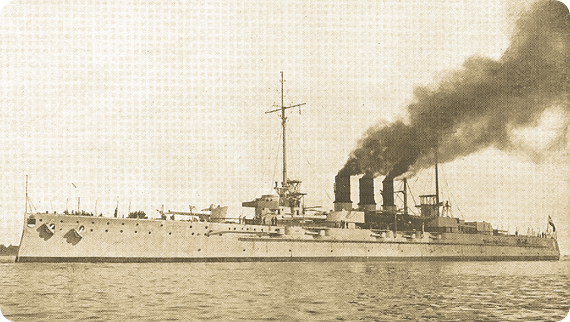 SCHLACHTSCHIFFE SMS Helgoland – S.M.S. Graudenz vor Helgoland; 1921
SMS Helgoland ("His Majesty's ship Helgoland"), the lead ship of her class, was a dreadnought battleship of the German Imperial Navy. Her keel was laid down on 11 November 1908 at the Howaldtswerke shipyards in Kiel. Helgoland was launched on 25 September 1909 and was commissioned on 23 August 1911.

Like most battleships of the High Seas Fleet, Helgoland saw limited action against Britain's Royal Navy during World War I. The ship participated in several fruitless sweeps into the North Sea as the covering force for the battle cruisers of the I Scouting Group. She saw some limited duty in the Baltic Sea against the Russian Navy, including serving as part of a support force during the Battle of the Gulf of Riga in August 1915. Helgoland was present at the Battle of Jutland on 31 May – 1 June 1916, though she was located in the center of the German line of battle and not as heavily engaged as the König- and Kaiser-class ships in the lead. Helgoland was ceded to Great Britain at the end of the war and broken up for scrap in the early 1920s.  –more on wiki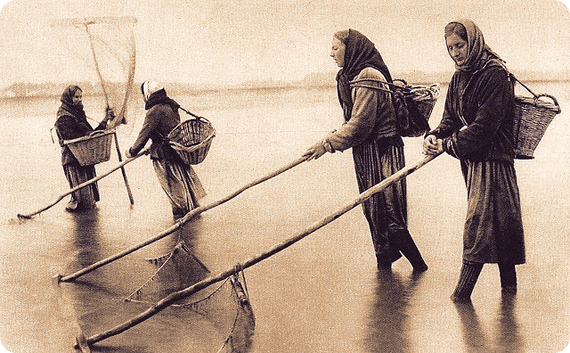 Shrimping in Normandy from old national geographic
Michael Fishbach narrates his encounter with a humpback whale entangled in a fishing net. Gershon Cohen and he have founded The Great Whale Conservancy to help and protect whales.  on YouTube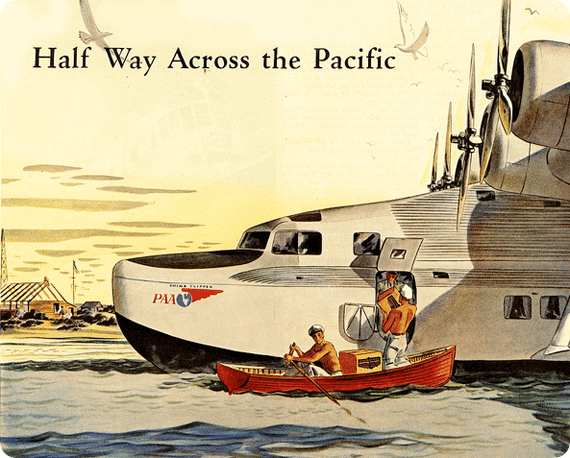 PAA China Clipper 1938; illustration from an ad for machine tools. – posted by paul.malon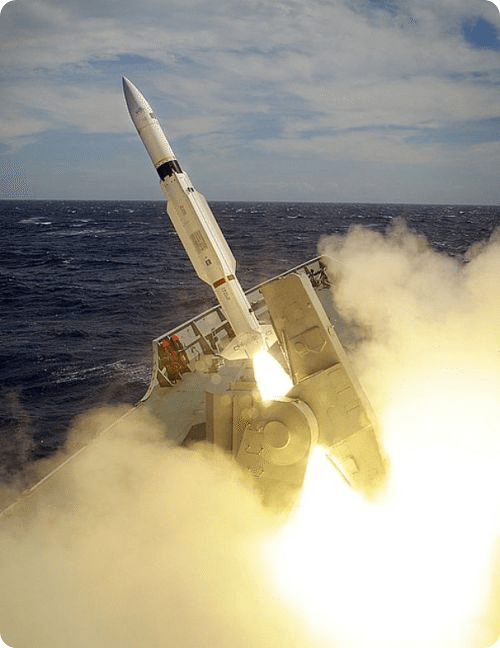 A Standard Missile (SM 2) is fired from the Royal Australian Navy guided-missile frigate HMAS Sydney (FFG 3) during a live-fire exercise near the Pacific Missile Range off the coast of Hawaii. Sydney was on a Mid Pacific (MIDPAC) deployment to test and evaluate the Anti-Ship Missile Defence (ASMD) upgrade. (Official Royal Australian Navy photo/Released) – via bluewaterblackheart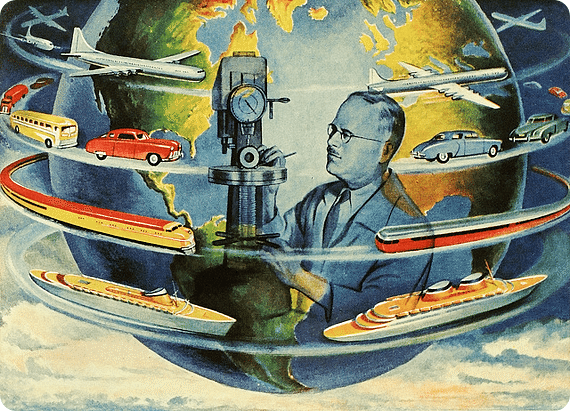 "Why Transportation Gets Better All the Time" December 1947. Union Carbide; National Geographic – posted by paul.malon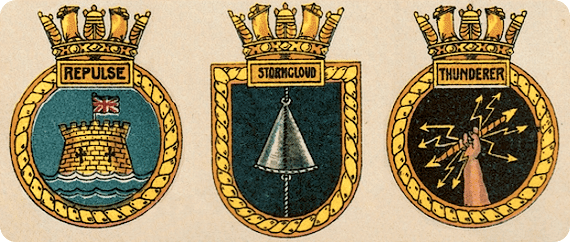 Badges Of Some Of His Majesty's Ships:  A – B – C – D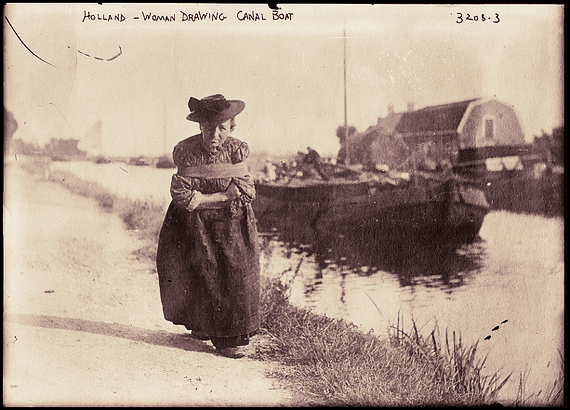 Holland — woman drawing canal boat [pulling] – Library of Congress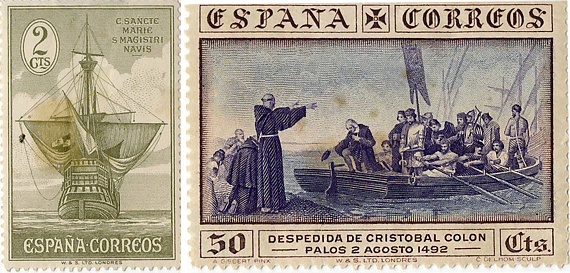 Nautical postage stamps: Spain First Issued 1850 (L)  — Spain First Issued 1850 (RT) : Public Domain – Stamps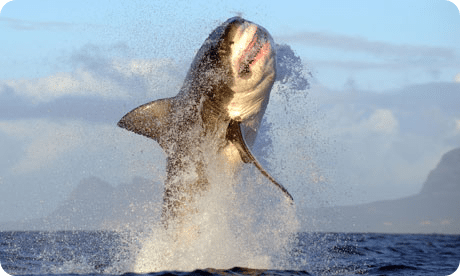 Scientists off South Africa's Cape use crane and ropes to get disoriented half-ton shark back into sea
A great white shark off Seal Island, South Africa. The animal on the Cheetah would have leapt three metres out of the water, scientists said. Photograph: Chris Brunskill Ltd. / Rex Features.
guardian.co.uk, Tuesday 19 July 2011 – The incident occurred while the research team was conducting a shark population study off Seal Island, near Mossel Bay, on South Africa's Cape coast.

Using sardines as bait to attract the predators, the seven-strong crew was able to observe four great whites. The animals are renowned locally for bursting through the surface as they prey on seals.

Dorien Schröder, team leader at Oceans Research, based at Mossel Bay, said that last Monday morning, after more than an hour of shark activity around the vessel, the Cheetah, the waters at the stern had been quiet for five minutes. "Next thing I know I hear a splash, and see a white shark breach out of the water from [the] side of the boat hovering, literally, over the crew member who was chumming [throwing food bait] on the port side," she said.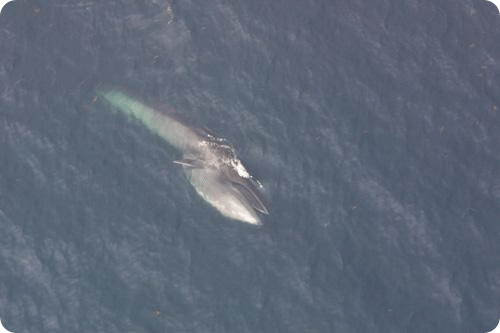 Rare Whale Spotted Near Scotland – via rhamphotheca

A rare Sei whale has been spotted near the western coast of Scotland, only the eighth time in 50 years the elusive whale species has been seen in the area. Paramedic Danny Kerr photographed the lone whale from a low-flying aircraft, as he was on his way to pick up a patient, the BBC reported.

Kerr sent the image of the mysterious, slim-bodied whale to an expert at the marine charity Sea Watch, who then shared the image with two American researchers. All three agreed the solitary mammal was indeed a sei whale, an endangered whale speciesthat lives in oceans around the globe, but is rarely seen in the region…

(read more: Our Amazing Planet)   (photo: NOAA Fisheries)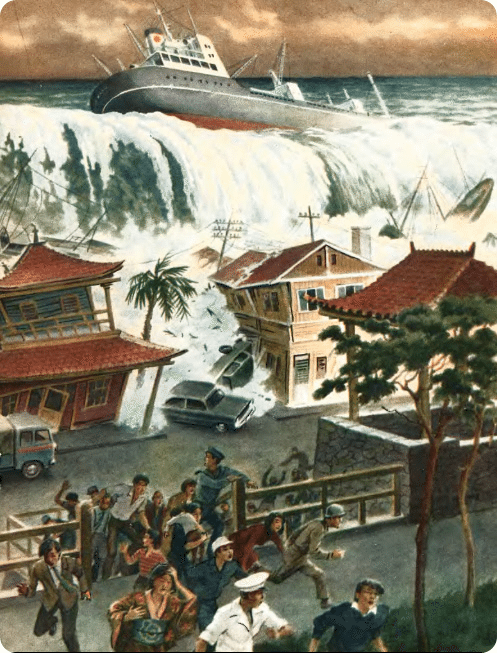 tsunami art by R. Avotin, TM 1970, Russia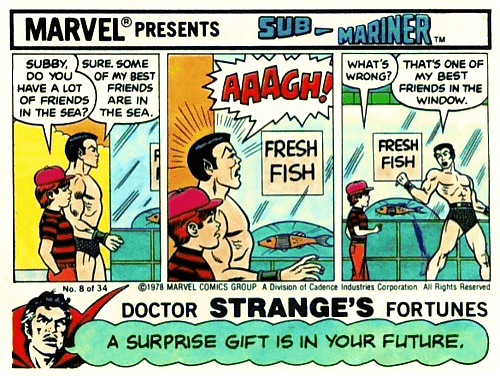 Comics card #8 from Marvel Comics trading card set (1978) – (via Bully Says: Comics Oughta Be Fun!)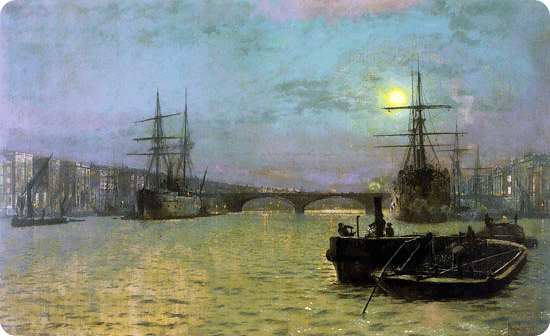 John Atkinson Grimshaw (1836 – 1893) Leeds, England – In 1861, at the age of 24, to the dismay of his parents, he left his first job as a clerk for the Great Northern Railway to become a painter. He began exhibiting in 1862, under the patronage of the Leeds Philosophical and Literary Society. He became particularly successful in the 1870s and began to rent a second home in Scarborough, which also became a favourite subject.

He often painted landscapes that typified seasons or a type of weather; city and suburban street scenes and moonlit views of the docks in London, Leeds, Liverpool, and Glasgow also figured largely in his art. His careful painting and skill in lighting effects meant that he often captured both the appearance and the mood of a scene in minute detail. His "paintings of dampened gas-lit streets and misty waterfronts conveyed an eerie warmth as well as alienation in the urban scene.  MORE ON WIKI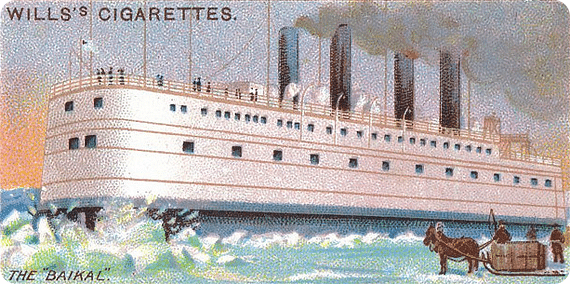 "Celebrated Ships" – W.D. & H.O. Wills – Series of 50; – (1911) – Baikal class motorship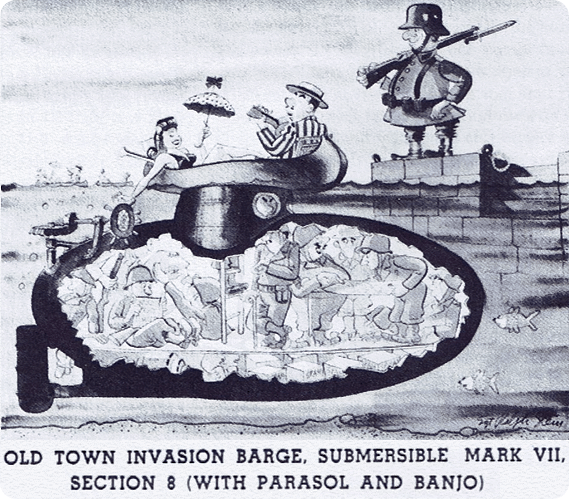 Yank Army Weekly: Secret Weapons for the Invasion of Germany - (click image after link to see full page)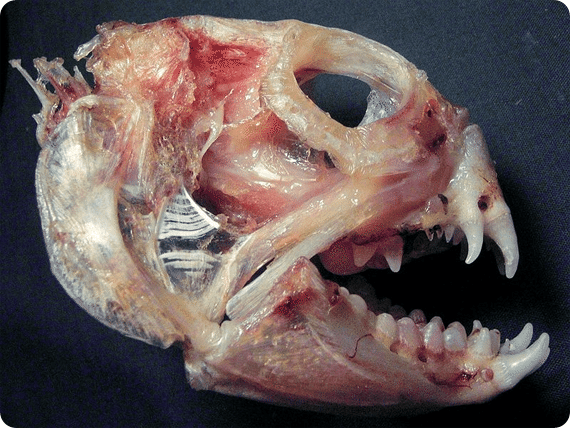 rhamphotheca:  skull of the Atlantic Wolffish (Anarhichas lupus) – (photo: Matthieu Deuté)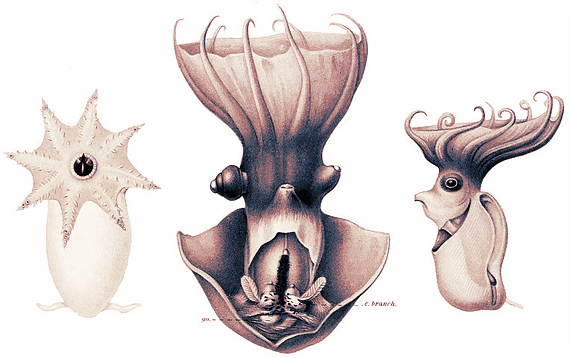 Dissected adult (centre) and two immature specimens of Vampire Squid (Vampyroteuthis infernalis) from Die Cephalopoden, Carl Chun. (1910) – via rhamphotheca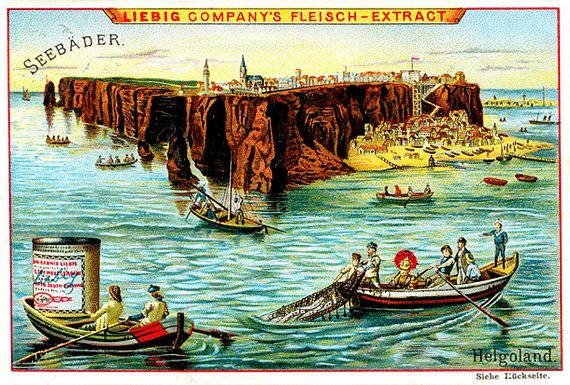 Seaside Resorts – Helgoland; German issue 1895; Helgoland Island, Germany – via cigcardpix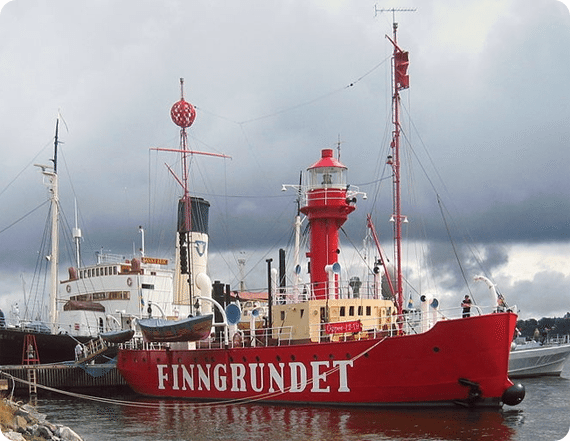 Retired lightship Finngrundet, Stockholm – via larboardwatch
lightvessel built in 1903 and now a museum ship moored in Stockholm, Sweden. She was the second Finngrundet lightvessel, built in Gävle, Sweden in 1903 and replacing one dating from 1859. She was moored on the Finngrund banks in the Baltic Sea 40 nautical miles (74 km) northeast of Gävle during the ice-free part of the year. She was replaced in 1969 by an unmanned caisson lighthouse and became a museum ship attached to the Vasa Museum.  –more on wiki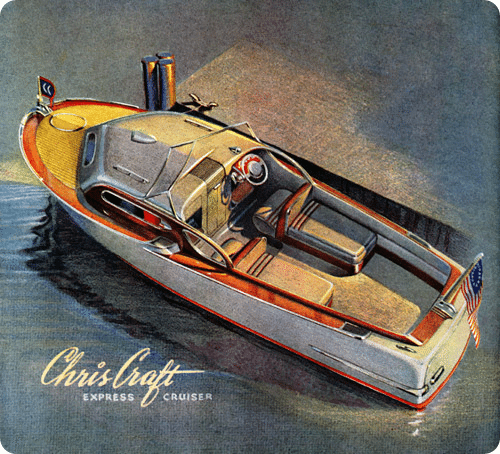 Buy U.S. War Bonds Today — Tomorrow Command Your Own Chris-Craft, 1943 – theticketthatexploded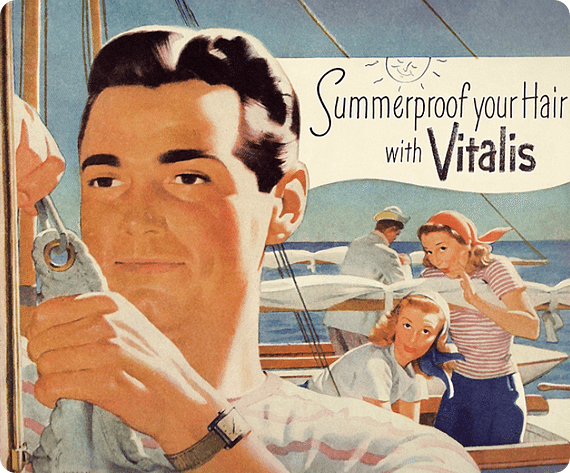 1946: Summer proof your hair with Vitalis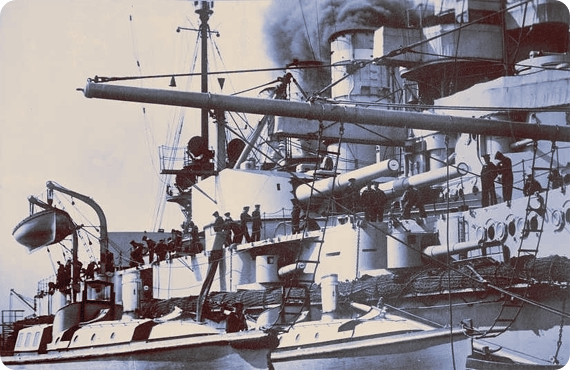 SMS Ostfriesland ("His Majesty's Ship East Frisia") was the second vessel of the Helgoland class of battleships of the German Imperial Navy. Named for the region of East Frisia, Ostfriesland's keel was laid in October 1908 at the Kaiserliche Werft dockyard in Wilhelmshaven. She was launched on 30 September 1909 and was commissioned into the fleet on 1 August 1911. The ship was equipped with twelve 30.5-centimeter (12.0 in) guns in six twin turrets, and had a top speed of 21.2 knots (39.3 km/h; 24.4 mph). Ostfriesland was assigned to the I Battle Squadron of the High Seas Fleet for the majority of her career, including World War I.  Sunk as a target by aircraft, 21 July 1921.   –more on wiki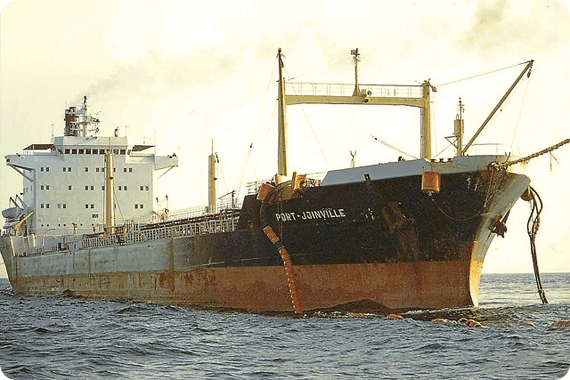 The oil tanker Port Joinville takes oil from the sunken tanker Tanio. The wreck of the Tanio lays upside down on the seabed 282ft (86m) below. Holes have been drilled through the hull into each of the tankers tanks and 4 & 6 inch hoses have been attached between the wreck and the 'column' (mooring buoy) and then on into the recipient tanker.

The Tanio was sailing from Wilhemshaven (Germany) to Civitavecchia (Italy) with 26,000 tonnes of heavy fuel oil and 900 tonnes of bunker fuel oil. She was leaving the Channel when a violent storm spilt the tanker in two off the northern coast of Finistère (western Brittany). A French Navy helicopter rescued 31 crew members in winds of 50 knots. However, 8 others, including 4 officers, were reported missing.

The operation to salvage the oil in order to prevent further pollution took place throughout the summer of 1981. Both the diving vessels Stephaniturn and Witch Queen participated with COMEX France providing the divers. On completion the column was scuttled and discarded.

In August/September of 1981 the Stephaniturn went on to salvage 431 of 465 ingots of gold from the wreck of HMS Edinburgh (16), now worth in excess of £43,000,000 sterling.  –posted by grenvillelawrence

see also: Diving on the Tanio
19th Century Clipper Ship Trade Cards on HOW TO BE A RETRONAUT (see also Ming Dynasty Beer-cans)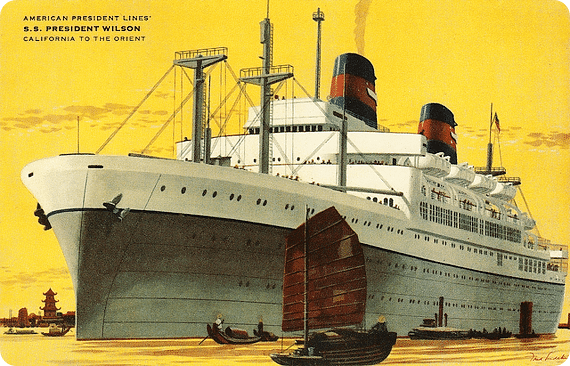 SS President Wilson – Vintage Postcard — The S.S. President Wilson and her sister ship, the S.S. President Cleveland, are modern, Air conditioned luxury liners sailing alternatively every three weeks from California to Hawaii, Japan the Philippines, Hong Kong and return.
American President Lines and its predecessors once were engaged in passenger service serving the Asia-Pacific route, among others. However, these ceased in 1973. Liners included the SS President Cleveland and the SS President Wilson.

In 1938 the U.S. Government took over the management of the Dollar Steamship Co. which was in financial difficulties and transferred their assets to the newly formed American President Line. The company operated trans-Pacific and round-the-world services, but the war in Europe disrupted services and after the entry of the United States into the war, all the company's ships were taken over for war duties under the War Shipping Administration.

SS Golden City, one of the company's ships in the late 1860s.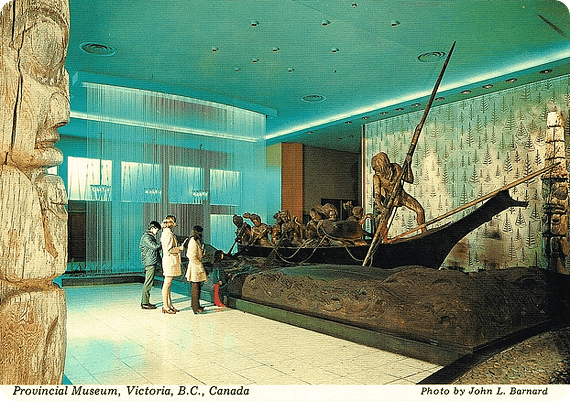 Provincial Museum, Victoria – via Postcard Farm
The Royal British Columbia Museum is a natural history and human history museum in Victoria, British Columbia, Canada, founded in 1886. The "Royal" title was approved by Queen Elizabeth II and bestowed by HRH Prince Philip in 1987, to coincide with a Royal tour that year.

It includes three permanent galleries and an IMAX theatre. It hosts touring exhibits from around the world. In recent years, these included exhibits on the RMS Titanic, Leonardo da Vinci, Egyptian artifacts and Genghis Khan. The natural history gallery on the second floor displays life-sized displays of the diverse geography of the province (such as the Fraser River delta, and prehistoric life (including a woolly mammoth), and a simulated journey to the depths of the ocean.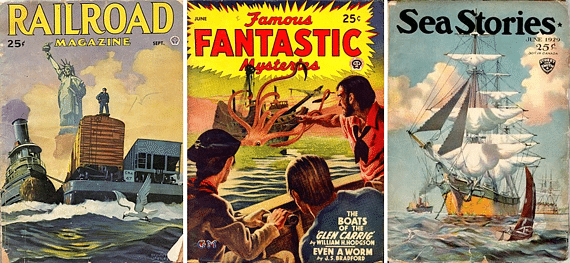 Railroad, September 1945 – Famous Fantastic Mysteries, June 1945 – Sea Stories, June 1929
Sailing Into 2010 with Some Pulp Covers »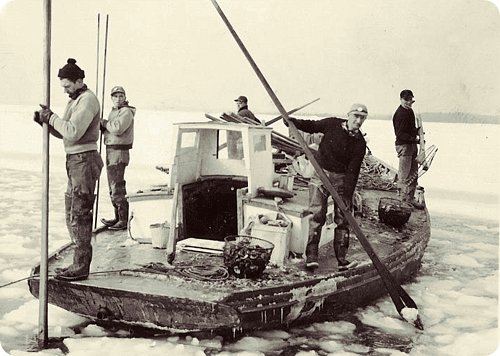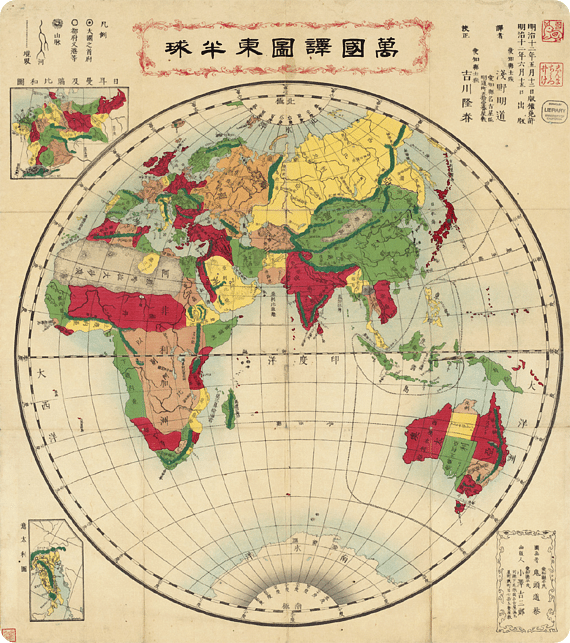 Meido Asano & Dokyo Kito, 1878, Eastern Hemisphere – fuckyeahcartography (full size)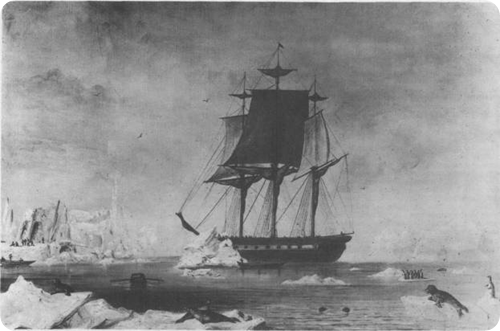 USS Vincennes (1826)
:
19th Century photograph of a painting (based on a sketch by Lieutenant Charles Wilkes, USN), depicting USS
Vincennes
in Disappointment Bay, Antarctica, circa January-February 1840.
Woman with parasol, Artist: Franz Laskoff, 1905 – vintage postcard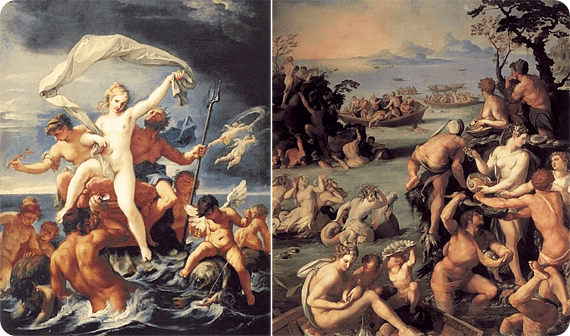 msbehavoyeur:  (left) Neptune and Amphitrite ~ Sebastiano Ricci  1691 1694  via – (rt) Pearl Fishers ~ Alessandro Allori, Oil on slate, 1570-72  via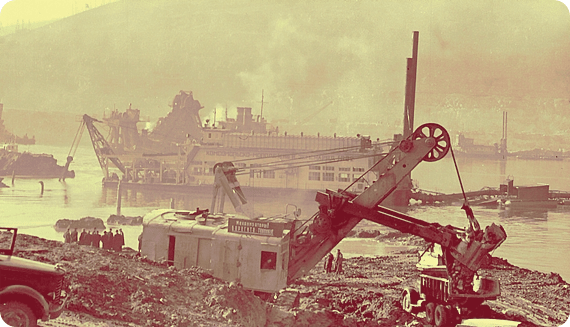 Old And Famous Construction Projects Of Samara on English Russia – via mudwerks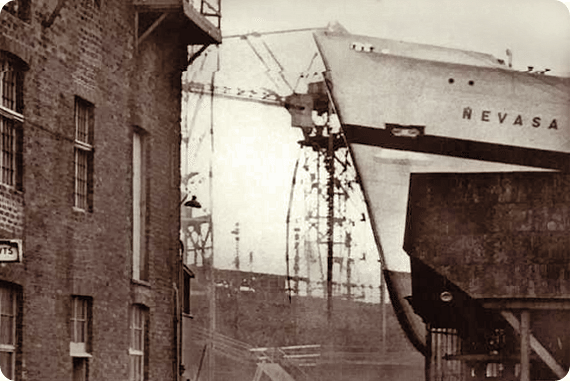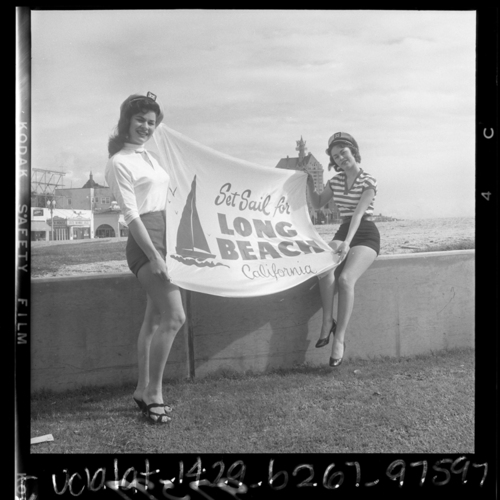 susiesnapshot: UCLA Library: On the boardwalk in Long Beach, California, 1956
---
Related Articles:
About The Author
Monkey Fist
Monkey Fist
is a smack-talking, potty mouthed, Yankee hating, Red Sox fan in Portland, Maine.  In addition to compiling Maritime Monday, she blogs about nautical art, history, and marine science on
Adventures of the Blackgang
.
Submit story ideas, news links, photographs, or items of interest to her at
MM@gcaptain.com
.