UK Signs Piracy Deal with Mauritius
Piracy Poll: Who Is Most At Risk?
Cyprus MPs Legalize Utilization of Weaponry to Fend Off Pirate Attacks
Weekly Incidents by Region: May 31 – June 6
Posted on Jun 11th, 2012 with tags africa, deal, europe, Mauritius, News by topic, piracy, Signs, UK.
Britain's Prime Minister David Cameron and his Mauritius counterpart Navinchandra Ramgoolam signed a deal for suspected pirates caught by the British navy to be prosecuted on the Indian Ocean island.
Cameron said the agreement signalled that Indian Ocean states were stepping up the battle against piracy. Britain has similar deals with the Seychelles and Tanzania as part of efforts to protect vital shipping lanes against Somali pirates.
"Piracy is a violent crime and pirates should be in no doubt that they will be arrested at sea, prosecuted in regional states and imprisoned," said Cameron.
Piracy has flourished off war-torn Somalia, outwitting international efforts to stamp out the scourge, including patrols by NATO and European Union warships since 2008 and tough sentencing of captured pirates. Several other nations, including Russia and China, also provide protection for their ships as they pass through the busy shipping route through the Gulf of Aden and the Indian Ocean.
Pirates are currently holding dozens of ships and hundreds of sailors for ransom, and have also branched out into land-based kidnapping.
Piracy Poll: Who Is Most At Risk?
By John Konrad On June 7, 2012
It has now been six months since the International Maritime Organization published Best Management Practices for Protection against Somalia Based Piracy which told ship owners how to deter pirate attacks. Yet ships are still being taken. Why?
To help answer this question gCaptain would like to ask the shipping community: Which vessels are in the most danger of being taken by Somali pirates?
Which vessels are in the most danger of being taken by Somali pirates?
Ships with poor security plans.
Slow ships with low freeboard.
Ships without armed security teams
.
Yachts and other small vessels
Ships that don't cooperate fully with Naval protection forces.
All vessels in the region are high risk targets.
Vote
View ResultsShare ThisPolldaddy.com
---
Related Articles:
Tagged with: piracy • poll • polls
About The Author
John Konrad
Captain John Konrad is co-founder of Unofficial Networks, Editor In Chief of gCaptain, and author of the book Fire On The Horizon. He is a USCG licensed Master of Unlimited Tonnage and, since graduating from SUNY Maritime College, has sailed a variety of ships from ports around the world.
Weekly Piracy Report: Monsoon Season Is Upon Us Passing The Torch – The Future Of A Historic Lighthouse
Cyprus MPs Legalize Utilization of Weaponry to Fend Off Pirate Attacks
Posted on Jun 4th, 2012 with tags Attacks, Cyprus, Fend, Legalize, MPs, off, Pirate, Utilization, Weaponry.
Triggered by growing pirate threats endangering safety of merchant ships, the Members of Cyprus Parliament have unanimously supported a bill, enabling the ships to have armed guards and use weaponry in order to defend themselves in case of pirate attacks, ITAR-TASS announced.
This is the first bill of its kind in the EU legislative system, applicable to all Cypriot-flagged ships and its main objective is to provide legislative framework that will protect merchant ship crews from different types of illicit acts, including attempts of kidnapping crew members.
Weekly Incidents by Region: May 31 – June 6
WEST AFRICA
NIGERIA: Tanker boarded on 01 June at 06:19 N – 003:29 E, Lagos Anchorage. Three armed robbers boarded the tanker from a wooden boat. The alarm was raised and the crew retreated into the citadel. After four hours the crew emerged from the citadel and found that the pirates had left. No damage was reported and the crew was reported safe. (IMB)
SOUTHEAST ASIA
INDONESIA: Bulk Carrier boarded on 04 June at 03:57 N – 098:46 E, Belawan Outer Anchorage, Indonesia. Seven robbers armed with long knives boarded an anchored bulk carrier at the forecastle. The duty A/B and D/O noticed the robbers and raised the alarm. Seeing the crew's alertness, the robbers threatened the crew with long knives and escaped empty handed in their boat. Port control and vessels in the vicinity were later informed. (IMB)
SINGAPORE: Fishing vessel boarded while underway on 23 May at 04:50 N – 099:04 E, Malacca Straits. Armed pirates boarded the fishing vessel and took hostage six crewmembers and hijacked the vessel. Upon receiving the information, the MMEA immediately sent their patrol boat and rescued the vessel along with the crewmembers. All of the crewmembers were reported safe. The pirates left the vessel before the patrol boat arrived. (IMB)
Piracy Weather Forecast: June 7-13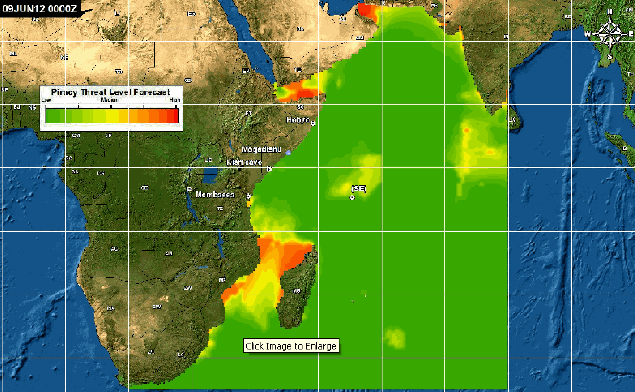 Pirate Skiff Capability (Graphic courtesy of the Naval Oceanographic Office Warfighting Support Center)
GULF OF ADEN: West-southwesterly winds of 10 – 15 knots and seas of 2 – 4 feet. EXTENDED FORECAST: West-southwesterly winds of 12 – 16 knots and seas of 3 – 5 feet, decreasing to 2 – 4 feet after 8 June.
SOMALI COAST: Significant impacts throughout the region due strong winds and high seas from the influence of the Southwest Monsoon. Expect south-southwesterly winds of 25 – 30 knots, gusting 35 knots in or near thunderstorms and seas of 9 – 12 feet. EXTENDED FORECAST: Expect south-southwesterly winds of 25 – 30 knots, gusting to 35 knots in or near thunderstorms, and seas 10 – 14 feet.
ARABIAN SEA: South-westerly winds of 10 – 15 knots and seas of 7 – 9 feet. EXTENDED FORECAST: Expect west-southwesterly winds of 10 – 15 knots and seas of 7 – 9 feet.
CENTRAL AFRICAN COAST/INDIAN OCEAN: Tanzania and Kenyan coastal regions continue to be influenced by the Southwestern Monsoon pattern. During this forecast period the region will also see marginal impact from a tropical cyclone currently located over the southwestern Indian Ocean. Expect south-southeasterly winds of 15 – 20 knots, gusting to 35 knots in or near thunderstorms, with seas of 5 – 7 feet. EXTENDED FORECAST: Expect south-southwesterly winds of 25 – 30 knots, gusting to 35 knots in or near thunderstorms, with seas of 5 – 7 feet.
MOZAMBIQUE CHANNEL: South-southeasterly winds in the northern channel of 12 – 16 knots and seas of 5 – 7 feet. In the southern channel, variable winds of 4 – 6 knots with seas of 6 – 8 feet. EXTENDED FORECAST: In the northern channel, expect southerly winds of 10 – 15 knots, becoming south-southwesterly at 20 – 25 knots after 10 June, with seas of 3 – 5 feet with occasional swells of 5 – 7feet. In the southern channel, expect variable winds of 4 – 8 knots, becoming south-southwesterly at 15 – 20 knots after 10 June, with seas of 5 – 7 feet, increasing to between 9 – 12 feet after 10 June.
SURFACE CURRENTS: Currents within the Somalia Basin, and the Gulf of Aden average approximately 1 – 1.5 knots. Currents speeds along the Somali coast, continuing south off the northern Kenya coastline until about 10 degrees South will average 2 – 3 knots. The Mozambique Channel has an average current of 1 – 2 knots, though the current speed along the northwestern portion of the channel will average 2-3 knots.
This report is brought to us by the U.S. Office of Naval Intelligence's Maritime OPINTEL Report
---
Related Articles:
Bisher waren es stets die schweren Kriegsschiffe der EU, die austeilten. Nun gerieten sie nach Angaben der Shebab-Miliz erstmals selbst in Bedrängnis.(Foto: REUTERS)
Dienstag, 29. Mai 2012
Angriff auf Anti-Piraten-Mission der EUMiliz beschießt Atalanta-Schiffe
Die Al-Kaida-nahe Shebab-Miliz gerät unter Druck: Im Kampf um die Vorherrschaft in Somalia steckt sie immer wieder Niederlagen ein. In die Enge getrieben greift die Miliz nun zu drastischen Mittel und beschießt erstmals Schiffe der EU-Anti-Piraten-Mission Atalanta.
Die somalische Shebab-Miliz hat nach eigenen Angaben erstmals auf ausländische Kriegsschiffe der Atalanta-Mission geschossen. "Mudschahedin eröffneten das Feuer und schlugen zwei Kriegsschiffe zurück, die sich der Küste von Kismayo näherten", sagte ein Shebab-Sprecher. Kismayo ist ein wichtiger Piraten-Stützpunkt. Auch Einwohner der Hafenstadt berichteten von "heftigem Feuer". Eine Bestätigung des Vorfalls von Seiten der EU-Anti-Piraten-Mission gab es zunächst nicht. Unklar war auch, unter welcher Flagge die angeblich attackierten Schiffe fuhren.
Die Allianz im Kamp gegen die Shebab-Miliz konnte kürzlich einen Triumph feiern. Sie nahm die strategisch wichtige Stadt Afgoye ein. (Foto: ASSOCIATED PRESS)
Derzeit sind neun Kriegsschiffe der Europäischen Union in den Gewässern vor Somalia auf Piraten-jagd. An dem Einsatz beteiligen sich Deutschland, Frankreich, Spanien, Portugal, Italien und die Niederlande. Mitte des Monats hatte der Bundestag der Ausweitung der Atalanta-Mission zugestimmt, wonach Piraten auch am Strand weiter verfolgt werden dürfen, also Boote, Waffenlager und andere Einrichtungen beschossen werden können.
Die Shebab-Miliz, die dem Terrornetzwerk Al-Kaida nahesteheht, geriet zuletzt zusehends unter Druck. Soldaten der Übergangsregierung und Truppen der Afrikanischen Union gelang es in der vergangenen Woche die strategisch wichtige Stadt Afgoye, eine Hochburg der radikalen Islamisten, nordwestlich von Mogadischu einzunehmen. Schon im vergangenen Jahr gelang es, die Miliz aus der Hauptstadt zu verdrängen.
Somalias Präsident überlebt Anschlag
Auch die Piraten vor der Küste Somalias sind in der Defensive. Das behauptet zumindest der französische Atalanta-Kommandant Jean-Baptiste Dupuis. Der Zeitung "Le Parisien" sagte er: "Die Zahl der aktuell von Piraten festgehaltenen acht Schiffe ist die niedrigste seit Beginn der Aktion Atalanta." Die verstärkte Präsenz von Kriegsschiffen der Mission habe dazu beigetragen.
Ende 2008 hatten die gefürchteten Seeräuber laut Dupuis noch mehr als 800 Seeleute auf 42 Schiffen in ihrer Gewalt. Die Erfolgsquote der Piratenüberfälle sei von 35 Prozent im Jahr 2007 auf 15 Prozent im vergangenen Jahr gesunken.
Mehr zum Thema
Von Sicherheit kann in dem vom Bürgerkrieg zerriebenen Land dennoch keine Rede sein. Das zeigt nicht nur der mögliche Angriff auf westliche Kriegsschiffe. Der gepanzerte Konvoi des Staatschefs Sharif Sheikh Ahmed ist nach Angaben von Sicherheitsbeamten bei einem Anschlag der Shebab-Miliz beschossen worden. Zwei Soldaten aus seinem Begleitschutz wurden laut einem Sicherheitsbeamten verletzt, der Präsident blieb jedoch unversehrt. Die Angreifer seien in die Flucht geschlagen worden.
Die Anti-Piraten-Mission Atalanta besteht seit Ende 2008. Das Kommando führt die Europäische Union. Die Bundeswehr ist vor Somalias Küsten - einem der gefährlichsten Gewässer der Welt - derzeit mit mehr als 340 Soldaten auf Piratenjagd.
Bundeswehr nicht beteiligt
Piratenstellung in Somalia zerstört
Mittwoch, 16. Mai 2012
Die Einsatztruppen dürfen jetzt auch aus der Luft angreifen. Foto: PIZ Marine
EU-Kräfte haben erstmals eine Stellung somalischer Piraten an Land angegriffen. Wie das Hauptquartier für die "Atalanta"-Mission am Dienstag mitteilte, richtete sich der Einsatz gegen Logistik der Piraten. Der Angriff erfolgte mit einem Hubschrauber aus der Luft, erklärte eine Sprecherin. Zum Zeitpunkt der Attacke seien keine Menschen in dem Materiallager gewesen. Bodentruppen seien nicht eingesetzt worden. Die Bundeswehr war an der Aktion nicht beteiligt.
Mehr: Im "THB Täglicher Hafenbericht"
UK: IMO's MSC to Develop Guidance for Private Maritime Security Companies
Posted on May 18th, 2012 with tags Companies, develop, europe, Guidance, IMO, Maritime, MSC, News by topic, private, Security, UK.
A special high-level segment of IMO's Maritime Safety Committee (MSC), convened by IMO Secretary-General Koji Sekimizu to discuss policy matters related to arms on board ships in the piracy high risk area, has requested a working group of the MSC to develop interim guidance for private maritime security companies (PMSCs).
The MSC is meeting for its 90th session at IMO Headquarters from 16 to 25 May, with some 900 delegates registered from IMO member States and observers from international and non-governmental organizations.
The instruction to the working group to develop the guidance for PMSCs followed an intense debate on arms on board ships during the high-level segment, held over the first day and a half of the Committee's session, which saw interventions from a number of Ministers, Secretaries of State and other senior Government representatives as well as the UN Assistant Secretary-General for Legal Affairs.
In his address to the high-level segment Mr. Sekmizu said:
"The carriage of firearms on board merchant ships is a complex legal issue with Member States taking diverse positions. The Committee has determined that the carriage of armed personnel is a matter for flag States to authorize, however it has also accepted that their carriage has legal implications for coastal and port States, particularly with respect to the carriage, embarkation and disembarkation of firearms and security equipment in areas under the jurisdiction of such port or coastal States."
He went on to emphasize that carriage of arms was a high-priority issue for the shipping industry, and said: "While recognizing the reality of the situation in which private security guards are employed and the diverse positions of Governments, there is a need to consider how the international community should deal with the issue of private security guards and, in particular, the need to arrive at practical solutions to the issue."
The high-level segment agreed that the use of PMSC on board ships was an exceptional measure to be used only in exceptional circumstances in the high risk area, and should not become institutionalized. However, guidance was needed to assist policy development at the national level and facilitate greater harmonization of policies in international shipping related to the issue of arms on board. Such guidance would not constitute a recommendation or an endorsement of the general use of privately contracted armed security personnel.
The high-level segment endorsed the view that the carriage of armed personnel aboard ships for enhancing their protection in the high risk area should be left to flag States to decide, once a thorough risk-assessment exercise had been carried out and following consultations with the shipowners concerned.
EUNAVFOR Conducts Air Assault Against Somali Pirates, No Casualties Reported
By gCaptain Staff On
Apocalypse Now (c) United Artists / Paramount Pictures
15.05.2012
Luftschlag in Somalia Europäer zerstören Waffenlager der Piraten
Von Christoph Sydow
AFP
Pirat an der somalischen Küste: "Das sind gewöhnliche Kriminelle"
Mehrere Piratenboote wurden getroffen, ebenso Waffenlager: Die EU-Mission "Atalanta" hat erstmals Ziele auf somalischem Boden angegriffen. Die Militärs hatten die Gewohnheiten der Seeräuber über Wochen aus der Luft studiert - und dann zugeschlagen.
Der Angriff überraschte die Piraten in der Nacht. Im Schutz der Dunkelheit haben am frühen Dienstagmorgen die Seestreitkräfte der EU-geführten "Atalanta"-Mission Piratenstützpunkte an der somalischen Küste angegriffen. Die Attacke habe sich gegen mehrere Piratenboote an einem Strand in der Region Galmudug gerichtet, sagte Timo Lange, Mitarbeiter im Pressestab der Einsatzleitung im britischen Northwood.
Bei dem Luftschlag in dem nördlich der Hauptstadt Mogadischu gelegenen Gebiet seien mehrere Angriffsskiffs zerstört worden, erläuterte Lange. Das sind vier bis sieben Meter lange, offene Boote mit starken Außenbordmotoren, die bis zu 25 Knoten schnell übers Wasser jagen können. Die Piraten setzen diese auf den letzten Kilometern für die Angriffe auf Tanker und Containerschiffe ein. Zuvor werden die Skiffs häufig von sogenannten Dauen, langsameren Holzbooten von bis zu 25 Metern Länge, aufs offene Meer geschleppt.
Menschen wurden bei der Aktion nach derzeitigem Stand nicht verletzt, die Helikopter kehrten unversehrt zu ihren Schiffen zurück. Dies habe die genaue Luftüberwachung des Zielgebiets mit Hilfe von Hubschraubern und Aufklärungsflugzeugen ergeben, so Lange. Die Gewohnheiten der Piraten in Galmudug seien über Wochen aus der Luft studiert worden, um den Erfolg des Angriffs zu sichern und den Schutz der örtlichen Bevölkerung zu gewährleisten. Die Operation habe in voller Abstimmung mit der somalischen Übergangsregierung in Mogadischu stattgefunden.
Ob die angegriffenen Piraten Verbindungen mit den islamistischen Schabab-Milizen unterhielten, blieb zunächst unklar. "Die meisten Seeräuber sind nicht ideologisch motiviert", sagte Lange, "das sind gewöhnliche Kriminelle."
Ausgeführt wurde die nächtliche Aktion offenbar von mehreren Helikoptern, die von zwei Kriegsschiffen im Indischen Ozean gestartet waren. Die Bundeswehr war an der Attacke auf das Piratenlager nach eigenen Angaben nicht beteiligt. "Deutsche Kräfte nahmen nicht aktiv an der Operation teil", so ein Sprecher der Bundeswehr zu SPIEGEL ONLINE.
Immer neue Piratenangriffe
Derzeit sind im Rahmen der "Atalanta"-Mission neun Kriegsschiffe, darunter auch der deutsche Einsatzgruppenversorger "Berlin", vor Somalia im Einsatz. Laut der letzten Unterrichtung für den Bundestag führt die "Berlin" dabei eine Seeraumüberwachungsmission durch.
Neben der Bundeswehr sind Frankreich mit drei Schiffen, Spanien mit zwei und Italien, die Niederlande und Portugal mit jeweils einem Schiff vertreten. Alle zusammen verfügen über zehn einsatzfähige Helikopter, die für mögliche Angriffe auf die Piratenlogistik benutzt werden können. An Bord der "Berlin" befinden sich zwei Hubschrauber vom Typ "Sea King".
Im März beschloss die EU eine Ausweitung des "Atalanta"-Mandats. Nun ist die Piratenjagd auch an Land erlaubt. Angriffe aus der Luft auf Ziele wie Boote und Treibstofftanks an der somalischen Küste sind gestattet. Mit zwei wichtigen Einschränkungen: Angegriffen werden nur Ziele in maximal 2000 Metern Entfernung von der Küste. Außerdem dürfen diese nur aus der Luft attackiert werden, Bodeneinsätze bleiben grundsätzlich verboten.
Trotz der "Atalanta"-Mission reißt die Kette der Piratenangriffe in dem riesigen Seegebiet nicht ab. Erst am vergangenen Donnerstag hatten Piraten den griechischen Tanker "Smyrni" mit rund 135.000 Tonnen Öl und 26 Seeleuten an Bord im Arabischen Meer vor Oman gekapert. Der Überfall fand rund 800 Kilometer vor der somalischen Küste statt, in einer Region, die nicht von Kriegsschiffen überwacht wird. Eine thailändische Fregatte folgte der "Smyrni" zunächst noch, brach die Verfolgung aber ab, nachdem eine Lösegeldforderung bei der Reederei eingetroffen war.
Am vergangenen Freitag hatte die türkische Marine einen Kutter gestürmt, 14 Piraten vor der Küste Omans festgenommen und sieben jemenitische Seeleute befreit.
Die somalischen Piraten operieren wegen der internationalen Armada in immer größeren Distanzen vor der eigenen Küste, während die zivile Seefahrt ihrerseits immer weiter aufrüstet. Rund 80 Prozent der Schiffe im kenianischen Hafen Mombasa laufen inzwischen mit bewaffnetem Personal an Bord aus. Bis zu 120 Sicherheitsgesellschaften sollen ihre Dienste anbieten.
Mitarbeit: Matthias Gebauer und Horand Knaup
EUNAVFOR – Earlier today, following the decision taken on 23 March 2012by the Council of the European Union to allow the EU Naval Force to take disruption action against known pirate supplies on the shore, EU forces conducted an operation to destroy pirate equipment on the Somali coastline.
The operation was conducted in accordance with the United Nations Security Council Resolution 1851 and has the full support of the Transitional Federal Government of Somalia. The focused, precise and proportionate action was conducted from the air and all forces returned safely to EU warships on completion. Whilst assessment is on-going, surveillance of the area during the action indicates that no Somalis were injured ashore as a result of EU action.
(c) TriStar Pictures
Speaking about the operation, the Operation Commander of the EU Naval Force, Rear Admiral Duncan Potts said "We believe this action by the EU Naval Force will further increase the pressure on, and disrupt pirates' efforts to get out to sea to attack merchant shipping and dhows. The local Somali people and fishermen – many of whom have suffered so much because of piracy in the region, can be reassured that our focus was on known pirate supplies and will remain so in the future."
At no point did EU Naval Force 'boots' go ashore. Rear Admiral Potts went on to say "The EU Naval Force action against pirate supplies on the shoreline is merely an extension of the disruption actions carried out against pirate ships at sea, and Operation Atalanta remains committed to fighting piracy off the Horn of Africa and the humanitarian mission of protecting World Food Programme ships that bring vital aid to the Somali people."
Operation Atalanta is part of the EU's comprehensive approach to tackling symptoms and root causes of piracy in the Horn of Africa and the EU strategic framework for that region adopted in November 2011. Currently there are 9 warships in the EU Naval Force and 5 Maritime Patrol Aircraft.
The reach of Somali pirates is vast; they have attacked merchant ships up to 1,750 miles off the Somali coast. Preventing them getting out to sea is a crucial step in removing their impunity ashore and to further the success of counter-piracy operations.
---
Related Articles:
Tagged with: anti-piracy • eunavfor
gCaptain Staff
gCaptain is the top-visited maritime and offshore industry news blog in the world. Since 2006, gCaptain has proven to be a highly effective platform for information sharing and source for up-to-date and relevant news for industry professionals worldwide.
Regierung hält private Sicherheitskräfte auf Schiffen für sinnvoll
Bundestag:
Wir debattieren den Antrag der Bundesregierung zur Fortsetzung der Beteiligung bewaffneter deutscher Streitkräfte an der EU-geführten Operation Atalanta zur Bekämpfung der Piraterie vor der Küste Somalias. Das seit 2008 laufende Mandat wird
durch diesen Antrag so erweitert, dass auch Logistik, Häfen und Einsatzbasen der Piraten
an der Küste wirkungsvoll bekämpft werden können. Unverständlich ist, dass SPD
und Grüne angekündigt haben, die Stützpunkte der Piraten an der Küste unangetastet
zu lassen.
Wirtschaft und Technologie/Antwort - 23.04.2012
Berlin: (hib/HLE) Der Einsatz von privaten Sicherheitskräften kann nach Ansicht der Bundesregierung eine sinnvolle Ergänzung zu anderen Maßnahmen sein, um die Sicherheit der Besatzung und des Schiffes vor Piratenangriffen zu erhöhen. In der Antwort der Regierung (
17/9293
) auf eine Kleine Anfrage der Linksfraktion (
17/9124
) heißt es weiter: "Bislang ist nach den Informationen, die der Bundesregierung vorliegen, noch kein Schiff mit privaten Sicherheitskräften an Bord entführt worden." Nach Angaben der Regierung umfasste die Handelsflotte der deutschen Reedereien im Februar 2012 3.668 Schiffe. Davon seien 517 unter deutscher Flagge gefahren. Über die Zahl der eingesetzten Sicherheitskräfte sei nichts bekannt.Auch unterwegs aktuell informiert mit der
kostenlosen App "Deutscher Bundestag"
und unter
m.bundestag.de
.
After 4 Months in Pirate Captivity, Sri Lankan Crew Rescued by Spanish Warship
By gCaptain Staff On April 23, 2012
Image: EUNAVFOR
On Wednesday 18 April, EU Naval Force (EU NAVFOR) Spanish warship, ESPS Infanta Elena rescued 6 Sri Lankan fishermen and their fishing vessel from 7 suspected pirates. The fishing vessel had been in the hands of suspect pirates since November 2011 and was reportedly being used as a mother-ship to launch attacks against merchant shipping in the region.
At sunset on 18 April, 50 miles off the coast of Tanzania, ESPS Infanta Elena identified the pirated vessel and after closing its position, the Spanish boarding team went on board. Once there, they identified the 7 suspected Somali pirates and 6 Sri Lankan crew. The men received much needed medical care and were provided food and water. Earlier the same day, 5 suspect pirates had been arrested by Tanzanian maritime forces when their attack skiff, believed to have been operated from the Sri Lankan vessel, beached on the Tanzanian coast.
The tired, but very relieved Sri Lankan fishermen were handed over to Tanzanian maritime forces close to Dar Es Salaam on 21 April and the European Union, via its delegation in Tanzania helped to ensure that the crew could quickly make contact with their families. Arrangements are now being made to fly the fishermen home to Sri Lanka.
As there is currently no agreement on the transfer of suspect pirates between the European Union and Tanzania, the suspect pirates were released by ESPS Infanta Elena to the Somali coast on Monday 23 April. With the on-going negotiations with the Tanzanian authorities, it is hoped that a transfer agreement will be in place in the near future.
This is the 10th disruption this year of a Pirate Action Group by an EU Naval Force warship. Once again armed pirates have been prevented from carrying out further attacks on ships transiting the Indian Ocean.
Image: EUNAVFOR
---
Related Articles:
Tagged with: eunavfor
About The Author
gCaptain Staff
gCaptain is the top-visited maritime and offshore industry news blog in the world. Since 2006, gCaptain has proven to be a highly effective platform for information sharing and source for up-to-date and relevant news for industry professionals worldwide.
If you enjoyed this article, please share it!
Dockwise Heavy Lift to Upgrade the Black Marlin with Nearly 50% Greater Capacity
Piraten hatten bereits im Dezember 2010 einen italienischen Tanker entführt. Jetzt ist das Schiff wieder frei.Foto: DPAEin italienischer Chemietanker, der seit Dezember in der Hand von Piraten war, ist wieder frei.  Auch  die 18 Mitglieder der Besatzung an Bord der «Enrico Ievoli» -  sieben Inder, sechs Italiener und fünf Ukrainer - seien  freigelassen worden, teilte das italienische Außenministerium in  Rom mit. Nach Angaben des Eigners Domenico Ievoli verließ das  Schiff Somalia bereits in Begleitung italienischer Soldaten. Piraten: Raubritter der SeeItalienisches Schiff: Die Piraten entführten es im OmanDer Tanker war vor der Küste des Sultanats Oman im Arabischen  Meer entführt worden. Er hatte fast 16.000 Tonnen Natronlauge  geladen. Bereits im November und Dezember waren drei italienische  Schiffe aus der Gewalt somalischer Piraten befreit worden. In  mindestens zwei Fällen soll Lösegeld geflossen sein. Derzeit  befinden sich keine italienischen Schiffe mehr in Piratenhand. Es  werden aber weiterhin dutzende andere Schiffe und hunderte Geiseln  festgehalten. afp