Cardiac Valve Replaced, Maersk CEO is Full Up and Running Again, So to Speak
By gCaptain Staff On
Foto: Matthias Boerschke Nils S. Anderson, A.P. Moller – Maersk CEO COPENHAGEN (Dow Jones)–Nils Smedegaard Andersen, the chief executive of Danish industrial conglomerate A.P. Moller-Maersk A/S(MAERSK-B.KO), returned to work Monday after more than four months' leave following a heart operation. Smedegaard Andersen, 53, fell ill during a skiing holiday in Switzerland at the end of December 2012. After surgery to replace a cardiac valve and hospitalization in Switzerland for two weeks, he returned to Denmark in mid-January. He was initially expected to resume work at the beginning of February, but suffered a setback and had
further surgery at the end of March
. "Having participated in a number of meetings and having been updated on our activities during the last couple of weeks, I am now ready to return to work," Smedegaard Andersen said in a statement Monday. During his absence, the company has been led by members of the executive board, reporting to Supervisory Board Chairman Michael Pram Rasmussen.
-By Flemming Emil Hansen, Dow Jones Newswires
No related posts. Tagged with:
maersk
About The Author
gCaptain Staff
gCaptain is the top-visited maritime and offshore industry news blog in the world. Since 2006, gCaptain has proven to be a highly effective platform for information sharing and source for up-to-date and relevant news for industry professionals worldwide.
Visit Authors Website →
Denmark: Maersk Line's New Sustainability Progress Report
Posted on May 2nd, 2012 with tags Denmark, europe, Maersk Line, New, News by topic, progress, report, Sustainability.
Maersk Line shares its new sustainability progress report, Route 2.
Route 2 seeks answers to probing questions such as how to:
Minimise environmental impacts whilst facilitating global trade?
Create environmental transparency across the industry?
Enable an informed and frank discussion on needed changes?
Telling it like it is
"Global shipping accounts for 3-4% of global CO2 emissions. However, there continues to be an eminent lack of transparency and understanding of the impacts of shipping.The shipping industry is in general not very open about its performance – perhaps for good reasons. This undermines the credibility of the entire industry," says Lucas Vos, Chief Commercial Officer, Maersk Line.
Maersk Line is committing to help do something about that. It puts the various impacts of activities on the table, as well as Maersk Line's own 2011 performance.
"We need to chart an alternative path or route. With Route 2 we hope to help our customers, regulators, NGOs and even consumers ask better questions. This should add positive pressure on the shipping community," continues Vos. "Many of our customers are already engaged – we can see this in the report – but more is needed to drive a real change."
In focus: The implications of trade
The Maersk Line report begins by looking at shipping as a facilitator of Global trade and the implications of this, both negative and positive.
"This is an important discussion and Maersk Line, as a global shipping line, must contribute. We don't have all the answers but we aim to support our views with evidence, case studies and numbers. We try to make our impact tangible so that it is clear what we bring to the table and where we need to improve," says Soren Stig Nielsen, Head of Sustainability, Maersk Line.
The long-term goal is to build a sustainable foundation for trade and shipping, both in terms of ensuring profitability and responsible business practices. Maersk Line therefore openly discusses issues such as corruption and facilitation payments, the need to combat illegal trade and the options for reducing environmental impacts.
Good business sense
In 2012, as part of efforts to restore profitability, Maersk Line is further intensifying its focus on environmental sustainability, in particular fuel efficiency and CO2 reductions to reduce cost.
"Route 2 outlines the path we've chosen to integrate responsible business practices and sustainability. It's a central component of becoming a stronger and more profitable company," says Stig Nielsen. "It helps us consider our role in society, challenge ourselves and the industry."
Kreditzusagen um ein Drittel erhöht
Deutsche Shipping finanziert mehr Schiffe
Dienstag, 27. März 2012Die Deutsche Shipping, die Schiffsfinanzierungsparte der Deutschen Bank, hat 2011 ihre Kreditzusagen um ein Drittel erhöht. Sie stiegen auf 1,6 Milliarden Euro, wie die Geschäftsleitung am Montag in Hamburg mitteilte. Nach Asien gingen deutlich mehr Kreditzusagen: Der Anteil Asiens legte von 7,6 Prozent auf 18,7 Prozent zu. Insgesamt wurden Kredite im Volumen von 5,8 Milliarden Euro in Anspruch genommen, ein Zuwachs von 600 Millionen Euro. Nach Auffassung der Deutschen Shipping vollzieht der Schiffsfinanzierungs- markt einen strukturellen Wandel. Kapitalmärkte würden stärker genutzt. Es bleibe abzuwarten, ob neue Kreditinstitute Schiffsfinanzierungen als Kerngeschäftsfeld definieren werden, teilte die Deutsche Shipping mit.
Mehr: Im "THB Täglicher Hafenbericht"
- By Michael Martin, MTS Logistics
If you are a regular follower of More Than Shipping you likely recall that since November of 2011, articles have been posted here in speculation of Asia to USA ocean rates. Serkan Kavas pulled out his crystal ball and wrote "What will my import rates from China be in 2012?" I followed up on his article with "Is Bigger Better?" sharing some ideas about the effects of larger vessels and carrier alliances. These were both intended to provide our readers with a snapshot/current status of the east bound Pacific Ocean trade lane and hopefully offer a glimpse of what the future would hold for USA importers. That future is almost upon us now. So, what do we know? Is the picture any clearer?Because it has been so well documented, it is no secret that the ocean carrier industry; with the possible exception of German carrier Hapag Lloyd, has collectively lost billions of dollars in 2011.Even Hapag Lloyd's reported profits of $133 million in 2011 pales in comparison to their 2010 profits figure of $770 million. Chilean carrier CSAV alone reported a loss of $1.24 billion in 2011. In his November article, my colleague Serkan made the prediction of a 10% increase in the first half of 2012. With the carriers announcing GRI March 15 as $240/$300/$338/$380 per 20′/40′/40hc/45′ his fortune telling is right on track. Typical BAF adjustments occur on a quarterly basis and April 1 brings us to the end of the first quarter of 2012. Most of the carriers have announced the BAF for the second quarter of 2012, which is about a 5% increase from the first quarter.At the end of April the "typical" ocean contracts expire. Negotiations occur and rates are established between the ocean carriers and BCO's (beneficial cargo owner) and NVOCC's (non-vessel operating common carrier) for the new contract season. The Transpacific Stabilization Agreement (TSA), which is a group of 15 ocean carriers, announced the March 15 GRI and is expected to follow that up with increases between $500 – $700 per FEU (forty foot equivalent units) beginning May 1 for the 2012 – 2013 contract season.I think that most people on the NVOCC side of the ocean transportation industry would agree that it is only in recent years that the relationship between the ocean carriers and the NVOCC's has improved and grown. In past years, many carriers have thought of NVOCC's as only focused on the lowest prices to be shopped around for the USA importers. While it is true that pricing is a big factor, flexibility does come into the equation and can work to the advantage of all three parties; carrier, NVOCC & shipper. Consider that the NVOCC is in regular contact with their customer and knows that an ocean carrier has routing options that may provide transportation savings with only a slight change to the transit time. In that scenario the NVOCC has retained and made a customer happy, the import customer has reaped transportation cost savings and the ocean carrier has not lost cargo but has rather still filled one or more slots on their vessel.The NVOCC can also assist the carriers by filling vessel space during slack seasons. If a carrier is contracted with a BCO that has good annual volume but only seasonal shipments they are left for portions of the year with vessels sailing with available space. The NVOCC can many times find freight to fill those empty slots.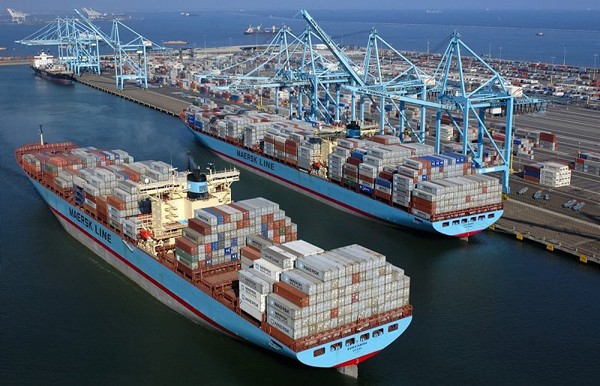 Port of Los Angeles, image courtesy APM Terminals
The NVOCC can often assist the importer when capacity issues exist. Examples of this may be prior to a lengthy Asian holiday when bookings outpace equipment and space availability or during carrier layup of their vessels. Because the NVOCC has options available with multiple carriers they can search within those multiple resources. Another example of how an NVOCC might help an importer would be if a change is made to their supply chain which requires a different loading date at origin or a faster transit time. The importer who is not locked in entirely to a carrier contract can employ the use of an NVOCC with the capability of quickly finding solutions among their carrier resources. It remains to be seen if the first quarter rate increases from the carriers will stick or whether the rate wars between the carriers will pick up again in the second quarter of 2012. History as recent as the 2011 PSS increase which opened late, was quickly mitigated and ended early showed us that the carriers are not staying aligned and unified with rate increases. What everyone would seem to want and agree is necessary in the industry, is stability and cooperation between the carriers, BCO's and NVOCC's.
Michael Martin holds a bachelors degree in business management from Cardinal Stritch University. His background is in sales for the packaging and international transportation industry, before joining the MTS Logistics team in March of 2011 and works from his home office as a sales executive covering the Midwest USA.
Related Articles:
W