Weekly Incidents by Region: MAR 22-28
Innenminister will mehr Tempo beim Schutz von Schiffen vor Piraten
30. März 2012 | 08:14 Uhr
Schünemann will mehr Schutz für deutsche Schiffe. Foto: Holger Hollemann/Archiv
Berlin (dpa)- Niedersachsens Innenminister Uwe Schünemann (CDU) hat die Bundesregierung aufgefordert, mehr für den Schutz deutscher Schiffe vor Piraten vor den Küsten Somalias zu tun. Nötig sei mehr Tempo bei der Zertifizierung privater Sicherheitsteams.
«Die Bundesregierung muss ihrer besonderen Schutzverantwortung gegenüber deutschflaggigen Schiffen endlich gerecht werden», sagte der Minister der «Neuen Osnabrücker Zeitung» (Freitag). «Ich will jedoch keine schießwütigen Söldner auf deutschen Schiffen», fügte er hinzu. Daher sei eine schnelle Zertifizierung nötig.
Der Bundesrat werde am Freitag abschließend über ein «ganzheitliches Konzept zur Bekämpfung der Piratenplage» beraten. In dem von Niedersachsen eingebrachten Antrag wird verlangt, dass in Einzelfällen auch hoheitliche Schutzteams aus Marinesoldaten oder Polizisten besonders gefährdete deutsche Handelsschiffe durch die Piratengewässer begleiten.
M/V Iceberg 1 Surpasses Two Years in Pirate Captivity, Status of Crew Unknown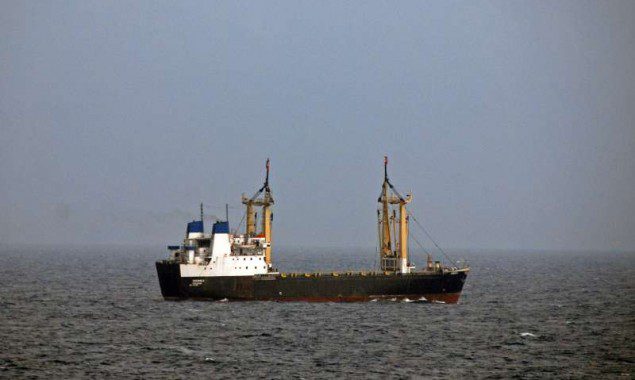 M/V Iceberg 1
It's been two unspeakably long years for whomever is left of the crew of the M/V Iceberg 1 since being hijacked by Somali pirates off the Yemeni coast.  The Panamanian-flagged roll-on/roll-off ship was taken on March 29, 2010 and, at this point, is the longest-held vessel in captivity.
Left to Rot
At the time of the hijacking, the Iceberg 1 had a multinational crew of 24 – made up of 8 Yemenis, 6 Indians, 4 Ghanaians, 2 Sudanese, 2 Pakistani and 1 Filipino – but dwindled to 23 in October 2010 after one crewmember committed suicide by jumping overboard. Meanwhile, the remaining crew have been subjected to barbaric living conditions with little food or clean drinking water and no help from the shipowner, Azal Shipping and Cargo, who
has since gone out of business
. On December 17th the Captain of the vessel, Abdirazzak Ali Saleh, told Agence France-Presse, "The water we have is unclean and we have only one meal a day, boiled rice, that's it. The crew is suffering physically and mentally," in a phone interview obtained by Somalia Report. He added that they had been locked up in a lower hold approximately five meters square for close to nine months.  At least three crewmembers have been reported to be suffering from severe psychological issues.
Rumored Release
In October of 2011 the Iceberg 1, along with her crew,
were rumored to have been released
however that story was later retracted.  Also that month, it was reported that the 6 Indian nationals were released following the payment of ransom by their families. Now, as we pass the two year mark, the fate of the Iceberg 1 and her remaining crew is still uncertain.  Will, by some miracle, ransom be paid for their release?  Or will some military step in and fight for their release?  For now, we just don't know.
---
Related Articles:
CENTRAL AMERICA–CARIBBEAN
CARIBBEAN: Petroleum products tanker boarded on 24 March while anchored at position 18:32 N – 72:23 W, the Port au Prince anchorage. Two boats approached the vessel during a heavy rain. Duty crew noticed there were 2-3 armed robbers on each boat and one robber threatened him by waiving a hand gun. One of the robbers armed with machete managed to board the tanker and was seen attempting to cut the mooring rope. Duty Officer raised the alarm and contacted pilot station for assistance. On hearing the alarm, the robber jumped into the water with small amount of stolen ship's stores and escaped. A coast guard boat came to the location and investigated the immediate area. Master weighed anchor and proceed to drift outside the anchorage area. (IMB).
WEST AFRICA
NIGERIA: A Tanker was approached by a skiff on 26 March 370nm West of Victoria, Seychelles, Somalia 05:21S – 049:18E. Four armed pirates in a skiff chased and fired 30 rounds at the underway Tanker. The Tanker enforced anti piracy measures and the onboard security team returned fire causing the skiff to abort the attack and sail away. (IMB). NIGERIA: A Tanker was approached by a skiff on 24 March 190nm east-northeast of Sur, Oman, Somalia at positions 20:49N – 062:27E. A Pirate mother ship was at a distance of 6 nm. The Takers Master observed a skiff launch 4nm away. The Master alerted the onboard security team. The skiff approached the vessel at a speed of around 25-30 knots. Master raised alarm, sent a distress signal and altered course. As the skiff closed to around 1000 meters, the onboard security team launched a rocket flare and fired two warning shots resulting in the skiffs stopping and moving towards the tanker's stern. The skiff with 6-7 pirates onboard maintained a distance of 1nm and continued to chase the Tanker. The armed security team fired several warning shots causing the skiff to stop the attack and return to the mother vessel. A warship responded to the distress message and sent a surveillance aircraft to the location. (IMB). NIGERIA: A General Cargo vessel was approached by three skiffs at high speed on 23 March 220nm East of Sur, Oman, Somalia at positions 22:37 N – 063:31 E. The skiffs were observed following the ship as she altered course to move away. The ships Master alerted the security team who fired warning shots at the skiffs who were 15/20 feet away from the ship. The skiffs later sailed away. (IMB). NIGERIA: Chemical Tanker was chased on 22 March 100nm SW off Bonny Island, Nigeria at position 02:57 N – 006:12 E. Armed pirates in two boats chased a chemical tanker. The Master raised the alarm and sent a SSAS alert and instructed the crew to proceed to the safe room. A US warship responded to the alert and offered assistance. The pirates later aborted and left. (IMB).
INDIAN OCEAN–EAST AFRICA
INDIAN OCEAN: Fishing vessel reportedly hijacked on 26 March while underway near position 10:00 S – 050:00 E, approximately 115 nm north of Madagascar. It has been reported that maritime officials have lost contact with the vessel, and that there are 15 crewmembers of unknown nationalities aboard. (IMB, Press) INDIAN OCEAN: Bulk carrier reportedly hijacked on 26 March while underway near position 07:00 N – 069:45 E: approximately 200 nm southwest of Minicoy Island, India. Pirates took hostage 23 crew members and are sailing the vessel towards the coast of Somalia. Further reporting awaited. (IMB) INDIAN OCEAN: Tanker attacked on 26 March while underway near position 05:21 S – 049:18 E, approximately 370 nm west of Victoria, Seychelles. Four armed pirates in a skiff chased the ship, reportedly firing 30 rounds at the vessel. Ship's Master increased speed and employed other anti-piracy measures. The onboard security team returned fire, resulting in the skiff aborting the attack moving away. The crew and vessel are reported safe. (IMB) INDIAN OCEAN: Merchant vessel attacked on 25 March while underway near position 14:17 N – 056:51 E, approximately 215 nm northeast of Socotra Island, Yemen. (NATO) INDIAN OCEAN: Merchant vessel attacked on 23 March while underway near position 16:58 N – 062:48 E, approximately 285 nm southeast of Masirah Island, Oman. (NATO)
SOUTHEAST ASIA
INDONESIA: Bulk carrier boarded on 18 March while anchored at positions 01:18 S – 116:47 Balikpapan Inner Anchorage. Three robbers boarded the ship, broke into the forward cargo hold and stole ship's stores. Two duty personnel on rounds saw the robbers and raised the alarm. Upon hearing the alarm, the robbers escaped in a waiting boat. Incident reported to port authorities. (IMB)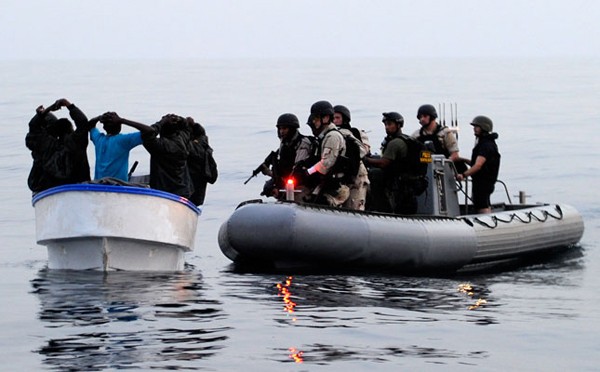 GULF OF ADEN (July 22, 2011) A visit, board, search and seizure team from guided-missile cruiser USS Anzio (CG 68), investigates a suspected pirate skiff. Anzio is assigned to Combined Task Force 151, a multi-national, mission-based task force established by the Combined Maritime Forces in January 2009, to conduct counter-piracy operations in the Red Sea, Gulf of Aden, Somali Basin and Arabian Sea. (U.S. Navy photo by Mass Communication Specialist 2nd Class Bryan Weyers/Released)
WASHINGTON — Piracy along the coast of Somalia threatens one of the fundamental foundations of an interconnected global economic system: freedom of navigation on the high seas, Assistant Secretary of State Andrew Shapiro says. "In a globalized world, the impact of piracy in one area of the world can cause a ripple effect greater in magnitude than ever before," Shapiro said March 27 in remarks at the Washington-based Center for American Progress, a public policy research center. According to maritime agencies, there were 439 piracy attacks worldwide in 2011, and more than half were by Somali-based pirates operating in the Gulf of Aden, the Red Sea, the Arabian Sea, the Indian Ocean and off areas near the coast of Oman. But those figures have begun showing a downward trend because of the growing, collaborative international response. The impact of Somali piracy on the global economy was estimated to be approximately $7 billion in 2011 and between $7 billion and $12 billion in 2010, based on the most recent detailed estimates by international maritime groups. "By preying on commercial ships in one of the world's most traversed shipping lanes, pirates off the Horn of Africa threaten more than just individual ships," Shapiro said. "They threaten a central artery of the global economy, and therefore global security and stability." Shapiro, who is the assistant secretary of state for political-military affairs, said that in 2007 and 2008, pirate attacks along the coast of Somalia escalated dramatically. Thereafter, a reinforcing cycle began forming, in part motivated by ever-increasing ransom payments to recover crews and cargo. Piracy went from being a loosely defined, ad hoc effort to a highly developed transnational criminal enterprise. Pirates use high-speed skiffs and ladders or grappling hooks to board commercial cargo ships and leisure craft, seize the crew and cargo and hold them for ransom. The ransoms currently average about $4.5 million per incident and have reached as high as $12 million, Shapiro said. The smaller skiffs are often supported by much larger mother ships that can support numerous smaller pirate vessels for extended periods. Currently, navy ships from the European Union, NATO, the United States, China, Japan, Russia, India and other nations actively patrol the region to interdict pirates and prevent or stop attacks. The United States is opposed to paying ransom in these hijacking incidents. Somali pirates now operate in a total sea space of approximately 2.5 million square nautical miles — an area equal to the size of the continental United States, Shapiro said, and they reach as far as the waters off the coast of India. Shapiro said piracy in this area of the world is a prime example of the problems associated with ungoverned spaces. He said the pirates operate from the coastal areas in Puntland state and parts of central Somalia where the lack of governance and weak governmental institutions provide the criminals with a safe haven. However, Shapiro said, with international cooperation there are signs of clear progress, and the number of attacks in 2011 actually fell by nearly half. In January 2011, Somali pirates held 31 ships and 710 hostages, but by March this year, pirates held eight ships and 213 hostages, which reflects a 70 percent decline in the area around Somalia. Shapiro said the United States is pursuing an integrated approach to combating maritime piracy that focuses on:
Engaging diplomatically to spur collective international action.
Expanding security on the high seas through the use of naval ships to defend private vessels and disrupt pirate attacks.
Preventing attacks by encouraging industry to take steps to protect itself.
Deterring piracy through legal prosecution and imprisonment.
Debilitating the networks that support piracy.
Shapiro said the United States from the beginning adopted a multilateral approach to maritime piracy, and in January 2009 helped to establish the Contact Group on Piracy off the Coast of Somalia to coordinate the international response. The Contact Group membership is voluntary and was established concurrent with the U.N. Security Council's Resolution 1851 that addressed maritime piracy. He said the group now includes more than 70 nations and international and maritime industry organizations to help coordinate national and internal counterpiracy policies and actions. "Our response to piracy is an example of how we are seeking to lead in new ways, by reaching out to new actors, building new kinds of partnerships and coalitions," Shapiro said. "American diplomatic engagement and leadership on piracy has helped catalyze the action of others so that the burden of maintaining global stability is shared." However, Shapiro emphasized that the only long-term response to piracy is the re-establishment of stability, responsive law enforcement and adequate governance in Somalia.
---
Related Articles:
European Naval Forces Intercept High Seas Pirate Action Group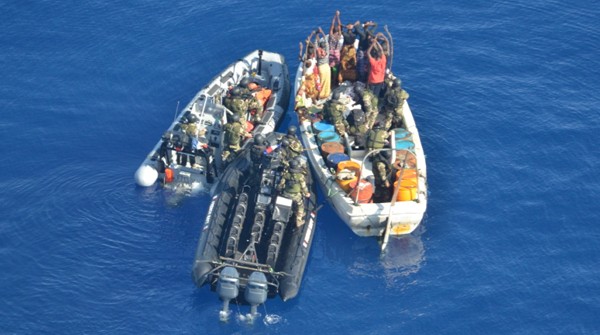 Boarding teams intercept pirates, (EUNAVFOR image)
(
EUNAVFOR
) EU Counter Piracy Naval Forces (EUNAVFOR) have tracked down and stopped a group of suspected pirates who were believed to have tried to attack a Hong-Kong flagged tanker approximately 400 nautical miles off the coast of Somalia.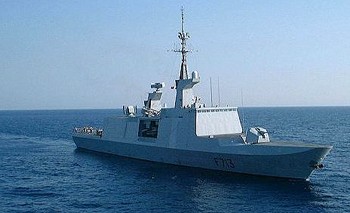 French Corvette Aconit, image via Wikipedia
EU Naval Force warship FS Aconit was called to investigate after the tanker came under attack on 26 March 2012. Aconit was directed onto the fleeing pirates by a Luxembourgish Maritime Patrol and Reconnaissance Aircraft (MPRA), which have recently completed 3500 Flights Hours with EUNAVFOR. The MPRA quickly located the suspects who were towing a small skiff behind a larger sea going whaler. The MPRA provided imagery showing pirate paraphernalia. In order to conceal the evidence of their piracy activities, it is believed that the suspected pirates had cut loose and sunk the smaller skiff, containing weapons, ladders and a certain amount of fuel. Aconit's helicopter intercepted and stopped the whaler, which had 10 suspected pirates onboard, by firing warning shots on 27 March 2012. A team from Aconit boarded the whaler and the suspects have been transferred on board the frigate. Two suspects received medical care by the Aconit's medical service. As no pirate paraphernalia was recovered the crew of the Whaler were sent back to the Somali coast with only enough water and fuel for a one-way journey. The French Navy frigate Aconit's intervention made it possible to hamper the action of a complete pirate action group, thus preventing them from committing new attacks in the area.
---
Related Articles:
About The Author
gCaptain Staff
gCaptain is the top-visited maritime and offshore industry news blog in the world. Since 2006, gCaptain has proven to be a highly effective platform for information sharing and source for up-to-date and relevant news for industry professionals worldwide