Weekly Piracy Report – Pirates Go 0-for-3 Off Somali Coast as Security Teams Prove Successful
By gCaptain Staff On March 22, 2012
HOA Pirate Activity, MAR 15 – 21
InterManager President: "Not paying ransoms would be massively detrimental to the industry"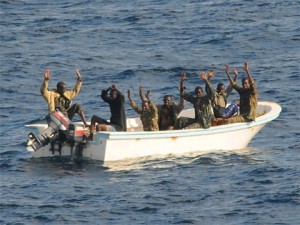 Any move at government level to ban the payment of ransoms to pirates would have a massively detrimental effect on the risk to the world's seafarers and the global economy, says Alastair Evitt, Managing Director of Meridian Marine Management, President of InterManager and the newly appointed Chairman of the
Save Our Seafarers Campaign
. Addressing the opening session of this year's Connecticut Maritime Association (CMA) conference in Stamford, USA, Mr Evitt said not only would such a ban have an impact on the willingness of any crew to transit high risk areas, but any owner who then did not pay a ransom for his crew and vessel would be unlikely to ever attract a crew again. Responding to comments that came out of the recent London conference on Somalia where governments called for a move to not pay ransoms to pirates, he said many vessels would be forced to reroute with the subsequent effect on costs. "And for those forced to transit pirate areas, insurance premiums would become prohibitive – to say nothing of the fact that in many cases vessels would become a total loss after six months," he said. "I for one would not sanction one of Meridian's vessels transiting the high risk area – if there was no ultimate solution in the event of a vessel and her crew being held captive." Addressing conference delegates, he said: "I speak as Chairman of the Save Our Seafarers campaign when I say that we are opposing this apparent change of political will and hope we can rely on your support." Referring to the future for the seafarer, Mr Evitt said crew recruitment, retention and development would resurface as a major challenge as the shipping industry recovers from this recession: "What will tomorrow's crews expect by way of remuneration (to make up for stagnant salaries): social media onboard and security to name but a few. As an industry I believe we will also have to pay more attention to cultural issues and onboard integration." Working as part of a team is essential in difficult economic times, and none more so than when it comes to the interaction between ship operators and suppliers. "Shipoperating requires joined-up thinking between everyone involved  and your ship supplier should be seen as a key team player who can make a significant contribution if they are allowed to," he said. So how can ship managers provide better services to their clients? Alastair Evitt said: "InterManager is, investing both time and money in the development of operational and safety key performance indicators and is convinced that with the right measurement tools, facilitating improved management services to our principles will be the next game changer in our sector."
This article originally appeared SaveOurSeafarers, a campaign established in March 2011 calling for unified action to raise awareness of the human and economic cost of piracy.
---
Related Articles:
Weekly Incidents by Region – March 15-21
WEST AFRICA
IVORY COAST: LPG Tanker boarded on 17 March while anchored at position 05:13 N – 004:02 W, Abidjan Anchorage. The robbers reportedly boarded the ship during a heavy rain and between rounds by duty personnel. The robbers managed to steal ship's stores and escaped unnoticed. Theft of stores noticed during the subsequent security rounds by duty personnel. Port authorities and other ships in vicinity were notified. (IMB)
INDIAN OCEAN–EAST AFRICA
INDIAN OCEAN: Container ship fired upon 19 March while underway at position 05:40 N – 053:23 E, approximately 520 nm northeast of Mogadishu. Six pirates in one skiff, armed with assault rifles and at least one rocket propelled grenade, chased the ship and then fired upon the ship. Ship's Master raised the alarm, increased speed and mustered the crew in a safe location on the ship. The onboard armed security team returned fire, causing the skiff to break off the attack and move away. No injuries to the crew were reported. (IMB) INDIAN OCEAN: Merchant vessel fired upon 17 March while underway at position 05:47 N – 053:50 E, approximately 390 nm south of Socotra Island, Yemen. (NATO) GULF OF ADEN: Petroleum products tanker attacked on 17 March while underway at position 13:09 N – 048:52 E, approximately 70 nm southeast of al Mukalla, Yemen. A skiff with six pirates aboard was noticed by bridge crew as it made a high speed approach toward the ship. Bridge duty officer raised alarm, informed the Ship's Master and the embarked security team. Master increased speed, altered course and contacted a nearby warship for assistance. The pirate skiff closed to within a half mile and fired upon the ship. The embarked armed security team returned fire resulting in the pirates aborting the attack and moving away. The nearby warship dispatched a helicopter to the location to search for the skiff, without success. No crew injuries or damage to the ship was reported. (IMB)
SOUTHEAST ASIA
INDONESIA: Bulk carrier boarded on 18 March while anchored at positions 01:18 S – 116:47 Balikpapan Inner Anchorage. Three robbers boarded the ship, broke into the forward cargo hold and stole ship's stores. Two duty personnel on rounds saw the robbers and raised the alarm. Upon hearing the alarm, the robbers escaped in a waiting boat. Incident reported to port authorities. (IMB)
BREAKING NEWS: Tanker Pirated in Gulf of Guinea, Eyewitness Account from the Scene [UPDATE]
By Rob Almeida On March 22, 2012
Location of the pirate attack: 02-56N 006-13E At least one vessel, possibly two, have been attacked in the Gulf of Guinea today at around 1200 GMT, approximately 90 miles south of Lagos, Nigeria. A nearby vessel was chased by the pirates and gives us this report: "We are on scene 7 miles from incident, MT Pluto was boarded by a brown and white fishing vessel which deployed its FRC (fast rescue craft) with 10+ armed men.  MT Pluto was looted, bridge communications were destroyed.  The pirates headed back to the mother ship and then spotted us.  The pirate mothership turned and increased speed, however were able to outrun them.  We are all safe, but the tanker is heading for Lagos for repairs." We will update this story with further details as they become available.
UPDATE:
We have received a second report that another vessel, the MT Zouzou, has been attacked in the Gulf of Guinea. Today at 0827 UTC we received DSC distress call from MT Zouzou. They got attacked by pirates in pos. 02 56N 003 13E, which was 50nm from our vessel engaged in sub sea ops on oil field. Couple minutes later they call MAYDAY on CH16 VHF and reported that they are under attack by aprox. armed 12 pirates. We and other vessel tried to establish connection with Zouzou but with no success. Vessel was not responding any longer. So far this report has not been confirmed by official sources and, again, will update as we learn more.
---
Related Articles:
Tagged with:
gulf of guinea
•
piracy
About The Author
Rob Almeida
Rob Almeida is partner and CMO of Unofficial Networks and an editor of gCaptain.com. He graduated from the United States Naval Academy in 1999 with a B.S in Naval Architecture and spent 6.5 years on active duty as a Surface Warfare Officer. He worked for a year as a Roughneck/Rig Manager trainee on board the drillship Discoverer Americas in 2009/10. He is an accomplished sailor and competes in the US Australian Rules Football League with the Baltimore/Washington Eagles. He can be reached via email at rob@gcaptain.com