With Maersk Line's new CEO, Søren Skou, now at the helm, the world's largest container shipping company has announced a nearly complete overhaul of its executive management team.  Check out what has changed below.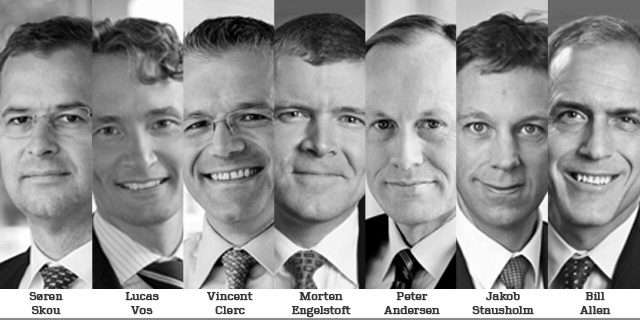 Maersk Line's new executive management team. Image: Maersk Line
Maersk Line has updated its organisation and set a new team of executive managers with a blend of experienced executives and newcomers.
New to the management team – and Maersk Line – is Jakob Stausholm, former Group CFO of the global facility provider ISS. Also new on the team are Vincent Clerc, currently responsible for Maersk Line's Asia – Europe trade, and Bill Allen, Head of Group HR. Lucas Vos continues as member of the executive team, but takes on new responsibility.

With immediate effect, the executive management of Maersk Line will consist of CEO Søren Skou, CCO Lucas Vos, COO Morten Engelstoft (continues in current position) Chief Strategy & Transformation Officer Jakob Stausholm, CFO Peter Rønnest Andersen (continues in current position), Chief Product & Yield Officer Vincent Clerc, and acting Head of HR Bill Allen, who is also Head of Group HR.
"The team represents a very strong blend of skills, experience and fresh eyes on the business. It definitely has the potential to take Maersk Line to the next level," says CEO Søren Skou who took over at the helm of Maersk Line on 16 January.
"Recently, Maersk Line has introduced new strong products, improved customer satisfaction and taken out costs. The net result is that Maersk Line today has margins above industry averages. However, we have potential for much more and will continue to improve, not least on profitability, which currently is not satisfactory," says Søren Skou.
"The industry structure also needs to change to become healthier, and Maersk Line has the power and responsibility to play a leading role in this transformation," says Skou.
Jakob Stausholm is the only new member of the executive team who has been recruited from outside the Group. Prior to working as Group CFO for ISS he has held a number of CFO positions around the world for Royal Dutch Shell.
"With Jakob Stausholm we are getting a strategic, analytical and result-oriented person on board who has international experience with managing large, complex processes. He will look at our business as well as the industry with a pair of fresh eyes," says Søren Skou.
Jakob Stausholm says on the appointment that he is looking forward to take on the job in an industry which is new to him "with a great deal of humility but also with great excitement."
New CCO in Maersk Line Lucas Vos is taking over from Hanne B. Sørensen who was recently appointed CEO of Maersk Tankers. Lucas Vos has been chosen due to his strong achievements as Head of People, Processes & Technology and his ability to motivate and inspire a global team as well as his track record in process improvement projects.
Vincent Clerc will become Chief Product & Yield Officer for all Maersk Line trades and products. Vincent has solid experience from managing the Asia – Europe trade, which is the main trade for Maersk Line.
Bill Allen will be joining the management team on an interim basis while a permanent head of HR for the Maersk Liner business is chosen. Bill Allen will focus on working with the management team to strengthen the organisation while reviewing candidates and ensuring the development of a permanent head of HR for Maersk Line.
Lars Reno Jakobsen, Head of the now former Network and Product, will become Group Representative in Africa.
As part of the organisational changes, the Group's freight-forwarding and logistics business Damco will no longer report to Søren Skou but to Kim Fejfer, member of the Executive Board and CEO of APM Terminals.
Via Maersk Line

---
Related Articles:
Maersk's Grandson Takes Over as CEO of Svitzer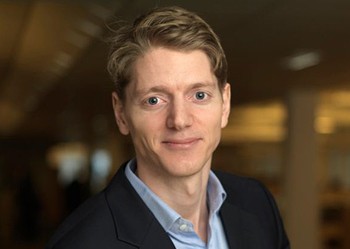 COPENHAGEN (Dow Jones)–Danish industrial conglomerate A.P. Moller-Maersk A/S (MAERSK-B.KO) said Wednesday it has appointed Robert Maersk Uggla as the new head of its tugboat subsidiary Svitzer.
The 33-year-old Uggla, who is the grandson of the family-controlled group's unrivalled patriarch, Maersk Mc-Kinney Moller, is currently chief executive of the group's Swedish tanker company Brostroem.
The move is a step up for Uggla, who has long been considered the likely successor of 98-year old Mc-Kinney Moller, the son of the founder of Mearsk. Mc-Kinney Moller has long withdrawn from the daily operations of the group, but still retains overall control through the A.P. Moller and Chastine Mc-Kinney Moller Foundation, which owns the majority a Maersk's issued A stocks.
Uggla replaces Jesper Lok, who is leaving Maersk to become CEO of national Danish railroads operator, DSB, from May 1.
Uggla joined Maersk in 2004 and two years later became Maersk Line country manager based in Dubai, before he moved on to head Brostroem in 2009.
Svitzer has some 4,500 employees and operates a fleet of more than 500 vessels, while Brostroem has about 1,500 staff and operates 70 tanker vessels.
Robert Uggla's mother, Ane Maersk Mc-Kinney Uggla, is chairman of A.P. Moller-Maersk's supervisory board.
-By Flemming Emil Hansen, Copenhagen Bureau, Dow Jones Newswires

---
Related Articles:
About The Author
gCaptain Staff
gCaptain is the top-visited maritime and offshore industry news blog in the world. Since 2006, gCaptain has proven to be a highly effective platform for information sharing and source for up-to-date and relevant news for industry professionals worldwide.
Maersk Kwangyang, Image courtesy Maersk
36 Prozent weniger als im Vorjahr
Gewinneinbruch bei Maersk
Dienstag, 28. Februar 2012
Niedrigere Frachtraten und hohe Treibstoffpreise haben bei Maersk zu einem Gewinneinbruch geführt. Foto: Maersk Line
Niedrigere Frachtraten und hohe Treibstoffpreise haben beim dänischen Reederei-Konzern A.P. Moeller-Maersk 2011 zu einem Gewinneinbruch geführt. Die weltgrößte Container-Reederei verdiente 18,1 Milliarden Dänische Kronen (2,43 Mrd. Euro). Das waren 36 Prozent weniger als im Vorjahr, teilte das Unternehmen am Montag mit.
Die Frachtraten für Containertransporte seien im Jahresverlauf um 8 Prozent gesunken. Im Vorjahr waren sie noch um 29 Prozent gestiegen. Zugleich schossen die Treibstoffpreise um 35 Prozent nach oben.  A.P. Moeller-Maersk ist neben Containerschiffen auch in der Öl- und Gasförderung und als Betreiber von Supermärkten sowie Hafenanlagen aktiv. Beflügelt von höheren Ölpreisen stieg der Umsatz um 2 Prozent auf 322,5 Milliarden Kronen.
"Wenn man berücksichtigt, wie sich die Frachtraten im vergangenen Jahr entwickelt haben, haben wir für 2011 ein akzeptables Ergebnis erwirtschaftet", sagte Finanzchef Trond Westlie. Für 2012 gab sich das Unternehmen wegen Unsicherheiten über die künftige weltweite wirtschaftliche Entwicklung zurückhaltend und erwartet erneut einen Gewinnrückgang. Ende 2011 hatte die Gruppe 117.000 Mitarbeiter, rund 3300 mehr als im Vorjahr.
Schifffahrt Flaute im Container-Geschäft lässt Gewinn von Maersk schrumpfen
Kopenhagen – Eine Flaute im Container-Geschäft hat deutliche Spuren in der Bilanz der dänischen Reederei A.P. Moller-Maersk hinterlassen. Der Nettogewinn sei im vergangenen Jahr um mehr als ein Drittel auf umgerechnet 2,44 Mrd. Euro geschrumpft, teilte der Konzern, der auch im Ölgeschäft tätig ist, am Montag mit.
Für das laufende Jahr zeigte sich die Reederei eher pessimistisch. Wegen Überkapazitäten und anhaltend schwieriger Bedingungen auf dem krisengeschüttelten Schifffahrtsmarkt werde zwar ein Gewinn erwartet, erklärte das Unternehmen. Dieser werde aber voraussichtlich unter dem des vergangenen Jahres liegen.
Die Geschäftszahlen von Moller-Maersk werden häufig als eine Art Barometer für den Welthandel gesehen, weil die Container-Flotte der Reederei rund 16 Prozent der weltweiten Kapazitäten ausmacht. Die Finanzkrise hat den globalen Handel erheblich belastet und Frachtpreise deutlich sinken lassen.
Kopenhagen. Ein beinharter Preiskampf hat der größten Containerreederei der Welt 2011 umgerechnet 400 Millionen Euro Verluste beschert. Ein Jahr vorher hatten die Linienschiffe des dänischen Unternehmens A.P. Møller-Mærsk noch mehr als 1,9 Milliarden Euro Gewinn eingefahren. Auch 2012 rechnet die Reederei trotz höherer Nachfrage mit roten Zahlen im Containergeschäft. Allerdings erzielte der Mischkonzern mit der Förderung von Öl und Gas sowie mit anderen Nebengeschäften Gewinne, wie A.P. Møller-Mærsk gestern mitteilte.
Unter dem Strich stand ein um 36 Prozent gefallener Nettogewinn von 2,5 Milliarden Euro bei einem um zwei Prozent gestiegenen Umsatz von 43 Milliarden Euro. Mærsk und andere Containerreedereien versuchen zurzeit, Preiserhöhungen im Markt durchzusetzen. Mit 254 eigenen und 391 gecharterten Schiffen ist Mærsk die größte Linienreederei der Welt.
Nach Ansicht von Branchenkennern hatten Mærsk und die weltweit zweitgrößte Reederei MSC Anfang des vergangenen Jahres einen Preiskampf ausgelöst, um den Markt zu bereinigen. Die Folge waren hohe Verluste. Offenbar kommt dieser ruinöse Wettbewerb aber an ein Ende: Nach verschiedenen Presseberichten steigen die Preise für den Containertransport wieder.
Auch die größte deutsche Linienreederei Hapag-Lloyd lag 2011 in den roten Zahlen: Laut Ver.di betrug der Verlust 26 Millionen Euro nach Steuern. 2010 verdiente die Reederei noch mehr als 400 Millionen Euro. Endgültige Zahlen gibt es am 22. März.(dapd)

The general rate increase, received by customers early Friday, will apply to all dry and reefer cargo moving from all Asian ports to all destinations in Europe, the company said.
The rate move comes only days after Maersk Line announced it will cut its vessel capacity on the Asia-Europe trade lane by 9% due to oversupply, which has dragged down freight rates to "unsustainably low levels."
"The Asia-Europe trade remains the world's busiest trade route, however the supply of vessels currently operating on this trade simply outweighs the demand. We are therefore rationalizing our service by taking out vessel capacity and thereby reducing costs," said Vincent Clerc, chief product and yield officer for Maersk Line at the announcement of the capacity reduction on Feb. 17.
According to a report published by the Journal of Commerce Thursday, spot rates on the Asia-Europe routes rose 3%, after Maersk Line announced the capacity reduction.
Maersk Line reports fourth-quarter 2011 results along with its parent company on Feb. 27. The weak rate level is expected by analysts to have driven Maersk Line's fourth-quarter bottom line to a net loss of about 2.8 billion Danish kroner ($505.2 million), said Sydbank analyst Jacob Pedersen.
-Flemming Emil Hansen, Copenhagen Bureau, Dow Jones Newswires
Related Articles:
1. Oversupply of Vessels on Asia-Europe Trade Forces Maersk Line to Make Adjustments
2. Maersk Line Opts For Price War On Asia-Europe Routes [REPORT]
3. Maersk Line: No Plans To Exercise 3rd Triple-E Tranche Option
4. G6 Alliance Set to Launch Asia-Europe Liner Service
5. Maersk Line: Make it twenty Triple-E's
Tagged with: maersk • ship freight rates
About The Author
gCaptain Staff
gCaptain is the top-visited maritime and offshore industry news blog in the world. Since 2006, gCaptain has proven to be a highly effective platform for information sharing and source for up-to-date and relevant news for industry professionals worldwide.